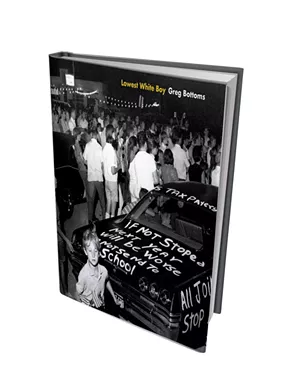 Lowest White Boy by Greg Bottoms, West Virginia University Press, 168 pages. $19.99.
Greg Bottoms' Lowest White Boy takes its title from a Lyndon B. Johnson quote that's been getting a lot of play since the last presidential election. Explaining how racism works in politics, Johnson told a young Bill Moyers, "If you can convince the lowest white man he's better than the best colored man, he won't notice you're picking his pocket."
Bottoms writes early in his short memoir that "I lived among this 'lowest white man,' was a kind of lowest white boy." For some writers, that admission might be a prelude to special pleading on behalf of the segment of the electorate that Johnson treated like easy marks. For Bottoms, it's something radically different: an opportunity to examine his own complicity, even as a child, in a system of white supremacy.
In several previous memoirs, most recently Pitiful Criminals, the University of Vermont professor has recounted aspects of his working-class white Southern upbringing. Now, in Lowest White Boy, he takes on the task of showing how the truth of Johnson's race-baiting adage played out in his own experience growing up in Hampton, Va., in the 1970s.
When Bottoms was young, he accompanied his mother as she drove a public school bus through the projects of their racially divided city, bringing African American kids to a newly integrated school. "I had a firsthand view of one of the outcomes of civil rights in action," he writes, "without understanding any of it."
In the first chapter, the author outlines the context of which he was ignorant as a child, from slavery to segregation to Richard Nixon's "Southern strategy." (The historical photos that dot the book, many depicting white people at anti-busing protests, serve as illustration.) He discusses the policies that benefited his own upwardly aspiring family at the expense of African American families with similar aspirations.
Then, in a series of chapters built on anecdotes, Bottoms revisits his memories to see how all that history translated into the experience of a kid with typical kid preoccupations — watching TV, going to the pool, wearing the "right" sneakers.
Can racism and classism be expressed through sneaker snobbery? In Bottoms' experience, yes. Five years old, riding his mom's bus, young Greg mocked a black girl's footwear, parroting the judgments he'd learned from older kids in his neighborhood. (Nikes and Pumas are cool; "cheap canvas shoes ... can truly damn a person...") A few years later, he began repeating the tales those neighborhood kids told about a "gang" of black boys encroaching on their turf, even though their alarmist narratives didn't match his own more complex — and often positive — interracial interactions.
"[W]hen you're young, a blank slate, you ... need the stories of your community to anchor you, tell you who you are," Bottoms writes. The stories of his community made him feel "like a cop or a soldier of my block, conscripted into some amorphous battle I didn't really understand."
The older Bottoms doesn't let himself off the hook for participating in this ambient racism. Young Greg attended an integrated school, socialized with the kids on his mom's bus and refused to yell the N-word when other boys dared him to. Yet he didn't correct the adults who were all too ready to blame a group of black kids for some property damage that he had caused. Contrary to any notion that children are "color-blind," Bottoms shows us that he could know nothing of Jim Crow and still "know skin color as social brand, as inherent system of American value."
If that description makes Lowest White Boy sound like a grim act of self-flagellation, it's not. Readers of Bottoms' previous books know that his approach to memoir is an alchemy of lyricism and down-home telling-it-like-it-is. If the book has its academic passages, the author's blunt, self-deprecating humor keeps rearing its head. Despite his overtly didactic intent, Bottoms' depiction of an American childhood never rings false or preachy. "[T]ime felt so big at five," he writes, "like an ocean to swim through, like having your eyes open while you slept."
And there's optimism, or at least hope, at the root of the book. Bottoms wants to believe that bringing these dark facets of the American psyche to light can make a difference, that "decency is still a more natural state than indecency," he writes.
A valuable complement to (though not substitute for) the narratives of African Americans, Lowest White Boy should make readers recall the times when they let the "stories of their community" override their sense of truth and justice. Whether or not we fully understood the ramifications of these small acts of complicity, Bottoms argues, we can't get beyond them until we own them.