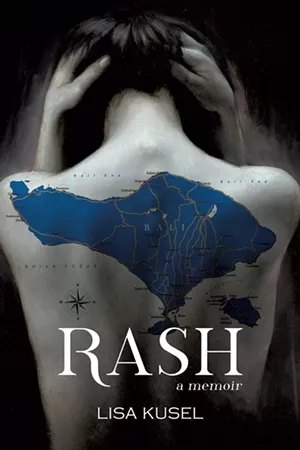 Rash: A Memoir by Lisa Kusel, WiDo Publishing, 290 pages. $16.95.
When American readers think of Bali, they tend to think of the tropical island where Elizabeth Gilbert discovered "balance" (and, yes, love) in her best-selling memoir Eat Pray Love: One Woman's Search for Everything Across Italy, India and Indonesia. But one person's paradise can be another's sweaty purgatory, as Burlington author Lisa Kusel reminds us in her own new memoir, Rash. The sly title is multipurpose, both an adjective describing her journey and a noun referring to one of its medical consequences.
As the narrative opens, Kusel and her husband, middle school teacher Victor Prussack, are living in California and feeling the pinch of wanderlust. When Kusel reads about a new international school in Bali, designed for optimum sustainability by a millionaire expatriate, she urges Prussack to apply. Mesmerized by "[t]he promise of paradise," her mind full of "white-sand beaches and turquoise seas," she envisions Bali as an opportunity to "learn how to stop searching for something new all the time and be grateful for what I have."
And Bali is that — just not in the way Kusel expects. This highly readable, chatty memoir plays out as a comedy of lofty expectations foiled at every turn.
The innovative school turns out to be an administrative nightmare, with rapid faculty turnover and a curriculum in disarray. The teachers' wall-free bamboo dwellings, so picturesque from a distance, are covered with mold. Giant ants make nightly incursions into the bedroom occupied by Kusel's 6-year-old daughter, whose mysterious rashes terrify her mother with the prospect of dengue fever and other maladies.
Struggling to recapture her mojo as a writer, Kusel finds her thoughts drowned out by droning gamelan music and smothered by smoke from nearby cremation ceremonies. "Living across the street from a cemetery," she writes in a characteristically pungent passage, "was like being a vegan at a never-ending pig roast." At one point, she wonders how anyone can focus on any intellectual task "in this brain-draining heat and humidity."
In short, Kusel is seeing the Bali most tourists don't see — and she admits reluctantly that she doesn't like it. "I mean, who hates Bali?" As her depression puts an increasing strain on her marriage, she resolves to become responsible for her own happiness.
Rash is no inspirational text. It doesn't offer a magical solution to disappointment, only the obvious one: Kusel's family ended up leaving Bali just four months in, after Prussack experienced repeated frustrations with the school's disorganization.
While she doesn't hide her bemused alienation from certain aspects of Balinese culture, Kusel doesn't come off as an ugly American, either. She turns a satirical eye on her fellow expatriates, such as the wealthy founder of the school, who fetishizes Balinese tradition and abhors modernization "in a demented reverse-colonialist kind of way." And she has plenty of praise for the people she met in Bali, as well as for the food: "Even talking about Balinese chicken soup not only soothes the soul, it takes it out to dinner, slathers it with honeyed adulations, walks it home, and French-kisses it good-night."
Sentences like that make Rash a consistently frank and hilarious book, one that will appeal to anyone who's ever moved to a much-touted locale only to long for the comforts of home. Such situations, Kusel suggests, teach us who we really are; in her Bali home, she literally "had no walls to hide behind."
At the end of the book, as the couple contemplates a new move to Vermont, Kusel assures herself that Bali has left her settled and wiser: "I could stop trying to find the new, the better, the different." Is grass-is-greener syndrome really a curable condition? Either way, let's hope Kusel sticks around the Green Mountains long enough to apply her sharp writer's eye to our climes, too.