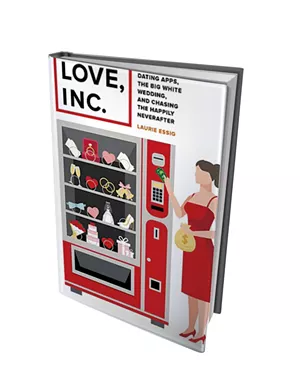 Love, Inc.: Dating Apps, the Big White Wedding, and Chasing the Happily Neverafter by Laurie Essig, University of California Press, 256 pages. $26.95 paperback
Humans have devised a number of clever bulwarks against the meanness of the outside world: memes, weighted blankets, pillow forts, tea infusers shaped like hedgehogs. But, as Laurie Essig argues in her latest book, Love, Inc.: Dating Apps, the Big White Wedding, and Chasing the Happily Neverafter, perhaps our greatest connivance is also the thing we've been conditioned to believe is most intrinsic to our species: the pursuit of human connection in the form of romance.
Essig, a Burlington-based professor of gender, sexuality and feminist studies at Middlebury College, has written two other books: Queer in Russia: A Story of Sex, Self and the Other and American Plastic: Boob Jobs, Credit Cards, and Our Quest for Perfection. Love, Inc., which hits bookshelves this week, dissects the symbiotic relationship between the American obsession with romance and the current social, political and environmental hellscape.
In the new volume, Essig contends that the pursuit of love as it exists today, in joyless dating-app swipery and escapist wish-fulfillment movies and TV shows, is both a distraction from our late-capitalist dystopia and an actual threat to the future of the species.
But her larger point is that capitalism itself, based on white male Protestant values, has engineered our obsession with a certain kind of happy ending: Cute girl meets cute guy; they get married; their teeth magically straighten and their credit card debt disappears. Such narratives serve to keep us trapped in the cycle of endless striving that has become synonymous with productivity.
In Essig's view, the prevailing cultural myth privileges one kind of romance above all others: a heterosexual, monogamous, procreative relationship. In Love, Inc., she examines how the attainment of the perfect partnership, modeled on this normy ideal, became not just incidental to our happiness but a social imperative that has spawned even more capitalist infrastructure. (Think dating apps, or juice cleanses to eliminate unseemly bloat that might turn off a potential mate.)
Meanwhile, even as the world we once knew seems to be ending, we scrape by on the dopamine rush of finding someone who maybe likes us and imagining an elaborate future with them. Enter Pottery Barn sectionals and south-facing windows that get excellent light.
You may have sensed — correctly — that Love, Inc. is not a fluffy read. If the new-releases shelf were a pastry case, this book would be a bran muffin, the kind of thing one consumes for intestinal health rather than pleasure. Romance novels often demand a suspension of disbelief, but Essig refuses to cut Fifty Shades of Grey any slack. Here, she dumps a bucket of ice water on any reader who dared not consider the implausibility of Anastasia Steele's post-college job hunt success:
Readers are asked to believe that Anastasia, an English major from Washington State University at Vancouver, which ranks 138th nationwide, receives multiple job offers in the publishing industry in Seattle right out of school. Then we are to believe that she manages to move from an entry-level position into ownership of a publishing company by marrying her slightly older and much wealthier boyfriend.
Cool. So, Fifty Shades of Unpaid Internships and Eating Hummus Straight From the Container?
Still, Essig holds out hope that we can overcome our codependent relationship with romance and turn our attention to nobler pursuits, such as door-to-door canvassing and calling our senators. Alternatively, we could just tap out now and watch "The Bachelor" as we wait for a meteor to strike.