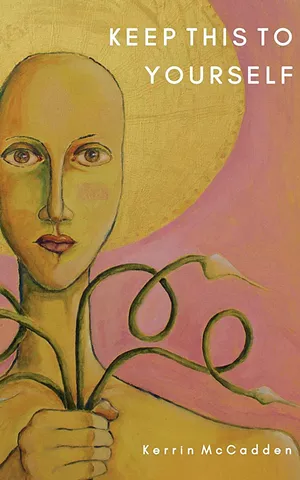 Keep This to Yourself by Kerrin McCadden, Button Poetry, 40 pages. $14.
It's hard to write a poem with a hole at its center. It's hard to write anything about an absence, or to contemplate the empty space where something familiar once resided. The subject is intangible and therefore nearly incomprehensible. But poet Kerrin McCadden's pint-size gut-punch of a book wrestles the emotions of loss into 23 wrenching poems.

Keep This to Yourself, McCadden's second poetry collection, explores the death of her younger brother from an opioid overdose. The book won the 2018 Button Poetry Prize and was released in March.
McCadden lives in South Burlington and teaches at Montpelier High School. In 2015, she won the inaugural Vermont Book Award for her first volume of poetry, Landscape with Plywood Silhouettes. That book introduced to readers McCadden's skillful use of symbolism and deft exploration of life's minutiae. Her poems are like rock tumblers: handfuls of gravel smoothed into something new and beautiful.
Keep This to Yourself opens at the story's end. The first poem is titled "When My Brother Dies," and its first line establishes the collection's theme: "It happened already," McCadden writes. The rest of the book works backward from that event, in some cases quite literally, revealing in pieces how she lost her brother many times over. She documents family vacations intended to heal broken bonds, frightening encounters with men buying or selling drugs, childhood games, times when she believed her brother had gotten clean for good, and the day her parents adopted him. McCadden even describes mourning that's not her own in a poem written from her mother's perspective.
In some poems, her lines are clipped and deliberate. In others, the words spill out in one long breath, dashing across the page with no heed of punctuation. These approaches reveal different faces of the same sorrow.
McCadden asks: What does it mean for someone to be gone? In the midst of her brother's struggle with addiction, finding the moment when he was lost to her is even trickier. Was it when he stole money? When he went to jail? The first time the family tried everything they could to save him? The fifth?
Even more confusing are the days when her brother doesn't seem permanently gone at all. "My brother is lost. I can't find my brother. I say it over again— / when I lost my brother. A back road I knew once and now / can't find," she writes in "Losing." These lines capture processing the loss of someone who was absent, in some way, before they died.
Later in the same poem: "Every next syllable said by everyone is my brother. / Silent mouths—these are where dead brothers live."
McCadden writes in tightly wound circles around her tragedy, wearing paths in the floorboards as she paces her house of grief. In this slim volume, we might only spend an afternoon there with her. But McCadden's poems offer wisdom relevant to pains larger than her own — and a portal into the opioid crisis that has taken thousands of lives.