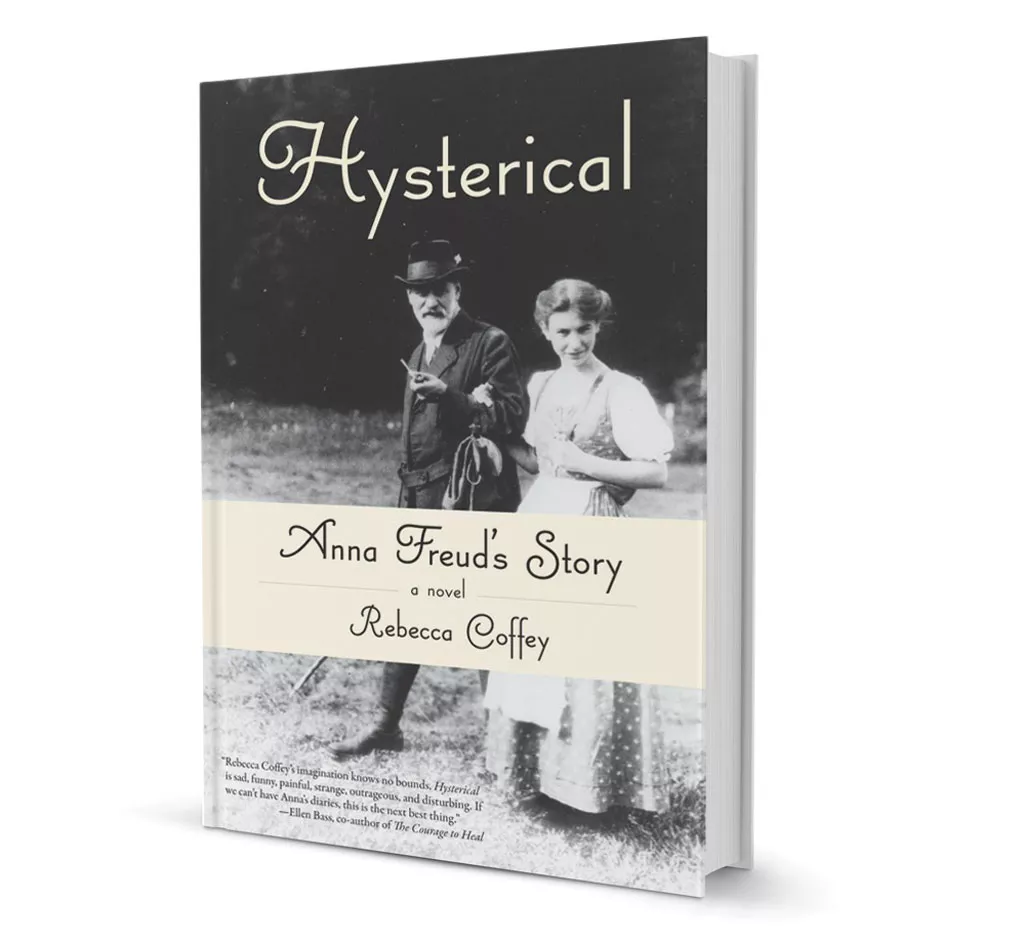 Hysterical: Anna Freud's Story by Rebecca Coffey, She Writes Press, 360 pages. $16.95. shewritespress.com
Rebecca Coffey of Putney has written a novel of psychological drama (quite literally) from the perspective of Anna Freud, the youngest daughter of the father of psychoanalysis. Hysterical: Anna Freud's Story is fiction framed as a memoir that Anna has passed down to her maid of 57 years, asking her not to unveil it until Anna's passing.
In reality, Coffey tells us in her introduction, the Sigmund Freud Archives may have such a document — but, if so, the private foundation with loyalties to Freud has elected to keep it under wraps.
But that's OK, because Coffey, a Vermont Public Radio commentator and contributor to magazines such as Scientific American, grounds her tale in research, as attested in three pages of bibliography. Hysterical is an engaging story of Anna's struggle to become herself despite the machinations of her controlling father, complete with a convincing recreation of the Freud household and its tensions. Coffey suggests that, despite Sigmund Freud's fame and the economic comforts he gave his offspring, this family went through hell. Much of it was the patriarch's doing.
Early in the book, in a scene set in Anna's adult years, she receives a warning about her father from Otto Gross (1877-1920), a psychiatrist living in Munich who believes bisexuality is our normal condition and "nudity is the ultimate self-expression." At a meeting in a café, he tries to dispel Anna's feelings of being sexually perverted, calling her father the pervert. But Gross' cautionary words, like those of Homer's Philoctetes, go tragically unheeded.
The reader follows Anna and her siblings through their early days as happy, adventurous children into various conflicts as their father gains prominence as a man of letters and a luminary in the new field of psychoanalysis. At first, Anna listens at the door where Sigmund does his work, and then, to her peril, she is invited in to be psychoanalyzed herself. She can't resist. It's here that the drama of the book plays out.
In that now-famous room, full of the curiosities and antiques Freud saw as symbols, readers see something of Freud's famed relationship with Carl Jung play out in a sparring match between the two as they psychoanalyze each other. We learn that there may be no honesty in psychoanalysis, as both the analysand and the therapist have agendas — and we're given reason to believe that, nonetheless, psychoanalysis can sometimes get things very right.
We experience the stark contrasts of a household in which the matriarch is so depressed she can't get out of bed, while father and daughter take delight in Jewish humor (the book is sprinkled with jokes that typically enhance the themes). And we wonder if, in fact, there is a rapist living in the Freud home — or a victim of rape.
All this plays out while Anna tries to resolve her relationships with her father, her siblings, her sexuality and her future as the one chosen to advance her father's work. Further complications are Anna's debilitating "hysteria" and her father's refusal to accept her sexual preferences. Narrating the book in first person, Anna conveys a forceful desire to please her father — even in analysis. "I lay there aghast at my apparent instinct for self-destruction," she says of a session in which she has given her father a response he finds unacceptable. "The last thing in the world I actually needed that very night was an analytic session even more unpredictable than this entire set had so far proven to be."
Hysterical earns high points for its clever and realistic dialogue. Coffey also offers enough multicultural language and references to convince the reader this is a cosmopolitan family without throwing a monolingual reader off the chase.
There is a hiccup in the pacing at the end of the novel, where the writer seems to think we need to know everything that transpired in the final years of Anna's life. A more leisurely stroll through her final days and hours would have been less jarring, as we have come to expect a closer, more revealing relationship with Coffey's protagonist.
Still, this is a novel that convincingly explores our role as self-examiners of the minutiae that wrinkle our gray matter, and maybe even our souls. I don't know whether Hysterical will make readers more likely to sign up for psychoanalysis or to run away. In either case, upon finishing this book, expect to have a personal reaction to the words with which Freud customarily closed a session: "We have tunneled deeply today."