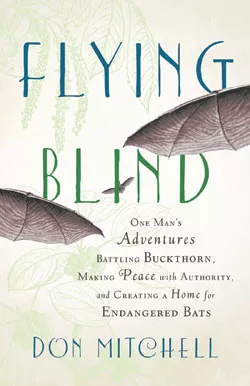 It's easy to express concern for, say, the plight of North American bats battling white-nose syndrome. But for a landowner on the front lines, healing the bats' ecosystem could mean finding himself on his hands and knees rooting out garlic mustard. Not to mention tangling with acres and acres of red tape.
Don Mitchell of New Haven's Treleven Farm is no antigovernment Tea Partier. He describes himself as a '60s radical and back-to-the-lander with lifelong authority issues. As the writer relates in his new memoir, those issues came to the fore when Mitchell, recently retired from teaching at Middlebury College, decided to reduce his taxes by enrolling in Vermont's Use Value Appraisal Program.
The problem wasn't how the state wanted Mitchell and his wife to use their neglected woods: as a habitat for rare Indiana bats. No, the headache was completing all the steps in between.
At the bidding of state officials, Mitchell found himself bagging the aforementioned invasive garlic mustard, painting buckthorn stumps with herbicide and even — gasp! — pricing an ATV like his neighbor's. In short, exercising a form of dominion over his acres that reminded him uncomfortably of both the Old Testament God and his authoritarian father. "[W]as this the way I would have chosen to relate to nature?" he writes. "Hell, no." But, for both selfish and selfless reasons, he forged ahead.
Flying Blind traces that process in a chatty, humorous style, alternating — as Mitchell did in his daily outdoor work — between practical matters and larger contemplations, both personal and philosophical. From a casual reader's perspective, the book suffers from detail and digression bloat, and could have used a more stringent edit. Once Mitchell starts to unearth the dark history behind his dad's domineering attitude, however, his narrative gains enough momentum to get us through the lengthy descriptions of forest management and chain-saw use.
Any landowner considering embarking on a similar endeavor is likely to find value in those blow-by-blow passages. And even urbanites can appreciate Mitchell's account of trying to sell strangers on the notion of picking his garlic mustard as a "Silent Fasting Retreat"; or the conclusions at which he arrives about nature and human intervention.
Creating a habitat for endangered critters, it turns out, is no walk in the park. If you build it, will bats come? Read the book to find out — or ask Mitchell this Thursday at Phoenix Books Burlington.
Don Mitchell discusses "Flying Blind" on Thursday, October 24, 7 p.m., at Phoenix Books Burlington. Free.
"Flying Blind: One Man's Adventures Battling Buckthorn, Making Peace With Authority, and Creating a Home for Endangered Bats" by Don Mitchell, Chelsea Green, 208 pages. $24.95.