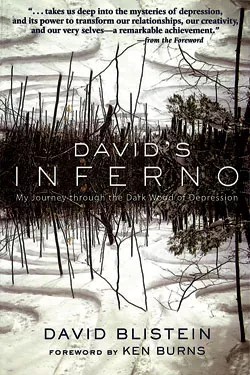 Clinical depression memoirs are a tough sell. The currently or formerly depressed don't want to be "triggered." The never-depressed don't want to be "brought down." And almost everybody who is willing to read or write about depression already has strong ideas about what causes it and how to cure it.
David Blistein is an exception. In this unusual work that's part memoir, part self-help guide and part literary criticism, the East Dummerston author doesn't present himself as a poster boy or offer a cure. He sings the praises of pharmaceuticals — and acupuncture, meditation, craniosacral therapy, placebos and more. He's a fan of whatever helps keep him sane.
That includes learning from Dante. Treating depression as an experience without historical or geographical borders, Blistein links his experience to that of the protagonist of The Divine Comedy, which opens with Dante in a "dark wood" of confusion at midlife.
That premise may sound presumptuous; its execution isn't. Blistein's willingness to examine every side of every question — with humor — makes David's Inferno highly approachable.
He structures it around two narratives: Dante's and his own. In 2005, Blistein found himself, at 53, "free" after 20 years of deadline-driven work running an ad agency. The attacks of "agitated depression" that followed weren't his first, but they grew worse over the next two years, sometimes bringing him to the verge of seeking inpatient treatment.
Blistein relates those years in a rambling mode, periodically inserting passages from his journals and email exchanges. These chapters alternate with leaner ones in which he retells Dante's masterpiece in his own idiom, not hesitating to rib its hero gently on occasion. ("For a guy on the path to divine rapture," he writes of Inferno, "Dante seems mighty opinionated, if not downright malicious.") A third set of chapters address common questions related to depression, from "Why do you take drugs?" to "How does your spouse cope?"
Blistein is always a personable narrator, but there are times when his rambling gets too rambly. A description of his characteristic hypomania ("mania-lite … hold the psychosis") encapsulates his writing, too: "Symptoms include the pressure to keep talking, thoughts racing out of control, and easy distractibility." That's a blessing or a curse, depending on the reader's tolerance for digression and doodling in the margins.
Reading David's Inferno is like listening to the monologue of a brilliant, exhausting person. Every time you're tempted to put it down, you'll come across a good wisecrack or a remarkably quotable statement. "There's a fine, but significant, line between creative focus and fanaticism," Blistein writes. "And an equally fine, but significant, line between contemplation and creative despair." Readers may find themselves walking that line with him.
David's Inferno: My Journey Through the Dark Wood of Depression by David Blistein, foreword by Ken Burns, Hatherleigh Press, 287 pages. $16.95.