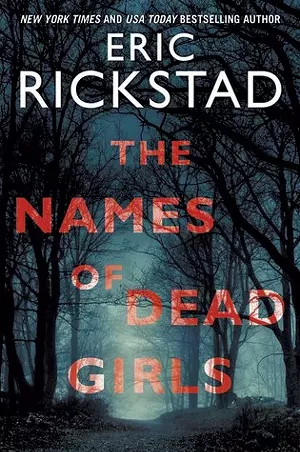 The Names of Dead Girls by Eric Rickstad, William Morrow, 448 pages. $13.99.
With his 2014 best seller The Silent Girls, Bennington County's Eric Rickstad established himself as an author of rural mystery-thrillers that are anything but cozy. Set in the fictionalized Northeast Kingdom town of Canaan, the novel opened with an explosion of gruesome violence and closed on a cliffhanger designed to fuel its readers' nightmares.
2015 brought Lie in Wait, Rickstad's prequel to The Silent Girls starring Canaan PD detective Sonja Test. It was a satisfying mystery in its own right, but that cliffhanger remained hanging. Now, at last, comes Rickstad's sequel The Names of Dead Girls, which opens where its predecessor left off. (Newcomers to the series are strongly advised to start with The Silent Girls, though the sequel does offer enough exposition to orient them.) While Names gets off to a rocky start, it shows that Rickstad hasn't lost his ability to keep readers spellbound and nervously guessing.
PI protagonist Frank Rath has just closed the book on one vicious killer when another is set free. Years ago, serial rapist Ned Preacher murdered Rath's sister and her husband. A jailhouse conversion reduced his sentence, and The Silent Girls ended with a released Preacher seemingly poised to harm his victims' grown daughter, Rachel, whom Rath has raised as his own.
How does an author top a moment of terror like that? Like the makers of old movie serials — who might end an installment with, say, their heroine inches from a speeding locomotive — Rickstad first has to walk things back a bit. Turns out, Rachel's doom wasn't quite as imminent as it appeared.
The novel's early chapters suffer from choppiness as the author struggles to convert an apparent crisis into the start of a new adventure. Adding to the uneven rhythm are multiple perspectives: Short third-person chapters alternate among the viewpoints of Rath, Test, Rachel and various supporting players, including a psychopath who may or may not be Preacher.
Once Rickstad manages to spin all these plot strands into a new mystery, however, he hits his stride. As a strange fog hovers over northern Vermont, a vibrant young grandmother disappears on a lonely road. Not too far off, hunters discover the hanged body of a young girl. Needing an experienced investigator, the Canaan police chief coaxes Rath back onto the force, stirring up conflict between Rath and Test.
Rath's dark, Manichaean perspective, which divided the world into monstrous criminals and innocents, dominated The Silent Girls. That novel's ending suggested we might be headed for a Death Wish-esque Rath-versus-Preacher showdown, with one playing Rachel's white knight and the other eager to corrupt or destroy her. Happily — for readers not itching for vigilante violence, anyway — Rickstad takes his story in less expected directions.
Single-mindedly focused on protecting Rachel, Rath doesn't gain many new shadings this go-round. But Test, who deals with petty, poverty-related crimes as well as horrifying ones, offers a humanistic counterpoint to his worldview. Faced with one particularly self-deluding culprit, she notes wearily, "Hers was a banal and sad evil, but just as deadly."
The Names of Dead Girls is the rare thriller that ends stronger than it begins. Rickstad baits and switches readers with sinuous detours, only to pull out a resolution so devilishly smart, we may feel like we should have seen it coming, even if we didn't. Along the way, he leaves loose ends — and plenty of room for a sequel. As long as the author's imaginary corner of the Kingdom remains haunted by bloodshed, readers will be along for the ride.