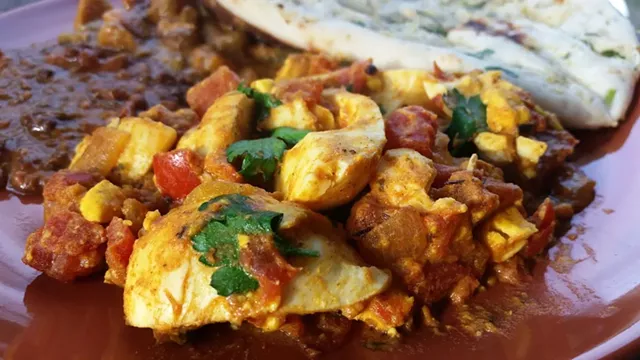 Astrid Lague
Hard-Boiled-Egg Masala
I love food — eating it, cooking it and sharing it. For this, I credit my father. He was an adventurous cook who drew inspiration from around the globe and surprised us with exotic dishes daily.
Growing up in South Hero, there weren't exactly a wide array of ethnic restaurants — or any restaurants, really — to choose from. But at home our weekly menu was straight out of the United Nations: Monday, Puerto Rican; Tuesday, Indian; Wednesday, Polish; Thursday, Swedish; Friday, Moroccan; Saturday, Chilean; Sunday, Turkish.
Dad taught us never to shy away from trying new things, but rather to embrace them head-on. He was a financial planner by profession but an explorer by nature. He and my mother traveled the world, and wherever they went, he came home with a cookbook. When he ate at a restaurant, he tasted his food carefully, memorizing the flavors so he could re-create them later.
Indian food was one of his culinary specialties. He was good friends with an Indian man who owned the now-defunct The Spices restaurant in Vergennes and who taught him to cook authentic South Indian dishes. It wasn't just standard curries. Dad also experimented with raitas (vegetables in a yogurt base), tandoori chicken, homemade pappadums, naans and so much more. One of the first Father's Day presents I can remember giving my dad was an Indian cookbook.
When I had kids, I wanted to make sure that their palates were exposed to global cuisine. I feel like I've done a pretty good job. My 13-year-old daughter and almost-10-year-old son are not intimidated by new flavors. They particularly love Greek food — spanakopita is a huge favorite. And don't get me started on baklava.
Even with all the inspiration in the world, I sometimes fall into a cooking rut. But one glance at my large array of cookbooks and spices reminds me that I can do more.
Enter hard-boiled-egg masala, a dish full of warming spices in a tomato and onion sauce with protein-rich hard-boiled eggs. It's a quick and easy foray into Indian food that I adapted from one of my many Indian cookbooks, and it's a family favorite. As an added bonus, it's inexpensive and doesn't require hard-to-find spices, save for black cumin seeds, also known as kala jeera. For those, try an Indian grocer like Gagan on Williston Road in South Burlington or the Himalayan Food Market on North Street in Burlington, or order them online at a place like Penzeys Spices. The seeds do add a special flavor, but the dish is still delicious without them.
A lot of Indian meals take a long time to make, but this one is quick enough for a weeknight dinner. Serve with chutney, which can be found at the grocery store (or, for more variety, at the Indian market), and naan, which can be found in the bread or freezer aisle of many local grocery stores. Add some steamed spinach or peas on the side for a veggie boost.
I challenge you to give this flavorful dish a try.
Hard-Boiled-Egg Masala
Ingredients:
For the spice paste:
½ teaspoon cayenne pepper
½: teaspoon ground turmeric
1 teaspoon ground cumin
1 teaspoon ground coriander
1 teaspoon lemon juice
1 tablespoon water

---

2 tablespoons vegetable oil
½ teaspoon black cumin seeds
5 tablespoons finely chopped onion
½ inch ginger, peeled and thinly sliced (I like to use a vegetable peeler)
1 cup canned diced tomatoes
¼ teaspoon sugar
4 hard-boiled eggs, peeled and quartered
3-4 tablespoons chopped fresh cilantro
Directions:
Mix together the cayenne, turmeric, cumin and coriander with lemon and water to make the spice paste. Set aside.
Pour oil in a large, nonstick sauté or frying pan and set over medium-high heat. When oil is hot, add the cumin seeds. About 10 seconds later, add the onion and ginger. Stir, then fry until the onions are medium brown.
Add in the spice paste. Stir and cook for 15 seconds. Stir in the tomatoes and sugar. Bring to a gentle simmer, uncovered, for 10 minutes, stirring once or twice.
Lay the egg quarters in the sauce. Spoon the sauce over them, then add the cilantro. Cover with a lid and simmer for 2-3 minutes. Serve with naan, basmati rice or even plain bread