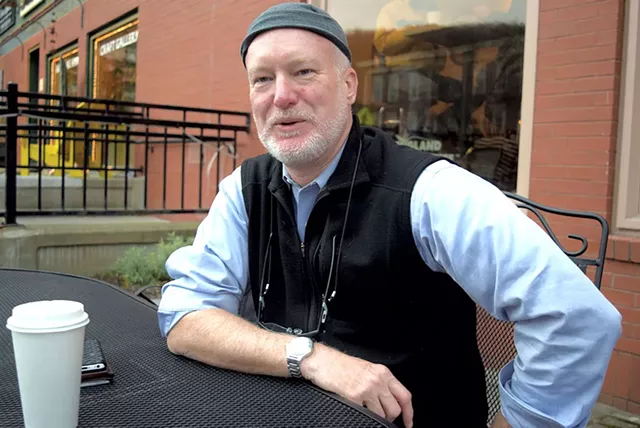 File: Terri Hallenbeck
Washington County State's Attorney Scott Williams
Washington County State's Attorney Scott Williams stood on the floor of the Vermont Senate a year ago to accept a national award for heroism. In front of an audience that included Congressman Peter Welch (D-Vt.) and then-governor-elect Phil Scott, Williams received a Carnegie Hero Fund Commission medal for attempting to save the life of Department for Children and Families worker Lara Sobel, who was shot as she left her Barre office in August 2015.
"He approached the assailant, shouting at her and attracting her attention," the Carnegie award citation said. "When Williams reached the assailant, he grabbed the rifle from her, disabled it, and set it aside. He then kept himself between Sobel and the assailant, verbally engaging her. Others soon responded and secured the assailant, holding her until police arrived. Williams tended to Sobel, whose wounds were fatal."
The dramatic account mirrors media reports of Sobel's murder by Jody Herring, who held Sobel responsible for the DCF taking custody of her 9-year-old daughter.
But one crucial detail isn't true, according to documents obtained and interviews conducted by Seven Days. Williams did not grab the rifle from Herring. She had thrown it to the ground and effectively surrendered before he reached her.
Two witnesses who arrived moments after Williams — the "others" in Carnegie's write-up — told Seven Days last week that they have long harbored doubts about the story that Williams grabbed the .270-caliber rifle from Herring. And Herring herself said in her confession that she dropped the rifle before Williams got to her.
Even Williams, who has never publicly corrected the record, told police something else in August 2015 — more than a year before accepting the Carnegie medal.
"I don't remember stripping the gun from Jody. It is possible that I did that, but I don't think I did," Williams told Det. Sgt. Mark Potter during the investigation into Sobel's killing, according to a transcript obtained by Seven Days. He later added, "I recognized that it was Lara, and I said, 'Lara, you're OK.' Yeah, I didn't take the gun away from her."
In an interview last week, Williams said that he couldn't remember what happened in those moments.
"To this day, I don't recall whether I grabbed the gun or whether the gun was on the ground," said Williams, 53. "Even now, there's this blank spot."
So where did the embellished narrative come from?
Barre City Police Det. Hal Hayden filed an affidavit in Washington Superior Court three days after the shooting. It read: "Mr. Williams approached the scene and saw the victim lying on the ground and the accused still there with a rifle in her hand. I was informed that Mr. Williams managed to get the gun away from the accused and with the help of bystanders was able to subdue the accused until police arrived."
Vermont media outlets, including Seven Days, published those details.
The Vermont State Police said that the affidavit was a summary of what various officers had gleaned early in a busy investigation — and was filed by a Barre officer because that department had jurisdiction.
The new revelation comes as the grisly case is scheduled to conclude. Herring, 43, will be sentenced next week in Washington Superior Court, a stone's throw from the scene of the killing. The Vermont Attorney General's Office is handling the prosecution because Williams was involved in apprehending the suspect — a conflict of interest, since he can't be a witness and a prosecutor in the same trial.
Herring pleaded guilty to one count of first-degree murder and three counts of second-degree murder in July and faces life in prison. Hours after Herring killed Sobel, 48, police discovered that she had murdered three of her own family members — her aunt, Julie Falzarano, and cousins Regina Herring and Rhonda Herring — at a home in Berlin.
File: Toby Talbot/associated Press
Jody Herring
Williams, a former defense attorney who was elected state's attorney in 2014, told Potter that, on the day of the shooting, he was working out in the RehabGYM, a short walk from his downtown Barre office, when he heard two "incredibly loud, very close gunshots." He said he yelled for someone to call 911, dashed outside and found a woman he recognized as Sobel — he had known the veteran social worker for years — on the ground, with blood pooling around her.
Williams heard someone say, "She shot her" and saw Herring. He recognized her, too — he had represented some of Herring's family members when he was a private attorney, and he was familiar with her ongoing issues with DCF.
Two other men rushed toward Sobel: Gregory McNaughton — coincidentally a former Washington County state's attorney — and his friend Andy Hockman.
Both had been leaving nearby Jerry's Sports Tavern and briefly ducked for cover behind parked vehicles when the rifle cracked. They hurried over to where Williams was with Herring and Sobel. Each grabbed one of Herring's wrists while Williams tended to Sobel.
In interviews with Seven Days, neither McNaughton nor Hockman had a clear memory of how the rifle came to be on the ground. Both said Herring was fully cooperative. She didn't try to run and didn't seem interested in harming anyone else.
The two men said they have long been quietly skeptical of accounts that credit Williams with grabbing the weapon away.
"I can only attest to what I saw, but I think it's fair for me to say: Instinctively, I've questioned it," McNaughton said. "I had personal misgivings as to whether that occurred."
Hockman said he has been bothered by another detail. When he got there, the rifle was laying close to Sobel, he said.
"I don't think he took the gun out of her hand," Hockman said. "If he really disarmed her, he wouldn't have laid the gun right beside" the fatally injured social worker.
Neither man has publicly voiced his doubts before.
Scott's actions on the day of the shooting came to the attention of the Pittsburgh-based Carnegie Hero Fund Commission. The fund was launched by famed steel magnate Andrew Carnegie in 1904 and has since awarded nearly 10,000 medals, each of which honors "a civilian who knowingly risks his or her own life to an extraordinary degree while saving or attempting to save the life of another person."
The public can nominate potential recipients. Full-time staffers scrutinize each case before the commission reviews the finalists, according to its website.
Others who were honored with Williams in 2016 include an Idaho man who jumped into a frigid creek to save a woman from drowning and a 10-year-old California girl who was killed while saving a 2-year-old boy from being hit by a runaway SUV. Twenty percent of the Carnegie awards are made posthumously.
McNaughton and Hockman confirmed that representatives of the Carnegie commission contacted them and requested written statements explaining what they saw. Williams said that he, too, got a call, during which he answered a Carnegie official's questions about the incident.
McNaughton provided Seven Days the written account he gave to the Carnegie commission. McNaughton told the foundation that, by the time he arrived, the rifle was already on the ground.
Hockman didn't have documentation but said that he, too, made it clear that he had not seen Williams disarm Herring.
So, where did the Carnegie commission get the detail that Williams "grabbed the rifle from her, disabled it, and set it aside?"
Its leaders won't say.
Commission president and secretary Eric Zahren refused to answer specific questions about the decision to recognize Williams and the account provided in its citation. "We stand by it," he said, and offered the following statement:
"Our investigation was thorough and included reviews of official records and transcripts, interviews of officials, case principals and eyewitnesses, and supported the award made to Mr. Williams based on our awarding criteria."
Aside from Williams, the person best positioned to know what happened that day is Herring, who has been in prison without bail since the shooting. In July, Herring signed a lengthy confession, credited by both the defense and the prosecution, which serves as the basis for her guilty plea. In that confession, Herring said:
"When I saw Ms. Sobel I got out of my car carrying the Remington rifle. I approached Ms. Sobel and intentionally shot her. Ms. Sobel then fell to the ground and I shot her again. I then dropped the rifle. No one disarmed me and I did not resist arrest."
Last week, Williams spoke to Seven Days in a conference room inside the downtown Barre courthouse. He said he still struggles with emotions related to his unplanned intervention in a murder that shook the state.
"If I had thought about it for another 10 seconds, I'd probably [have yelled] at everybody to lock the doors and hide," Williams said.
He can remember what shoes he was wearing that day and how Herring accidentally spit on him as she talked. But he is uncertain, he said, about what he did with the rifle.
"You have the issue of trauma-based influence," he said, referring to the challenge of accurately recalling violent events.
Why accept an award knowing the account may not have been completely true? And why did he not correct the record?
Williams said he considered it.
"The answer is, 'Yes, I thought about it,' and, 'No, I chose not to do it,'" Williams said.
His rationale for not speaking up, he said, was twofold: a general distrust of the media and an unwillingness to publicly discuss a case in which he is a key witness.
"I'm not a Trumpist, fake-news guy, but I don't have a lot of trust in the media in terms of what they care about or not," Williams said. "You get a story and run with it. And I'm a witness in an investigation in an awkward situation, and anything I say or do is potential fodder for her lawyers. Given my role, I'm not going to say anything that can be used in cross-examination."
Not one to miss an opportunity, Herring's attorney, David Sleigh, seized on the discrepancy.
"Obviously, it's an enormous tragedy, and what Scott did, remaining at the scene, was heroic enough," Sleigh said in an interview. "But it's disingenuous and disappointing that he would seek to use this for the purposes of some kind of self-aggrandizement. That's unnecessary and egregious."
Williams said he has never sought to bolster his reputation. He claimed the most he ever said publicly about the rifle was that he was "able to obtain it."
Eyes reddening, he said he remains proud that, in a dangerous moment, he ran toward gunfire.
"If you survey 100 people, I'm not sure many would have gone out there," Williams said. "So, there's that."