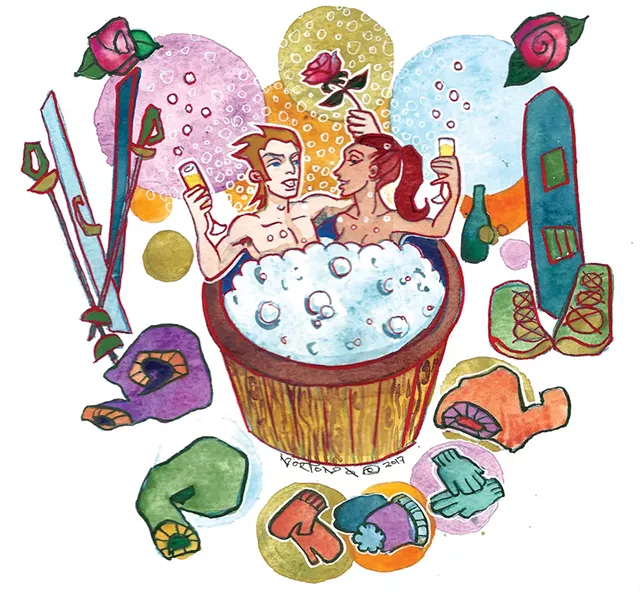 Earlier this fall, reports began circulating that a spin-off of ABC's hit reality dating series "The Bachelor" would be filmed in Vermont over the winter. The new series, called "The Bachelor: Winter Games," is reportedly a cold-weather version of another popular "Bachelor" offshoot, "Bachelor in Paradise." Shot in Mexico, that show featured losers — er, former contestants — from previous seasons of "The Bachelor" and "The Bachelorette" in an elimination-style competition for love and, more importantly, D-list celebrity.
Details about the new series have been closely guarded, with the network revealing only that it would be shot at an unnamed ski resort in the Green Mountains and air opposite the 2018 Winter Olympics in February. Repeated inquiries about the show from Seven Days to ABC and its parent company, Disney, went unanswered. Even occasional media leaks have offered little more than speculation on casting.
On Tuesday, December 5, the southern Vermont town of Manchester hosted an "Arrival Celebration" parade for "The Bachelor: Winter Games." The parade's location would suggest that the lucky ski hill hosting the dating show is Stratton Mountain Resort, former home of the Burton U.S. Open snowboard championships.
That's one mystery (maybe) solved. Still, it's not every day that a steamy reality TV show films in the Rockwellian hills of Vermont. So we had some questions — not the least of which was "Wait ... what?"
Since ABC stonewalled us, we were left with no choice but to rephrase our questions so we could answer them ourselves, staff-survey style ­— by which we mean "make some shit up."
Accordingly, here is everything you need to know about "The Bachelor: Winter Games" — which is to say, absolutely nothing.
In seven words or less, what was your initial reaction when you found out "The Bachelor" was coming to Vermont?
KEN PICARD: Is Vermont secession still on the table?
SADIE WILLIAMS: This is my chance at freedom.
RACHEL ELIZABETH JONES: Why would you do that?
JORDAN ADAMS: But we don't have a tax credit...
SALLY POLLAK: Wishing my kid were back in kindergarten, when she watched her first episode. (Yes, I know that's more than seven words.)
DAN BOLLES: Sally let her kindergartner watch "The Bachelor"?
If you had to guess, at which Vermont ski resort do you think "The Bachelor: Winter Games" is being filmed and why?
KP: Suicide Six Ski Area, because there are seven contestants, and the six losers all perform ritual disembowelment with a sharpened ski pole when they don't get chosen.
SW: Cochran's Ski Area. It has the most character, and "The Bachelor" has the most characters.
REJ: Okemo Mountain Resort, because it's a glittering theme park of majesty.
JA: Smugglers' Notch Resort. There's always been something kind of dirty about its name, and I think "The Bachelor: Winter Games" is going to show us why.
SP: Cochran's. They breed studs.
DB: Cochran's. The euphemistic potential of "the rope tow" is boundless.
If you could pick one Vermonter to be on the show, who would it be and why?
KP: Bernie Sanders, because, as he once told his supporters, "Real change never takes place from the top down, or in the living rooms of wealthy campaign contributors. It always occurs from the bottom on up — when tens of millions of people say, 'Enough is enough' and become engaged." (Real quote, BTW.)
SW: Bernie, because I just feel like this show needs to die, and he could do that. Sexy won't happen while Bernie's in the room.
REJ: Dan Bolles, because this stupid survey was his idea.
JA: Kat Wright. I feel like she would just sit in the corner, drink tea and quietly make fun of everyone the whole time. I'd watch that.
SP: Peter Miller, 'cause the drunken-orgy shots would be in black and white.
DB: The entire House of LeMay.
What "games" would you like to see the contestants play?
KP: The Hunger Games kind, preferably on land that hasn't been posted yet.
SW: Figuring out the proper order in which to eat sugar-on-snow with doughnuts and pickles. The Most Dangerous Game. Go Fish.
REJ: Whiskey slaps?
JA: I'd like to see a game in which contestants drive a snowplow and have to knock over as many mailboxes as possible. I can recommend a few expert instructors. I just need to get their names from my town clerk's office.
SP: Hibernate.
DB: Name that STD.
What piece of Vermont-y advice would you give the show's contestants?
KP: With Holstein, Jersey and Ayrshire milkers, teat disinfection foam works just as well as liquid dip. However, contrary to popular misconception, drying teats and udders with a damp towel actually raises milk bacterial counts and increases the likelihood of mastitis.
SW: Talk is cheap.
REJ: Tinder doesn't really work here like it does in other places.
JA: Vermont winters are all about function over fashion. Carhartts and Pendletons are our haute couture.
SP: Take your wool socks off in the sauna.
DB: The Olympic coverage on Canadian TV is waaaaay better than on American networks.
The show is planned to run opposite the Winter Olympics. Which Olympic events would you skip watching to tune in to "The Bachelor"?
KP: In an age of heightened political sensitivity, dwarf tossing should have been retired years ago, so I'll give it a pass.
SW: None. I would rather die. But since that's not an option, I would probably skip logging. Is that a sport?
REJ: All of them, except ice dancing.
JA: Unless the International Olympic Committee is planning to install cameras and live-stream what happens inside the Olympic Village dorms, I'd skip the whole thing.
SP: Matt Lauer slopeside interviews. Oh, wait...
DB: I love the Winter Olympics so much that I'll watch curling on Canadian TV. Sorry, "The Bachelor."
Finish this sentence: "The Bachelor: Winter Games" will be...
KP: ...temporarily interrupted to bring you this public affairs panel discussion on GMO versus organic kale-derived snacks.
SW: ...full of melted hearts.
REJ: ...not as cute and cozy as the contestants probably think it will be.
JA: ...a hot mess — er, I mean cold mess.
SP: ...a frigid affair.
DB: ...yet another sign that anti-intellectualism is winning the battle for the soul of America. Alternate answer: ...not as much fun as watching curling on Canadian TV.