Inviting public space elates me, and Burlington has acres of it. What's better than the Church Street Marketplace on a summer night?
My favorite warm weather haunt is the Burlington bike path. I like it when it's busy with walkers, runners and all-wheeled travelers; I like it on lazy weekday afternoons when the traffic is slow to none.
Just south of Perkins Pier, beginning at the Waste Water Treatment Plant, a small peninsula juts out and the shoreline bends to the left. This stretch is home to a series of gorgeous white stone sculptures. I have not discovered a plaque indicating the name of the artist responsible for this public art; for that matter, I don't know if it's the work of a single artist or many. The pieces are not signed; nor are they titled; they are wordless!
Some of them appear to be unfinished, which, to me, only adds to their allure.
Here's Poseidon, I guess. I'm not sure what he's holding. Looks important, though.
Here's a mermaid playing a tune. On really still days, if you get close and listen quietly, you can hear the song.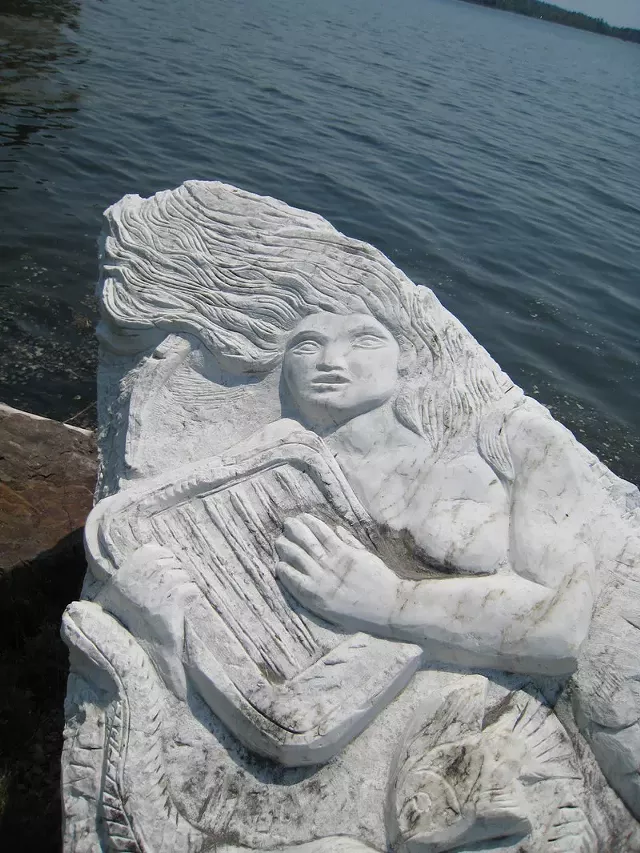 Here's two practical items, a canoe and roller blades.
A day in which you use both these items is probably a real good day.
If anybody out there knows more about these public treasures, I'd love to hear about it. Especially if you are the creator!