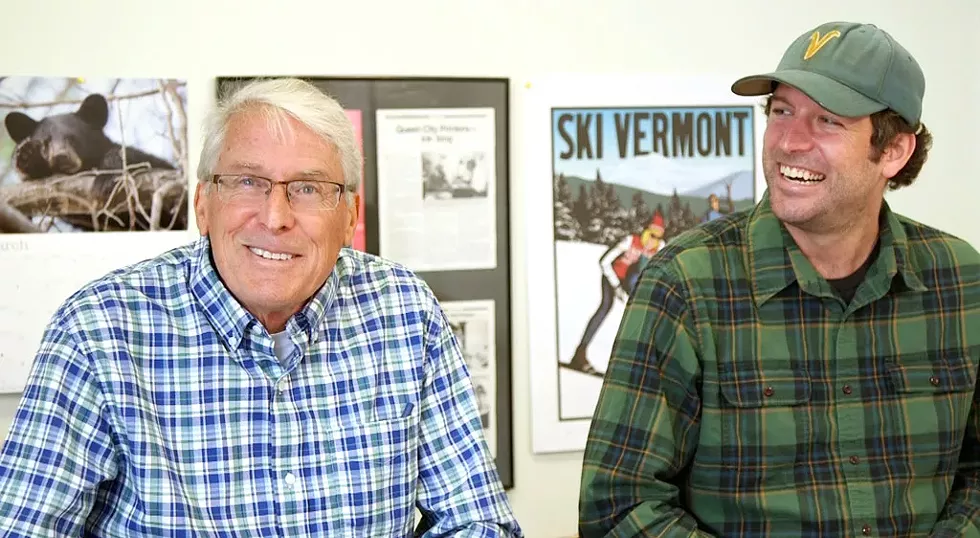 Eva Sollberger ©️ Seven Days
Alan and Dan Schillhammer
Q
ueen City Printers doesn't appear to be seeking attention in its low-slung, green building on the west side of Burlington's Pine Street. From the outside, it looks like a modest copy shop amongst the breweries, bagel places, tech companies and furniture stores along the corridor that hosts the city's annual South End Art Hop.
But the inside tells a different story — of
a full-service commercial printing operation that has thrived for 70 years
in the able, ink-stained hands of one Burlington family. Since April 1, 1951, three generations of Schillhammers have overseen the production of countless playbills, annual reports, calendars, catalogs and alumni magazines for Vermont businesses and nonprofits. Their facility, which is much bigger than it looks, is a testament to their perfection of a demanding craft, as well as the industry and entrepreneurial spirit of the neighborhood in which they've been doing business for seven decades.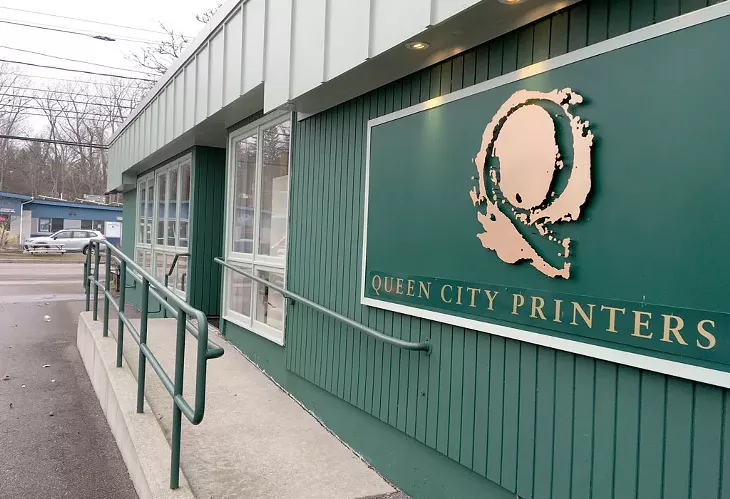 Paula Routly ©️ Seven Days
Queen City Printers, 701 Pine St., Burlington
"When people walk through the shop for the first time, they always say, 'Wow, I didn't know it went so far back,'" Alan Schillhammer said of the 17,000-square-foot plant that has morphed and been reconfigured many times over the years as the technology of printing has changed. The darkroom, typesetting and "stripping" areas are long gone, replaced by automated mailing machines, thermal plate makers and increasingly precise presses.
Going "so far back" also describes the company's long history. Queen City's relatively new Kodak digital printer was the brainchild of Schillhammer's son, Dan, who is also the machine's sole operator. Like his father and late Uncle John, Dan grew up in the shop and started working there while he was in high school. His grandfather Dick, the company founder, was still working then. So were numerous longtime current employees who now call Dan "boss." In a plaid shirt and baseball cap, the company's enthusiastic heir apparent is determined to keep the presses going.
"I'm not going to give up on printing," said Dan, 36, an avid skier and outdoorsman who has brought clients such as Rome Snowboards into the family business. Rome wanted its stylish spiral-bound catalog printed on recycled paper — and Queen City delivered.
"These are beautiful pieces, with lasting significance," said Alan, noting that the shop just printed a book about the pandemic year for Middlebury College — an historic memento in a world of ephemera.
Although both father and son acknowledged that marketing trends and economic conditions have shut down presses in Vermont and across the country, "We're not going anywhere," Dan declared.
Watch this video to see the presses in action!
---
The Schillhammers might have been Jericho farmers instead of Burlington printers if the family patriarch hadn't died suddenly in 1923, when Dick was 9. His mom had to sell the farm, and Dick's four older siblings scattered. He lived with two different sisters — in Burlington and Jericho — before graduating from Underhill High School in 1931. Three years later, while a student at Burlington Business College, he landed a job with the commercial printing company run by the
Burlington Free Press
. When it closed in 1951, he and several coworkers founded Queen City Printers.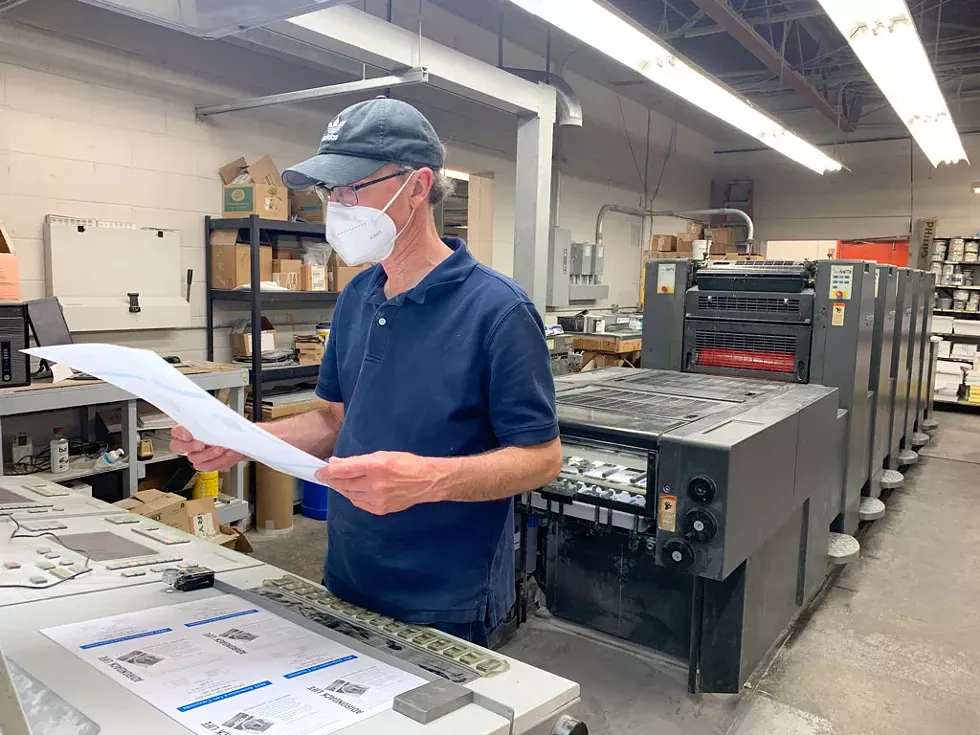 Eva Sollberger ©️ Seven Days
Pressroom supervisor Wayne Foell
The business started as a letterpress printer, using the Gutenberg-inspired process of inking and pressing movable type against sheet after sheet of paper. Things got more efficient with the advent of offset printing, in the '60s, a technique in which the inked image is transferred from a metal plate — on rollers — onto the paper. Alan's older brother, John, gets credit for wisely moving Queen City in the offset direction. He ran the company with his dad for decades and with Alan after that. John died of a heart attack in 2013 at age 74.
Two months later, Dick, who had worked well into his nineties, passed at 99. Dan recalled a lunch with his granddad after the old man had moved to an assisted-living facility. They played a game of cribbage. Then, "he looked at me, and said, 'You know, I'm getting ready to come back into the shop.'"
The current father-and-son team that runs Queen City has an easy rapport. They listen respectfully to each other, acknowledging their respective strengths. Alan loves working with customers and fondly remembers the old days of phone calls and press checks. Dan knows how and when to shake things up. For example, the company owns the building next door, which was outfitted to house its mailing operation. Dan convinced his dad to move that equipment back into the main plant and lease the resulting space. The Raap family's Upstate Elevator Supply Company turned out to be the perfect, pandemic-proof tenant.
---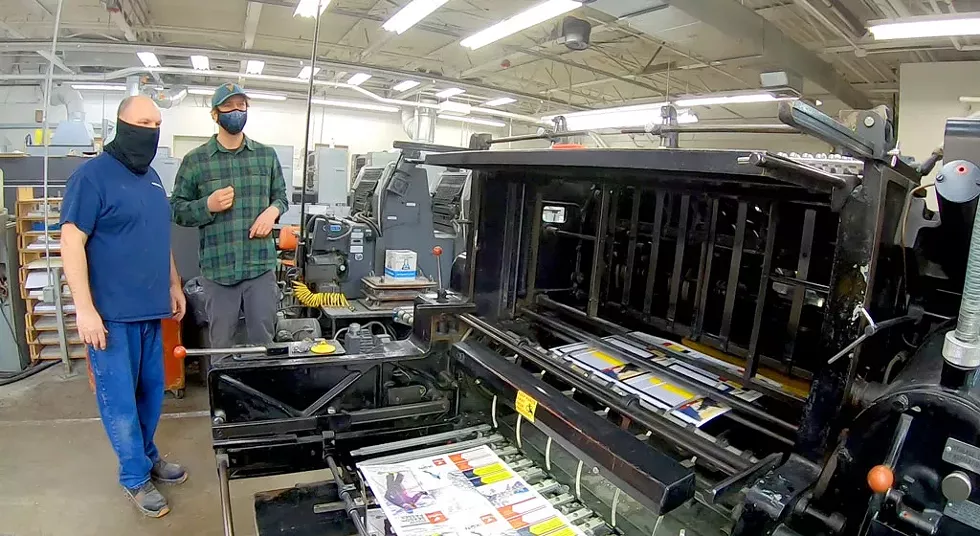 Eva Sollberger ©️ Seven Days
Jeff Walker and Dan Schillhammer monitor a press run for Sugarbush.
Like any business, family-run ones need a clear chain of authority. When John was alive, Alan, now 66, did as his older brother told him. Now he expects the same of Dan, but his leadership is humble and gentle.
"He actually does listen to me a little more now, which is pretty cool," Dan said of his dad. And "It's not like we're so sick of each other by the end of the work week that we don't want to hang out on the weekends."
They talk shop, of course. Even before the pandemic, the printing industry was contracting. Fewer businesses are creating paper products — annual reports, mailings, menus and brochures — and longtime clients are ordering smaller quantities. Then came the pandemic. Queen City does lots of work for local arts organizations, including the playbills for the Flynn and Lane Series. Neither presented performing arts seasons in 2020-21. Ditto for college commencement programs.
Eva Sollberger ©️ Seven Days
Alan Schillhammer reviewing a printed page for the Adirondack Life calendar
"We've had to get a little leaner and a little more creative, which I think we've done," said Alan. He noted that the plant's 17-person crew, with its combined total of 375 years of experience at Queen City Printers, has been flexible and collaborative — more so than when the company was going gangbusters with three shifts a day.
On a Thursday in March, a dozen or so workers were minding multiple presses, cranking out printed matter for the City of Burlington, Lake Champlain Chocolates, Sugarbush Resort and Northern Vermont University. The six-color Heidelberg CD 74 was running a job for
Adirondack Life
. Although the machine operates way too quickly to track a blank white sheet of paper moving through six towers, on the other side was the dazzling end result: perfectly registered images of red foxes, waterfalls, frozen rivers and summer sunsets for the 2022 calendar.
A keeper, for sure.
This article was commissioned and paid for by Queen City Printers.