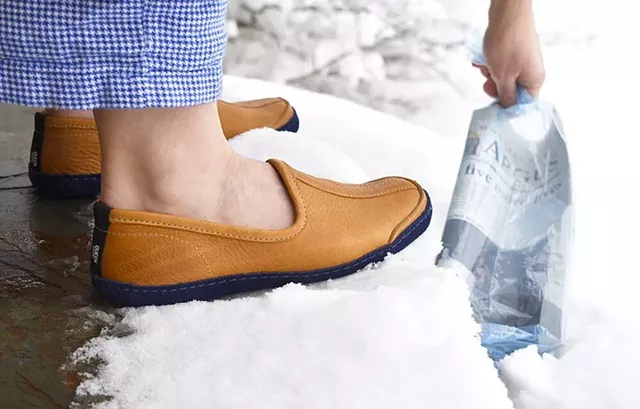 Courtesy of Queen City Dry Goods
Vermont House Shoes by Queen City Dry Goods
It's a lucky coincidence that Matt Renna, founder of Queen City Dry Goods, is releasing a line of house shoes at a time when an unprecedented number of people are staying home. Renna has had a passion for footwear since he first taught himself to make shoes more than 20 years ago, and the house shoe has been in the works for a while.
"We thought it was a great place to start to build a factory in Vermont making footwear — to come out with our own take on a house shoe that's a little more stylish and fitted and fun to wear than your typical slipper," Renna said.
The shoes are made from locally sourced leather, with a design honed through years of trial and error.
Courtesy of Jeff Baron
Matt Renna and Jezebel
"Every year, I make a slipper or a house shoe, so it's something I've been working on for my whole career," Renna said. "I'm always working on developing new shoes for myself, for whatever I'm doing ... It's something that serves my own lifestyle in that way. Every year I like to revisit it with new materials and apply my new knowledge."
Though the house shoe design is finalized, the actual making will have to wait a few more days, because Renna is currently wrapping up a different project: a portable negative-pressure pod, developed in collaboration with the University of Vermont Medical Center, to protect hospital staff when they're performing procedures such as extubations.
When a doctor puts a tube down a patient's airway to help them breathe, or removes it — an intubation or an extubation, respectively — the doctor is close to the patient's face and therefore more vulnerable to the spread of illness. Highly contagious patients, including those with the coronavirus, are sometimes placed in negative-pressure rooms. These rooms have ventilation that allows air to flow into the room but not out of it, preventing pathogens from escaping through the air.
Courtesy of Queen City Dry Goods
Negative pressure extubation pod
Vivek Chittenini, a UVM Medical Center anesthesiology resident, had seen smaller versions of these negative-pressure chambers used to encapsulate stretchers so that patients could be moved without risk to medical staff. The medical center reached out to Renna, who took the design a step further. His pods contain only the patient's torso and have protected glove inserts so that hospital staff can perform tasks close to the patient's face without risking exposure.
The design is a mash-up of materials, including HEPA filters designed for ash vacuums and fans originally made for indoor gardening. The pod is undergoing rigorous testing at the medical center to make sure it's airtight and will meet standards set by the U.S. Centers for Disease Control and Prevention.
If all goes as planned, Renna said he'll make 10 of them this week for the medical center. He also plans to make the designs and instructions available via open-source software to help anyone with the right equipment make them.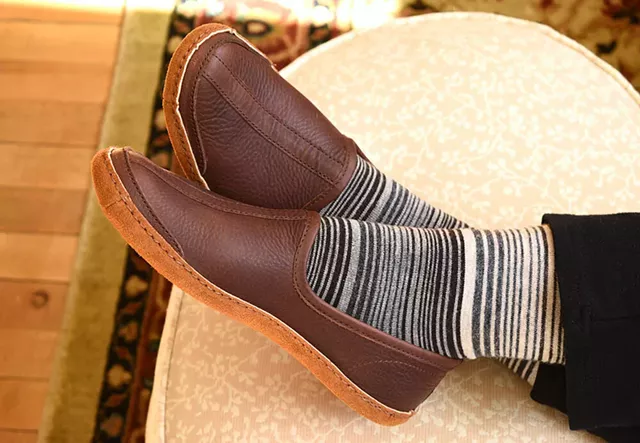 Courtesy of Queen City Dry Goods
Handmade shoes and hospital equipment might seem to represent opposite ends of the manufacturing spectrum. But Renna has made a career of finding ways to efficiently make high-end goods; in 2018 he launched Queen City MFG to provide design, development and manufacturing to others. If someone has an idea for a shoe — or a backpack or, in one case, a rehabilitative ankle brace for horses — Renna can turn the idea into a prototype and help figure out where and how it can be manufactured.
"I basically just kind of adapted to being a product developer, [answering questions such as] 'How can we make things in larger quantities?' and specializing in doing development as a service," he said. "Not just for my own products but for other companies."
Renna said he loves the design phase: tinkering with and adjusting a product until it's just right. And the machinery he has is an efficient resource in a pandemic. Beyond the extubation pods, he's also cutting elastic bands for face shields made at the Generator maker space. The bands are disposable for sanitation reasons, so Renna has been cutting 4,000 new ones per day.
He hopes that, once the pod design is finalized, he can direct some of his attention back to shoemaking.
"I know I can make the house shoes by myself. At least to start, I can probably make 10 or 15 pairs a week," he said. "But if more people want these extubation pods, I'm trying to figure out how we're going to scale that up ... There are a lot of questions." But, Renna said, he's just happy to be able to help.