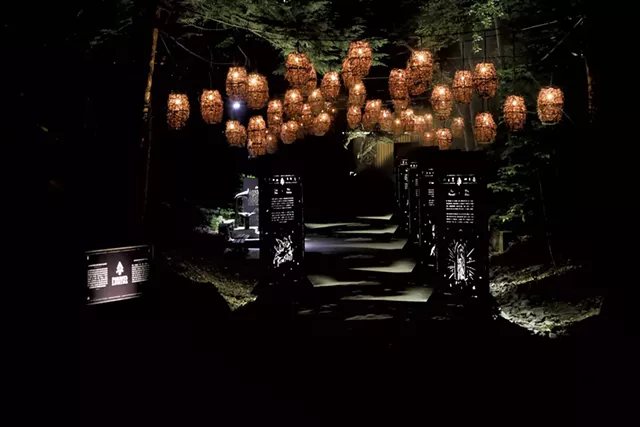 courtesy of forestA lumina
Entrance to Foresta Lumina
Lava ran down the side of the cliff, and rocks began to crumble into the gorge. Behind the rubble, a glowing hidden chamber revealed itself to the enthralled crowd. Inside it danced a young woman surrounded by fairies. Then the rocks realigned themselves again into a normal cliffside, one among many in the Eastern Townships of Québec. The nighttime crowd moved on, having believed in this digitally projected scene, at least for the moment.
No, no one is shooting a new J.K. Rowling film just across the border. Parc de la Gorge in Coaticook, a public park where visitors can hike on trails during the day, transforms at night into Foresta Lumina, an electrified, enchanted fairyland that offers a mystical, interactive wooded experience.
The 4-year-old attraction is about 25 miles northeast of the crossing between Derby Line, Vt., and Stanstead, Que., where my friend and I heard from a border agent that the park was magnificent.
We arrived early to see what Coaticook, population 9,000, had to offer in the way of food and drink. After an afternoon stroll through downtown, where we saw children hula-hooping and bouncing on an inflatable dragon in the closed-off streets, we began the evening at Microbrasserie Coaticook, a microbrewery down the road from Foresta Lumina.
The blond ale brewed with ginger was refreshing on a warm summer evening — not too heavy on the ginger, with a pleasing tartness and bitterness from lime peels. The amber ale, brewed with rye, was medium-bodied and distinct, its subtle clove well balanced with its buckwheat honey flavor. We shared a generous plateau délices à partager, which consisted of two big sausages, mild Coaticook cheddar, onion confit, pita and accoutrements. At $16 — Canadian, of course — it was enough for two.
We arrived at the park after dusk, around 8:30 p.m. At the entrance of Foresta Lumina hang dozens of lanterns wrapped in what appear to be sticks. Bilingual signs introduce the characters from the fictional narrative that runs through the park: fairies and a forest spirit (good), "the creature" (not good), the thunder, and, in case you were missing the big villain of previous eras, the devil.
We were given the opportunity to whisper our wishes to the fairies through a special horn. That was a little too gimmicky for me, but not for many of the children who made up a substantial part of the crowd, some wearing pajamas.
According to one of Forest Lumina's managers, Carolane Tremblay, the park receives as many as 3,000 guests per night, but to us it never seemed overcrowded. The two-kilometer trail is fairly easy, except for brief steep sections; it's not, however, accessible to people with mobility disabilities, or to strollers.
For adults, Foresta Lumina is like the fantasy films of their childhood distilled into one movie-length, interactive experience. Visitors must be willing to be enchanted by the night forest itself, as well as by the projections of light and sound that run on loops on the designated path.
That path hosts a series of installations incorporating varied lighting and sound setups, along with digital scenes projected on a cliff and, seemingly, into the air (actually a barely visible netted screen). We walked up a hill to see the fairies installation. Here hundreds, if not thousands, of small lights nestled and flashed wondrously among the trees, accompanied by the whirly sounds of fairies flying.
courtesy of forestA lumina
Portal on bridge at Foresta Lumina
That was the intended experience, anyway. Distance made the suspension of disbelief easier, the rhythm of the lights nearly transformative from 20 feet away. I walked off the path and up to the lights to see how they worked: small bulbs on plastic sticks, intricately wired and programmed. I realized I would enjoy myself more if I didn't think too hard about the how behind the wow.
We crossed the slightly swaying 554-foot suspension bridge, glimpsing small blue and red lights in the gorge below. It was enthralling — until white lights along the bridge glared with excessive wattage, more club-like than mystical.
Toward the end of the bridge, white fog emanated from a backlit doorframe. My friend pointed out the genuine spiderwebs in the door's corners. Like everyone else on the path, I got to watch others disappear into the fog, then walked through this "portal to the unknown" myself. We each had our moment of dramatically crossing a mysterious threshold, as if on our own hero's journey.
The path continued to a projection of the devil attacking the narrative's heroine, Margaret, who gets rescued by fairies. Other installations were more interactive, such as percussive instruments that revelers could play, projecting their sounds into the woods.
Foresta Lumina came into being as Caroline Sage, executive director of the nonprofit, town-owned park, sought new sources of revenue. She took her idea for an enchanted forest to Montréal's Moment Factory. That's the multimedia entertainment company responsible for last May's massive, and controversial, light installation on the Jacques Cartier Bridge, part of the celebration of Montréal's 375th anniversary. Moment Factory has also created installations for everything from retail marquees to Miley Cyrus' 2014 Bangerz world tour.
Regardless of whether memorable times in people's lives can actually be manufactured — as the company's name seems to imply — Moment Factory's work at Foresta Lumina is captivating, entrancing and visually stunning. Not many sound and light installations exhibit those qualities and get more than 150,000 people per year to hike around the woods at night. The children and adults we observed appeared to be happily engaged; I didn't see a single person using their phone, other than to take an occasional photo.
Food and tea at the park's Coffret de l'Imagination, a cozy bistro with a large terrace, helped us pensively digest the experience of en masse entrancement. I ate a gigantic salad with mesclun mix, local smoked trout and a rich herbal dressing; my friend had panini made with smoked local pastrami and tomato cream. Both dishes were excellent.
courtesy of forestA lumina
Cliffside projection at ForestaLumina
Though another part of the park offers camping, this and all local lodging options were full, so we stayed the night at a hotel in Sherbrooke.
The next morning, we returned to hike the Gorge Trail, parts of which accompany the Foresta Lumina trail. Seeing its entrance in daylight was my moment of opening up the wardrobe to discover not a gateway to Narnia, but hanging clothes and a solid wood backing.
We climbed the steps to an observation tower on the Gorge Trail, which offered an expansive natural view of what had been a surreal environment last night. "USA," I heard a French Canadian say to a group of English speakers, pointing south toward the mountains to orient them. "USSR," he added with a smile, and pointed in the same direction. I wasn't sure if we were in the realm of dark satire or creeping dystopia, but my suspension of disbelief was definitely over.