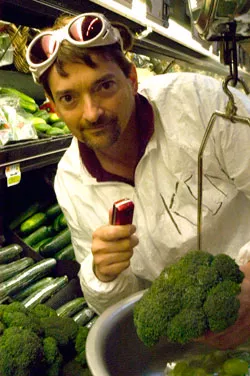 Matthew Thorsen
Ken Puzey
You're strolling through the supermarket produce department, cellphone in hand. Pausing at a display of greens, you use your phone to shine a tiny laser beam on a promising bag of verdant spinach. A moment later, a text message pops up on the cellphone, proclaiming the vegetable is clean. Reassured that it's free of both Salmonella and E. coli, you drop it in your cart and move on to the tomatoes.
Sound futuristic? It is. But Ken Puzey, owner of Burlington's QuantaSpec, Inc., is determined to make it happen. Asked what his business does, he tries to put it simply: "QuantaSpec develops applications using infrared light to detect bad things. To elaborate: 'Bad things' means chemical agents, toxins, pathogenic organisms, explosives." He pauses for an instant. "Those are all bad things, right? Although explosives have their uses."
"Bad things" in food are making people nervous these days — a tomato scare dragged on for months this past summer and, in Vermont, more than a ton of E. coli-tainted local ground beef was recalled just last week. Puzey rattles off the stats: "Food-borne pathogens caused an estimated 76 million illnesses, 325,000 hospitalizations and 5200 deaths this year. I'd be willing to bet that most Americans aren't cognizant of how big a problem this is." Puzey himself was once hospitalized for food poisoning, and "it wasn't pretty," he says.
With a $93,000 grant from the FDA, Puzey has patents pending for infrared technology that can speedily detect the pathogens that cause food-borne illness. And so far, he claims, he's been able to do it with 100 percent accuracy.
In January, QuantaSpec will learn if it can expect a $750,000 follow-up grant from the FDA, which would allow Puzey to create prototypes of his bad bacteria detectors. Meanwhile, QuantaSpec has other projects under way: Puzey recently received funding from the Vermont Experimental Program to Stimulate Competitive Research (EPSCoR) to investigate a new way to diagnose breast cancer. The U.S. Army Medical Research Command is paying him to develop a method of identifying malarial infections in the field and determining which patients are suffering from drug-resistant strains.
But in essence, it all goes back to light. And bad things.
******
QuantaSpec, located in a one-room, ground-floor office on South Champlain Street, employs seven part-timers and two full-timers, including Puzey. Papers strewn around suggest a business in high-energy mode. High-tech gadgets are everywhere, including a special theft-proof box to hold the explosives — devising ways to detect them necessitates having some around — and a "very powerful" laser designed for the Air Force that Puzey isn't at liberty to talk about.
Tall and thin, with an easy smile and a tendency to lean in close as he eagerly explains complex concepts, Puzey holds Bachelor's and Master's degrees in electrical engineering — from the University of Illinois at Urbana-Champaign and the University of Colorado at Boulder, respectively. He came to Vermont as an employee of IBM "on loan" to the Essex facility and moved here for good after finishing his degree in 1997. At the time, he owned a company he'd started in 1995 called TeraComm Research, but the business went bust when the fiber-optics market collapsed in 2002.
After working as a consultant for two years, Puzey started QuantaSpec. In 2006, seeking applications for infrared light — and looking for projects that might attract grant funding — he began delving into the world of food poisoning. He found a colleague in Catherine Donnelly of the University of Vermont's Department of Nutrition and Food Sciences. She "was mostly interested in food-borne microorganisms," he relates. Indeed, Donnelly, co-director of the Vermont Institute for Artisan Cheese, is recognized as an international expert on Listeria monocytogenes.
Today, tests for food-borne pathogens are conducted on samples that must be painstakingly prepared by technicians, who use chemicals to detect the presence of harmful microorganisms. The QuantaSpec research team began with a simple question, says Puzey: "What's the current state of the art, and what are the problems with the current state of the art?"
In answering the second question, Puzey and company realized that time and money are two of the biggies. In addition to the hours spent prepping samples, the actual tests are "pretty slow," he says. "It takes 24 to 72 hours to get a test result."
Unfortunately, many foods at risk for contamination have short shelf lives — think ground beef or salad greens — which makes it impractical to put them to the test. The chemicals used, or "reagents," aren't cheap, either — about $20 for each pathogen one seeks to detect, says Puzey. And "for each food, you probably want to test for multiple pathogens."
Using infrared light is more efficient and cheaper, shrinking the time it takes to get results from days to "less than a minute," Puzey boasts. Even better, he says, "We can test for all pathogens simultaneously, or at least all the pathogens that are in our library of things we know how to identify."
Several firms are competing to develop such technology, and Puzey isn't going to divulge his secrets. But he does explain the basics of how light detection works: "Microorganisms are just a cocktail of chemicals. Basically, you shine infrared light on the sample, and different wavelengths of light are absorbed based on the chemistry of the sample," he says. "By looking at what wavelengths of light are absorbed or not absorbed, we get detailed information on the chemistry of what we're looking at."
Having created a model of the wavelengths of light a particular combo of chemicals — say, those that compose Salmonella bacteria — absorbs or reflects, Puzey can seek that same pattern in his samples. Industrial-strength cleaners and food additives don't get in the way: Infrared rays are "unaffected by sanitizers, preservatives or the food matrix," Puzey declares. "Food matrix" is the sci-fi-sounding term for the bacteria's organic host: In this case, it's animal or vegetable.
QuantaSpec's test can pick the bad guys out of a complex soup of microorganisms. When one bacterium is benign and another will put you in the hospital, the devil is in the details — not just the difference between E. coli and Listeria, but between the deadly Listeria monocytogenes and its relative, the harmless Listeria innocua. "Everyone who's been doing research using infrared light has always done it with pure cultures," says Puzey, explaining how he's distinguished himself from his competition. "If you want to apply this to food safety . . . You need to be able to pick out pathogenic bacteria hiding in that flora. Is there a wolf in with the sheep? Since no one had ever done it, they didn't think that could be done."
While Puzey is aware of "at least half a dozen" companies attempting similar research, he's convinced his results are superior. "Based on the literature, no one has ever been able to tell apart two subspecies of organisms as accurately as we have," he claims. "We get 100 percent accuracy. Before, the record was 80 percent."
UVM Professor and Analytical Chemist Giuseppe Petrucci calls Puzey "one of the most inventive scientists I've ever met." He worked with Puzey on the brainstorming phase of the project, and believes his work shows "phenomenal promise."
"He's really working at the forefront of detection technology to solve these very important problems," Petrucci notes.
Why has Puzey succeeded where others have failed? "My guess is that I have a stronger math background, being an engineer," says Puzey. "Most people who do this work are biologists." Math comes in handy when he processes his data: "All of our intellectual property revolves around how you interpret the spectra," Puzey explains. To safeguard his work, he doesn't share his algorithms with anybody, even his own staffers. The secrets are between him and his computer.
******
Puzey's findings could have far-ranging applications in the food industry, and not just for shoppers. He also hopes to design devices for food processors so they can analyze raw materials as they enter the plant and finished ones as they leave. For example, there's still plenty of debate about the safety of raw milk. On-farm testing could eliminate the risk altogether.
Who's going to analyze all the data gathered by cellphone-wielding consumers in the produce aisle? "It could be run through the Internet," Puzey says. "They'd send us the spectral data, and we'd send back the interpretation."
Puzey doesn't plan to charge manufacturing plants a lot for his services — mainly, he talks about eradicating food-borne illnesses and saving lives. But if his prototypes become food- industry standards, he stands to make a tidy profit.
How has his work with microbes affected his day-to-day life? "I would never eat a hot dog straight from the package," he vows. Burgers? Puzey orders them "medium-well instead of rare. With steak, the contamination is only going to be on the surface. With ground beef, the surface can be anywhere inside." He still eats raw vegetables and fruit, but points out, "I think many people don't realize that there are bacterial contamination risks with those."
Not everyone is so paranoid in the produce section. But given recent food-safety scares, many of us have fretted about the microscopic hitchhikers on our tomatoes or alfalfa sprouts — fears our ignorance only exacerbates. Someday, if Puzey and the FDA have their way, we may be able to prevent food-borne illness by shining a light into a romaine's heart of darkness. Until then, we'll have to take our chances.