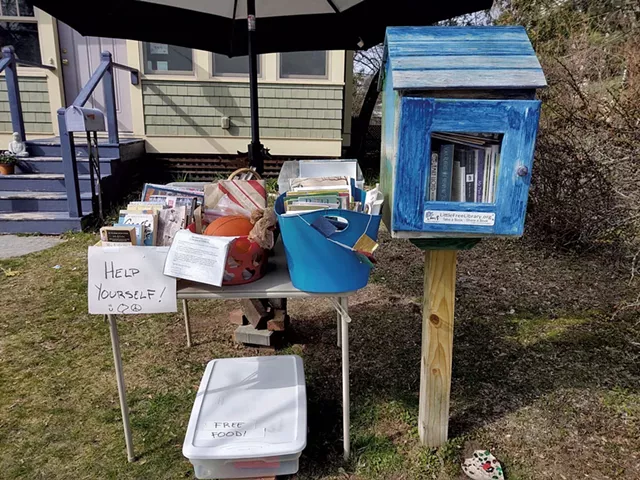 Courtesy Of Jb Barna
The stand
Celia Cuddy and her wife, JB Barna, have created a sensation on their block in Burlington's South End with their daily outdoor display of free items to borrow or keep.

Puzzles? Check. Books? Plenty. All six seasons of "Glee" on DVD? You bet.
"It's just become this neighborhood project, and we just feel like we're tending it," Cuddy said.
As the lockdown took hold in late March, Cuddy decided she'd expand the offerings of her little free library to help keep homebound kids — and adults — occupied. She set up a bench and put out bins full of stuff for passersby to peruse.
Word quickly spread, and neighbors began to contribute items of their own.
"The generosity of the neighborhood is just astonishing," Cuddy said.
Several people browse the offerings each day, taking what they want and leaving what they can. Cuddy's even put out shopping bags and disinfectant wipes for those pawing through the piles.
The whole operation hit a speed bump early on when someone made off with the bench and the umbrella that shielded the stuff from the weather. The couple had given themselves the bench as a wedding anniversary gift some years ago, so the theft was especially biting.
They posted on Front Porch Forum about the missing furniture, hoping someone had mistaken it for a freebie. So far, no dice.
But the next day, someone donated a new umbrella. And a group of neighbors dropped off a check so that the couple can replace the bench.
"I just started crying when I saw that beautiful little note," Cuddy said.
For now, a table will have to do. One day last week, it held a bounty that included a basketball, a kids' book about Thomas Jefferson and a DVD of Hotel for Dogs. A box below offered free food.
A regular Burlington bodega.
"It's given us a lot of joy to be able to offer this space for the neighborhood," Cuddy said.