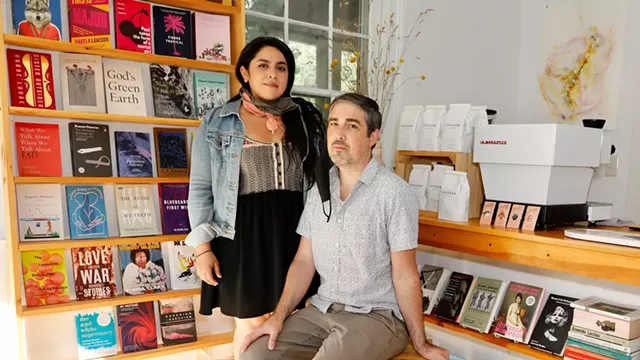 David Shaw
Ruth Antoinette Rodriguez and Jeremy Sowell
Just inside Antidote Books, a cozy, light-filled space in Putney, customers immediately see a wall of poetry. In many bookstores, the poetry section is relegated to a few shelves tucked in a back corner behind best sellers, cookbooks and hiking guides. At Antidote, the expansive selection is front and center and impossible to miss. Volumes by Maggie Nelson, Alejandra Pizarnik, Hanif Abdurraqib and Fatimah Asghar are propped up at eye level.
It's a visual reminder that Ruth Antoinette Rodriguez and Jeremy Sowell opened Antidote in 2017 to build the kind of bookstore they'd been missing since moving to Vermont from Houston five years earlier.
"We wanted to create a space for vital poetry," Rodriguez said. While new bookstore owners might be tempted to generalize in order to compete with the Amazon behemoth, Rodriguez and Sowell took the opposite approach. Antidote carries a highly curated selection of poetry, as well as used books, literature translated into English, and books from small presses. Rodriguez is a poet herself, and Sowell has worked in bookstores for years.
"We turned inward. We know what we like," Rodriguez said. "Jeremy had a ton of experience, and I relied on intuition."
They also aimed to make Antidote welcoming for readings and visiting writers. They've hosted public events featuring Vermonters Major Jackson and Bianca Stone, as well as poets from elsewhere, including Samuel Ace, CAConrad, Dana Wier and Ewa Crusciel.
On August 26, Antidote will celebrate its third anniversary — with the world looking a little different now than when the shop first opened. In addition to closing the store for three months, the pandemic put a halt to its events. Though Rodriguez has been attending virtual readings, she's hesitant to organize one herself.
Antidote was less prepared to pivot to online than some retail shops — it still doesn't have a website, the owners admitted with a laugh, though it has an active Instagram account. A contingent of loyal customers in Vermont and beyond has kept the shop afloat, Rodriguez said. Since March, the owners have taken orders for curbside pickup via email — and, despite the shop's curated inventory, they're happy to order any book in print at a patron's request.
When the shop reopened in late June, many visitors said it was the first store they'd been to in person since the pandemic began. Online shopping or curbside pickup is quite different from browsing the shelves or resting on a lazy purple chaise under a window at Antidote.
"Even now, we get people that will come up from all over," Sowell said. "People know that this is a place where they can find out-of-print poetry books."
The owners love buying used books from community members and learning about their reading habits and interests. Rodriguez describes the learning as "a conversation," full of quiet insights and funny coincidences. (They've discovered that, for some elusive reason, many southern Vermonters own a book about climbing Mount Everest.) Sowell also draws on his depth of industry knowledge to price rare books.
For loyal customers such as Ken Estey of Newfane, Antidote's survival is a must.
"It feels like the center of town," Estey said. He's an associate professor of political science at Brooklyn College and runs a free bookstore there for students. Rodriguez and Sowell donate used books that they don't sell, Estey said.
Also vital to the owners' pandemic-era business was what had started as a side venture: coffee. Sowell taught himself to roast beans a few years ago. Now, each week the pair roasts about 200 pounds of coffee from woman-owned farms in Central and South America. Under the name Duchess Coffee Co., Rodriguez and Sowell sell the beans in local stores and online (it does have a website), along with drinks at their storefront.
While the last few months have been hard, they've also given the couple a chance to plan for the future.
"We're able to take a pause, and it's not all bad," Rodriguez said. "We got stuck in one mode for the last three years ... It's hard to cut away and resist the temptation to be everything to everyone."
When the fallout from George Floyd's killing in Minneapolis increased demand for anti-racist literature at bookstores around the country, Rodriguez was already stocked up. When one customer asked if she was planning an anti-racist reading group, she was surprised. Antidote has been centering writers of color, trans writers and other underrepresented voices all along.
Rodriguez, who is of Mexican descent, said her role as an owner and bookseller "challenges local people's own ideas about their perception of literary Vermont."
She could talk about poetry for hours. But what does she say to people who resist the genre or think they'll never understand it?
"My recommendation is to open up a book, sit down with it ... and just spend time with the words," she said. "I think people need to give themselves more credit, as readers."