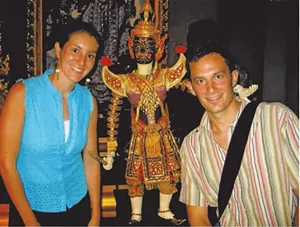 Alison and Jeff in Thailand
Almost 9 years ago, my husband, Jeff, and I took a three-week trip to Southeast Asia. We'd been married for a couple of years and knew we wanted kids soon. We figured the excursion would be our last big hurrah before we started a family.
We rode elephants in Chiang Mai, visited temples and night markets in Bangkok and toured the ruins of Angkor Wat in Cambodia. A month after we returned, I was pregnant with our daughter, Mira. Our son, Theo, came three years later.
We've managed to travel a fair amount as a family of four, but mostly to kid-friendly and relatively close destinations like Disney World in Florida. Now that Mira is almost 8 and Theo is 5, we are finally feeling brave enough to attempt a cross-country flight to Los Angeles this summer.
Getting off the beaten path with young kids can be tough. That's why photographers Brian Mohr and Emily Johnson of Moretown are so awe-inspiring. The husband-and-wife team behind the photo essay "Adventures in Baby Rearing," (page 18) specializes in outdoor adventure. When Emily got pregnant with their now-2-year-old daughter, Maiana, she continued to stay super active, skiing right up until she went into labor. The couple has managed to maintain an outdoorsy lifestyle with baby in tow, bringing Maiana along on skiing, camping and biking trips. Their photos capture some of their sweet, adventurous moments as a family.
Contributor Jessica Lara Ticktin has also pushed the limits of motherhood. In this month's "Use Your Words" essay ("Baby on Board," page 59), she writes about choosing to travel around the world with her husband and their three daughters — while pregnant. Some people warned that her decision was risky. But Ticktin explains that seeing how pregnant women are viewed in different countries turned out to be surprisingly educational.
Sascha Mayer and Christine Dodson are trailblazers of a different kind. The pair founded Mamava, a Burlington-based company that makes freestanding lactation suites. These "pods" offer new moms a convenient, clean and private place to pump milk and nurse on the go. The first one landed at Burlington International Airport in August of 2013; this year Mamava is on track to ship 120 more. In "Got Milk?" (page 24), Megan James explains why the pods are now popping up at airports, hospitals and stadiums across the country.
We hope the articles in this Baby & Maternity Issue will inspire you to embark on your own adventures in parenting — whether they're far-flung or close to home.