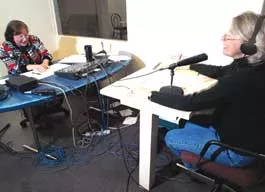 Joyce in Winooski" is concerned about a supermarket employee somewhere who pummeled a customer trying to buy 13 items at a 12-items-or-less checkout line. Responding from just across town at the Champlain Mill studio of WKDR, Laurie Morrow tells the caller that the victim ought to file a civil suit. Kelsey Bush Nadeau, her "True North Radio" co-host and a first cousin of George W., jumps in with "bullying and road rage are symptomatic when your society is going crazy."
Society's mental and political health infuse the topics covered by these two women of the airwaves, reportedly the country's only female conservative talk-show team. Kicking off each broadcast with the rousing "Cadillac Red" by The Judds, they have been at it every weekday morning, from 11 a.m. to noon, since early January on the 5000-watt station at 1390 on the AM dial.
Other than a few initial complaints to WKDR — "Where did you get these broads?" is still their favorite — Morrow and Nadeau say the public response has been positive. An audience of regulars seems to be building for their analysis of current events, animated chat about local controversies and interviews with noted Vermont politicos and national figures — not to mention repeated denunciations of the guy they like to call "John Walker Taliban."
The commander in chief leading the charge against such evil-doers is aware his cousin has become a radio personality. But is he likely to call in? "He's got a lot more important things to do," Nadeau says of Dubya.
Unlike knee-jerk ideological gabfests heard widely on radio elsewhere, "True North" has a more thoughtful, literate quality. Morrow and Nadeau frequently recommend reading for their listeners. On one Friday morning, they discuss Books That Build Character, a 1994 paperback that includes praise for a classic generally cherished by the left: John Steinbeck's The Grapes of Wrath, in which Tom Joad goes underground to fight the capitalists and his Ma rhapsodizes about "the people."
Of course, the Joads survive drought, poverty, intolerance and floods but remain blessed with strong "family values" — a shibboleth that, like the word "character," has become a conservative rallying cry.
"The Grapes of Wrath is as biblical as you can get," Nadeau suggests during a post-broadcast interview.
Religion is important to both women. Raised a Presbyterian, Morrow became an atheist in her youth but recently converted to Catholicism. Nadeau, wearing a stylish silver crucifix on a chain around her neck, is a devout Episcopalian. "It's the center of my life," she explains, "but not the center of our show."
While they may agree with the Christian right on many issues, these frequency femmes do not see "True North" as a rubber stamp of any organization. Morrow, however, is very involved with the Heritage Foundation, a conservative public-policy think tank.
"I feel that what I'm here for is common sense," she says of the radio program's raison d'être. "It doesn't have to be left or right."
"We're interested in people," adds the 54-year-old Nadeau, who bears a passing resemblance to Martha Stewart. "I hope the dialogue doesn't pit us against each other, and that we can get to a place where there's enough respect that everybody's allowed to speak."
That policy may not extend to Senator Patrick Leahy, who frequently endures verbal bashings on the show. Asked if the Democrat would ever be welcome as a guest, 48-year-old Morrow responds, "We'd have to think about it."
"I'd be flattered if Leahy heard he was attacked here," Nadeau acknowledges. "But I'd have to ask myself what we could achieve having him on the show, how it would further our mission."
The five founding mothers of "True North" got together almost a year ago to brainstorm about creating higher visibility for their shared outlook. "We're a bunch of nonconformists, a diverse group of women who on key points agree," suggests Lenore Broughton, a Burlington philanthropist who contributes to conservative causes. "We're a mixed bag of tricks — writers, graphic designers, full-time mothers, grandmothers, and there are a couple of former teachers in the group, too."
It's also a group of outspoken individuals who are well-known in political circles: Kirby-based Anne McClaughry and her husband John run the Ethan Allen Institute, a "True North" advertising sponsor; Mary Schroyer of Waterbury Center started the anti-civil union group Take It to the People; Martha Hanson of St. Johnsbury is active in the state's Repub-lican Party; and Libby Sternberg of Rutland heads the school-choice organization Vermonters for Better Education and is a frequent conservative commentator on Vermont Public Radio.
Broughton says that the women all feel strongly about "keeping the 'old-fashioned' family in the center of things, bringing back the notion of personal responsibility." Think Dr. Laura, who fell from favor for denigrating homosexuals on her popular call-in show. "Not all women walk lockstep with the National Organization of Women," Broughton adds.
These right-leaning activists mailed a promotional letter to potential listeners in early January contending the radio show's constituency would be non-NOW women who "have no one speaking for them. They have no forum in which to express their views."
"True North" is "letting in some fresh air," according to Broughton.
"Fresh Air" and "Prairie Home Companion" happen to be among Nadeau's favorite National Public Radio programs. The latter show is broadcast from Minnesota, the state she lived in for 16 years. In Vermont since 1996, the Williston resident and her husband Philip have four children, ages 15 to 24.
Born in Brazil — where her father worked for Pan American Airways — Nadeau was raised in Connecticut. She studied at the Sorbonne in Paris, surviving the 1968 student-worker uprisings, then found a job in the travel department of a London bank. Stints in San Francisco, New York, New Haven, Boston and Montréal also appear on her resume.
In 1972, the same year Morrow voted for Richard Nixon, Nadeau cast her ballot for George McGovern. She switched parties long before her cousin became President of the United States, and last year attended his inauguration. Nadeau calls her high-ranking relative "a good friend."
Recommended by a pal who could not accept the position herself, Nadeau was floored when approached to co-host "True North" last year. "I like to talk and had thought quite deeply about a lot of issues," she recalls, "but it was so completely out of the blue. I prayed about it."
Broughton and company hired her without knowing about the White House connection and "before they had even heard my voice," Nadeau says. "I wanted to do a good job and not let them down, but I was terrified."
Her radio partner had no such trepidation. When Anne McClaughry tapped Morrow for the job at a Washington, D.C., meeting of the Heritage Foundation, it seemed like karmic justice to her. "What have I done but yap about public policy issues for the last 30 years?" Morrow asks rhetorically.
A 1974 summa cum laude graduate of the University of Vermont, the Yonkers native pursued advanced degrees elsewhere and landed a position at Louisiana State University in Shreveport for two decades. Morrow has penned prize-winning essays for national magazines such as Crisis, Insight and Chronicles.
Although Morrow's husband hails from Vermont, the couple moved back last year only after discovering that the state offered the best possible schooling opportunities for their autistic 5-year-old son. Unable to find a college-level teaching position — Morrow says left-liberal institutions discriminate against conservatives — she started a grant-writing business and became president of the Vermont Asso- ciation of Scholars. For her, the radio gig is a blast.
The lone male on the "True North" bandwagon is the show's producer. Samuel Stern of Manchester was brought on board last summer to coach the two novices. Initially, they convened four times a week in a studio space rented from VPR, conducting mock shows and listening to themselves on tape afterwards.
Morrow had to adapt to the immediacy of radio after so many years in academia. "I'm so used to being a lecturer, so at first I kept falling into that pattern," she says. "I'm accustomed to students in front of me. Here I have to encourage invisible people."
She's also learned that radio commentaries and interviews are different than those she's done for print media. "Three or four main points have to be made, bang, bang, bang! And I began by doing 10 times the amount of research necessary. Sam suggested I just look at the table of contents. No one is going to care about the minutiae of Reagan's Cold War policy as it applies to Afghanistan."
While Morrow figured out how to offer the audience more instant gratification, Nadeau was working on a similar challenge. "I felt I was inarticulate," she remembers. "Sam kept pointing out that I tend to go the long way around to get information. The best thing he told me is, 'Focus.'"
Nadeau has also fretted about her natural tendency to be polite, not exactly a plus in talk radio. "I was brought up not to ever offend anyone. That's the hardest thing for me," she says.
The co-hosting chemistry seems successful. Over a six-month period, "Laurie and I really had time to get to know each other," Nadeau says. "We don't always agree, but we stimulate each other. We come at things from different angles, but we have the same basic philosophy."
Morrow once listened to other talk shows merely for the content. "Now, I've begun paying attention for the artistry," she says. "Even shows I don't agree with."
The CEO of a Manchester marketing and special-events company called Acrobatix Worldwide, Sam Stern drives to WKDR a few times a week to produce "True North." "They have made incredible strides," he observes, sounding like a proud parent. "They offer a different voice, especially in a liberal town like Burlington. This is an effort to bring balance. Radio's supposed to be a fun medium, and they make it fun."
The "girls," as "Tessie in St. Albans" dubs them during in a recent call, are quick on the uptake. When "Stella from UVM" phones and is warned the show will end in one minute, she uses her 60 seconds to gush about what a wonderful job they're doing. "Oh, take your time, honey," Morrow tells her.
Stern hopes the combination of humor and a hardball approach can translate into an additional hour on the station for "True North" — and maybe even lead to eventual syndication.
On the air, Morrow is keen to get a discussion going about a Kentucky judge who has begun fining female victims of domestic abuse for returning to their partners after getting restraining orders against them. "You might think the feminists would say this is the right thing to do," she says, adding that those nutty liberals have instead deemed the fines unfair because the abused women "are in love with their husbands or boyfriends."
Despite this charged introduction, callers never really pick up on the subject. "Ira in Burlington" and "Tom in Hinesburg" continue a hot debate begun on a previous show about whether the day after Thanksgiving should be an excuse not to go to work. "That's really interesting," Morrow says diplomatically. "It's not something I've really thought much about, so I can't say how I feel."
After the broadcast, Nadeau is amused: "Thanksgiving — who'd a-thunk it?"
"That's the joy of the Friday show," Morrow says, referring to the open-ended format at the end of the week. Thursdays are generally reserved for guests, with exceptions made for special occasions: On the Friday that is George Washington's actual birthday, the dynamic duo is on the line with Matthew Spaulding, an expert on the father of our country. He advocates that the Revolutionary War hero deserves a holiday of his own, rather than being lumped together with other, possibly less terrific leaders on Presidents Day.
The many issues discussed on "True North" tend to relate in some way to a basic principle. "We are opposed to moral relativism, in which there's no fixed right or wrong," says Morrow, popping a mint from a large tin of Altoids Nadeau carries — dry mouth can plague any professional talker.
Morrow believes "political correctness," another phrase that sticks in her craw, is only practiced by the left. "For us, there isn't always a litmus test," Morrow says, suggesting the right wing tolerates opposing ideas.
But what about the conservatives who recently chastised Colin Powell for recommending on MTV that sexually active teens use condoms to avoid unwanted pregnancies and diseases? Morrow evades the question: "I am vitally interested in any and all opinions Colin Powell might have about bombing Iraq," she says tersely. "I have no interest whatsoever in his ideas regarding the use of prophylactics."
A less weighty contradiction emerges when Nadeau is asked about the significance of the "True North" theme song. She says the lyric about being "washed and polished and full of high octane" has often helped her find renewed energy to wash the family dishes. Morrow likes the tune's "cheeriness and bounciness." But another line in "Cadillac Red" would seem to have an almost — gasp — feminist sensibility: "Catch her if you can/She can outrun any man…"
Although actual feminism may be anathema to "True North" — that January promo letter indicated "men will be relieved to know there are some women who don't hate them!" — the twosome demonstrates a curious range of attitudes.
They can be ladylike. Nadeau mentions that argumentative TV talk shows such as CNN's "Crossfire" are not her cup of tea. "I hate the way they interrupt each other and yell," she says.
And they can be decidedly in-your-face. During a commercial break, Morrow confides what could serve as their "right" radio manifesto: "We're out. We're conservatives. Deal with it!"