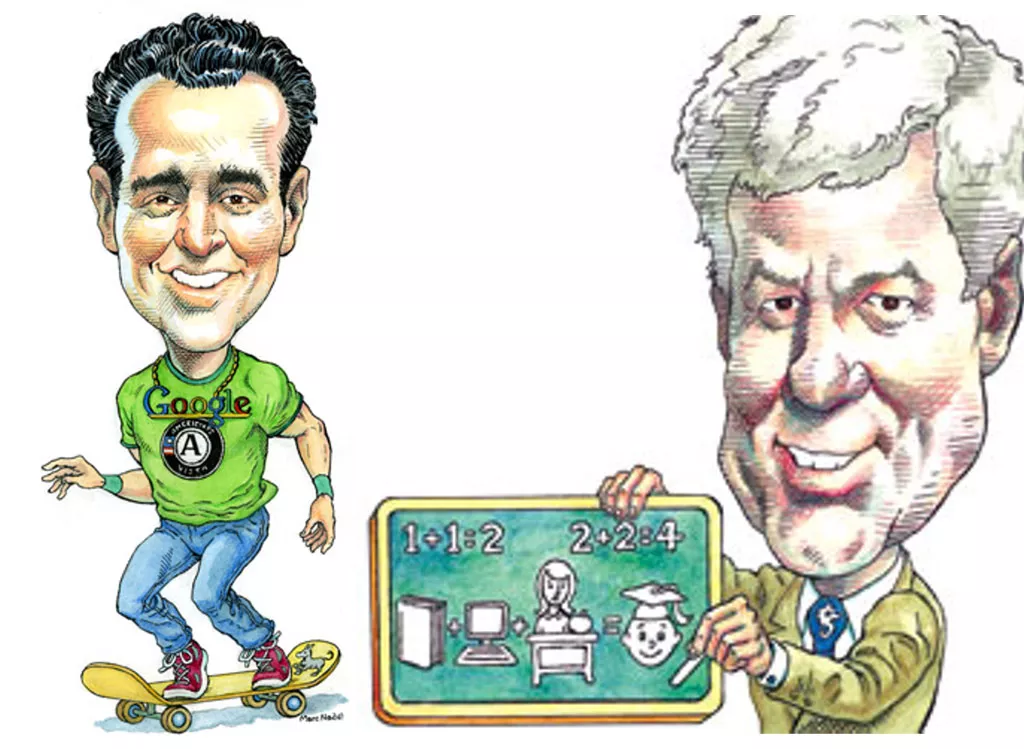 Marc Nadel
Matt Dunne and Doug Racine
Gov. Peter Shumlin looked pretty damn relieved Monday morning as he announced his administration had finally met a deadline to fix a component of the state's sputtering health insurance exchange.
Ten weeks after pledging to abandon Vermont Health Connect if he couldn't get its "change of circumstance" functionality operational by the end of May, Shumlin said his team had gotten the job done.
"Having Vermont Health Connect work as it was designed to is the best possible outcome for Vermont," he said, standing in front of 13 advisers, state employees and private-sector partners at a Winooski press conference. "I'm pleased to announce that this team behind me and some who aren't here have delivered on that tool."
No doubt he's pleased.
The fix isn't sexy stuff. It won't be discernable to exchange users for months. And it doesn't mean Vermont Health Connect works as originally advertised. But it will enable staff to process customer account changes in minutes instead of hours. And it should help the state clear a frustrating and expensive backlog of 10,000 unresolved cases.
Politically speaking, Shummy simply had to meet his risky, self-imposed deadline.
For well over a year, his most likely Republican opponent in the 2016 gubernatorial election, Lt. Gov. Phil Scott, has been calling on the governor to consider alternatives to the state-run exchange. Had Shumlin finally heeded that advice — hundreds of millions of state and federal dollars later — it's hard to see how the governor could stand for reelection.
Even having cleared this low bar, Shumlin still has plenty of hurdles ahead.
Just last week, Scott confirmed to Vermont Public Radio what's been obvious for months: that the mild-mannered, moderate and quite popular lite gov is "considering" challenging Shumlin next year.
And it's quite possible the gov will face a Democratic primary opponent as well. Rumors have abounded for months that former senator Matt Dunne, who ran for lieutenant governor in 2006 and for governor in 2010, may make a third statewide run — whether or not Shumlin seeks reelection.
The Hartland resident and head of community affairs at Google says he has "no plans at this time." But he adds that he does intend to return to Vermont politics at some point.
"If the timing is right for my family and people are interested in me running, I would certainly be excited to be back involved," Dunne says. "When and for what isn't clear."
Would he support Shumlin if the East Montpelier Dem sought a fourth term?
"I think there's a long ways before the reelection," Dunne says. "It's a two-year term, and he hasn't even finished up the first year."
Another former statewide candidate, Doug Racine, is a little less circumspect.
Asked if he'd like to see Shumlin face a primary election challenge, the former senator and lieutenant governor says, "It wouldn't bother me. I think he's been a disappointment in many ways. Just watching what he did with single-payer health care: He just walked away from it. For somebody who's built his self-proclaimed reputation for doing 'bold things,' I thought it was a pretty weak move."
Without a doubt, Racine has been Shumlin's toughest critic from the left since the governor fired him as secretary of human services last August. But that doesn't mean he's necessarily willing to make a go at the gov himself.
"You never say never, but it's not something I'm actively thinking about," Racine says, adding, "I don't ever want to say I'm done with politics. I'm not."
Sen. Anthony Pollina (P/D-Washington), who has twice run for governor, says he hopes Shumlin faces a challenge from the left — be it in a Democratic primary or from a Progressive in the general election.
"I think there's a great need for a renewed kind of leadership," he says. "As we all know, Peter Shumlin held some promise for us when he first was elected, and that has dissipated."
Like Dunne and Racine, Pollina says he's not sure whether he's ready to jump back into the ring, particularly because it would require giving up his seat in the Senate.
"I think there's a lot to be gained by being there," he says.
At least one potential gubernatorial candidate, House Speaker Shap Smith (D-Morristown), says he's "not interested" in running against Shumlin in a primary. Though the two repeatedly locked horns during this year's legislative session, they broke bread together Saturday night in Morrisville with their respective partners.
"We ate at my house, and I cooked some rib-eye steak on the grill," Smith reports. "Manly men."
So why wouldn't the manly-man speaker challenge an obviously weakened incumbent?
"I think part of it is, I consider him a friend, and I'm not going to do that to him," Smith says.
Of course, all bets are off if Shumlin decides to bow out after six years in office. That could free up top cabinet officials — such as Secretary of Natural Resources Deb Markowitz, Secretary of Transportation Sue Minter or Secretary of Agriculture Chuck Ross — to pursue the governorship without appearing disloyal. And if that happened, Smith would surely give the race another look.
"I will consider running for higher office if the governor is not running, but it's not a given that I will run," he says.
And what about the governor? He certainly hasn't been acting like he's prepared to retire to Mount Vernon.
"I'm five months into a two-year term, and what I'm focused on is doing the job I was hired to do," he said Monday night as he was leaving a Burlington organizing event for Democratic presidential candidate Hillary Clinton. "That's why I've always insisted I don't start campaigns until literally September, Labor Day, of the election year."
Well, not really. Shumlin has always made his plans clear a year before the election and started raising money well before that.
So has he begun collecting campaign cash?
"You'll see on July 15," he said, referring to the first fundraising reporting deadline of the election cycle.
Is that a yes or a no?
"You'll see on July 15," he repeated.
BFFs
Shumlin had company at the Clinton campaign event on Monday night: Bill Lofy.
After serving as Shumlin's first chief of staff and then as his liaison to the Democratic Governors Association, Lofy took a job in January as director of strategy for Green Mountain Power. So what was he doing staffing the gov?
"He's my friend!" Shummy explained.
Turns out, he's also a free agent again. After less than five months at the Colchester-based utility, Lofy left May 15 to return to the electoral arena.
"I've found over the years that my real love and real passion is politics and campaigns," he says, adding that he "loved" working at GMP. "The right path for me is to be working in this really exciting election cycle."
Precisely what Lofy will be doing isn't yet clear. For now, he's been helping set up the Clinton camp's operations in Vermont and preparing to take his family on a vacation to Cape Verde, where he once served in the Peace Corps.
Lest you get the wrong impression, he's not going back to work for Shumlin.
"Peter's my friend, and I'll help him however I can, but likely in an informal role," Lofy says. "He's someone I believe in and am proud to support."
Law Schooling
The Vermont House established the legislature's first-ever ethics panel in January, but Secretary of State Jim Condos doesn't think it goes far enough.
"It's colleagues looking out over colleagues," the third-term Democrat says.
Condos plans to push for the establishment of an independent ethics commission charged with overseeing everything from the legislative and executive branches of state government to municipalities, political candidates and public records requests.
"It's about perception," he says. "It's about accountability and trust."
According to a preliminary plan, the commission's three members would be appointed by the governor, attorney general and secretary of state. They would oversee a staff of three to five people, at a cost of up to half a million dollars a year.
"I think it's a small price to pay for having some oversight over our elected and appointed officials that are basically running the public services of the state of Vermont," Condos says.
He's likely to face fierce headwinds. Among his proposals is to require officeholders and candidates to disclose personal financial information — never a popular idea with legislators. He may also face legal challenges.
"In order to oversee the legislature, he's going to have to change the constitution," says Rep. David Deen (D-Westminster), who chairs the House Ethics Panel. "Because in the Vermont Constitution, the legislature is responsible to itself."
At present, public bodies in Vermont mostly write their own rules. The governor's office is governed by an executive code of ethics, the House by its ethics panel and the Senate by nobody. Municipalities can write their own conflict-of-interest policies, if they so choose.
Vermont Political Observer blogger John Walters thinks the patchwork system of self-governance should change. Last month, the Montpelier resident filed the first-ever complaint with the House Ethics Panel.
Walters alleged that Rep. Adam Greshin (I-Warren) violated the House's conflict-of-interest rule by authoring an amendment to freeze the electricity ratepayer fee that funds Efficiency Vermont. As a co-owner of Sugarbush Resort, a "voracious" electricity consumer, Greshin stood to save "a substantial amount of money," Walters argued.
Shortly thereafter, the ethics panel met privately with Greshin and several other witnesses — though not Walters — and cleared the lawmaker. In a two-page memo released only to Greshin and Walters, the panel said that House members are barred from voting "when the matter is particularly personal." The panel argued that Greshin "would be affected just like all other ratepayers in Vermont" and therefore hadn't violated the rules.
Greshin, who declined to discuss Walters' allegation with Seven Days, says he thinks the process "worked as advertised."
Walters disagrees.
"The idea that an ethics panel would take a complaint and talk to only one side and then dispose of it certainly doesn't look good and doesn't give anybody any confidence," he says. "Given the way legislative leadership approaches ethics questions, I think it's probably time for an independent body."
Media Notes
Five months ago, New England Newspapers, Inc., consolidated the leadership of its southern Vermont dailies, putting Bennington Banner managing editor Michelle Karas in charge of the Brattleboro Reformer as well.
Now, according to a memo penned by NENI regional vice president of news Kevin Moran, Karas is leaving for a job in Colorado.
It's unclear who will replace her. Neither Karas nor Moran responded to requests for comment. But in the memo, Moran wrote somewhat cryptically that the company was "using this opportunity to reevaluate the structure of the NENI newsrooms."
The development comes weeks after Apollo Global Management abandoned its plan to buy NENI's parent company, Digital First Media, in a blockbuster deal. Now it appears the national newspaper chain will be split up and sold by regional cluster. On Monday, Burlington Free Press owner Gannett Company, Inc., took 11 Texas, New Mexico and Pennsylvania newspapers off DFM's hands.
Karas isn't the only local journo splitting the state. After a two-year stint at VTDigger.org, energy and environmental reporter John Herrick left the online outlet last week.
Where's Johnny going? On an eight-week road trip, backpacking in national parks with his girlfriend. Sounds a whole lot better than working!