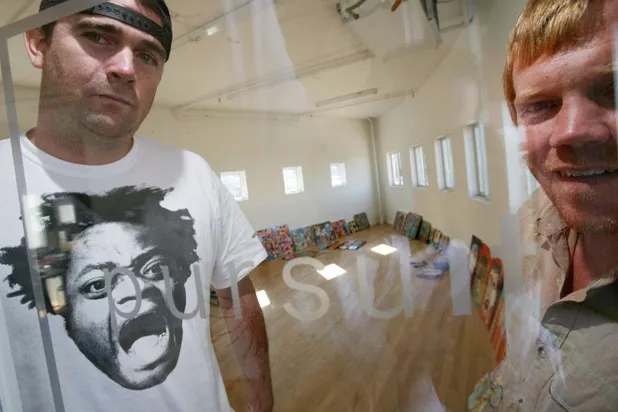 Seth Neary and Skye Chalmers
The good news is, Skye Chalmers and Seth Neary are doing really well in their businesses - digital-asset management (Image Relay) and graphic design and video production (Driven Studio), respectively - and they're moving to a cool new office space in Lawson Lane. It's "twice the size and half the rent!" Neary exclaims. The bad news: The two are so busy that they're forced to close their shared enterprise, the Pursuit Gallery, in the Wing Building by Burlington's Waterfront.
That's why the title of the show opening this Friday, "In and Out and Over," is code for their last hurrah as well as an oblique reference to the unusual exhibition. Actually, "unusual" is a word that can be applied to all 20 shows Pursuit has hosted over its three-year run; the gallery has earned a reputation for youthful energy and edgy artwork. In part that's because both Chalmers, now 37, and Neary, 36, are connected to the über-hip snowboarding world - Neary was once a professional rider, and Chalmers "did a lot of shooting in the snowboard and ski industry," he says.
Besides bringing plenty of out-of-state artists to Burlington, Pursuit has featured innovative locals. "In and Out and Over" combines the two approaches with an exhibit of collaborative and solo works by Burlington-based painters Clark Derbes and Mikey Welsh, along with Montpelier artist Tara Jensen and Alika Herreshoff, who lives in Texas. Derbes "had already been collaborating with these three people," Neary explains.
For him and Chalmers, the demise of Pursuit is tinged with regret. "If some space becomes available again, I think we'd do it," Chalmers says almost wistfully. "It's been a wild ride, especially the great relationships we've built."
"We might do it again sometime down the road," agrees Neary. "It was a passion project, but it's time to move on to another pursuit."