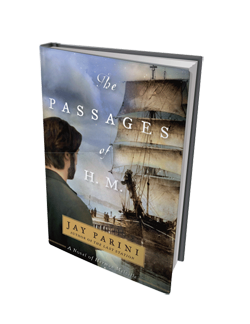 The Passages of H.M., Middlebury professor Jay Parini's new novel about Herman Melville, has done something wonderful. It's inspired me to read Moby-Dick. Yes, for the first time.
True, my initial motive for delving into Melville was to find support for my hunch that Parini wasn't doing justice to the writer I knew from reading "Bartleby, the Scrivener" and The Confidence-Man. But, while Parini and Melville undeniably make an odd couple, they end up a pretty good "blendship," in Cole Porter's phrase.
With one foot deep in the murky waters of 19th-century romanticism, Melville (the "H.M." of the title) manages to loom over the 20th and even the 21st century. His greatest works, dismissed by critics and readers of his time, found an eager audience among the modernists. Today, Melville's overweening thematic ambitions, his blend of realism and allegory, his outré turns of phrase, and his fondness for filling pages with encyclopedic facts form a blueprint for the "maximalist" novels of authors such as Pynchon and Franzen. What is the pursuit of the white whale if not "hyperreal"?
When one sums up this strain of writing, the words "modest" and "low key" seldom come to mind. Parini's novel is both those things. You won't find in it a single sentence to compare with Melville's description of death in whaling as "a speechlessly quick chaotic bundling of a man into Eternity." Nor, on a less sublime note, will you find anything like his rendering of a confusingly dark painting Ishmael spies at an inn: "[a] boggy, soggy, squitchy picture."
The salient difference isn't one of quality but of sensibility. Parini wisely doesn't compete with Melville. Even when he pays homage to the author's language by echoing it, the result is more reasoned and sedate than anything one can imagine coming from H.M.'s pen. It's a bit like reading the accounts of weird and wild Emily Brontë written by her more even-keeled sister, Charlotte.
Fact-based fiction is a hybrid genre in which Parini has considerable expertise, but he sometimes lays on so much exposition that the book feels like a flat-out biography. Clearly not assuming anything about his readers' cultural literacy, Parini devotes pages to a précis of works that influenced Melville, such as Hawthorne's "Young Goodman Brown." Melville's wife, Lizzie, who narrates half the novel (alternating with an omniscient voice) diligently fills us in on historical background. ("This was, after all, the frantic period right after the war that Mr. Twain had called the Gilded Age...")
In short, there's a great deal of telling in the book, some of it sounding less like Portrait of the Artist as a Young Man than The Artist's Way. "He knew he could write, had always known this," Parini writes of the young H.M. "It was his great and wonderful secret, a private stash of self-worth." No doubt. But the stock phrasing doesn't convey what made Melville different from every aspiring novelist who has felt the same.
And yet, as I alternated chapters of Passages and Moby-Dick, I found something strange happening. Parini's version of Melville, whom we see alternately via the third-person narrator and through Lizzie's dispassionate eyes, came to vivid, ornery life. The book's central irony — that Melville yearned almost slavishly for fame and sales he would never see in his lifetime — stopped seeming like a facile bit of hindsight. As the pages flew, and Parini described Melville's frantic search for new subjects and genres on which to exercise his underappreciated talents, the irony of his neglect grew to tragic proportions. (In the Norton Critical Edition of Moby-Dick, you can read turn-of-the-century essays that describe Melville as a "minor" author, soon to be forgotten. It's like visiting a parallel reality.)
Parini doesn't shy from the less dignified sides of Melville, such as his extreme sensitivity to criticism; this is no midcentury-style "great man" account. We see the author exaggerating his seafaring adventures for eager audiences. We see him scrounging for money. We see him bickering with Lizzie — whose wealthy family was one of his few income sources — and striking her when she wounds his pride. We see him falling in love with a succession of handsome young men.
The "gay Melville" is well established in scholarship, and Parini's treatment of the author's sexuality is sensitive and sensible, as well as in character. Parini's Melville doesn't do subtle, as the real Melville's prose suggests. He's sometimes downright buffoonish, as when he makes ill-advised passes at Nathaniel Hawthorne.
Last year, Parini's novel about Tolstoy, The Last Station, was turned into an Oscar-nominated film, and Passages won't disappoint fans of its "famous people acting all too human" genre. There's plenty of broadly comic, cinematic potential in the dinner-table scene where Lizzie watches Melville flail in his efforts to impress the unflappable Hawthorne, "erudite and excited, gesturing wildly, spitting his food across the table as he talked." In moments like this, the novel leaves its schoolbook tone and comes alive.
While Parini writes some fine passages about H.M.'s travels, he channels his best insights into the slyly irreverent Lizzie. Even before marriage, the well-read young Bostonian knows H.M. is "opinionated, willful, and oblique ... he often saw around corners that did not exist." While she senses her husband's genius, Lizzie can't quite shed her disappointment that he never wrote anything as crowd-pleasing as Dickens' The Old Curiosity Shop. A historical cipher, Elizabeth Shaw Melville is, Parini notes in his afterword, someone he "made up." Perhaps she gave the author a chance to express his own ambivalence toward his stormy subject.
Not to suggest that Parini prefers Little Nell to Ahab. But there's undeniable friction between his wry, self-aware, humanistic approach and Melville's operatic side. When those sparks fly, usually in the form of Lizzie's acid remarks, they enliven the book.
Recent years have given us plenty of novels riffing on the lives of famous authors. The Passages of H.M. lacks the chutzpah and creativity of Philip Baruth's recent The Brothers Boswell or Victoria Vinton's The Jungle Law (about Kipling's stint in Vermont). It feels closer to an excellent biographical reenactment — with imaginative license — than a freestanding fiction.
But Passages offers plenty to think about, and it could provoke more spirited book-club debates than a whole shelf of stronger novels. Melville's life story raises questions about truth and fiction, high and low art, sexuality, culture shock, class relations, America's manifest destiny, and the existence of God, and Parini makes sure we don't grab any easy answers.
I went to Moby-Dick for confirmation that there's something in great works that resists repackaging; something irreducible to the modern psychobabble of "self-worth"; something that speaks directly to readers across the centuries. There is.
But I came away from Passages grateful for the reminder that not every creator has to be an Ahab. "Why do writers so often wish they were alone in the world, the last one left on the planet?" Lizzie wonders, after Melville denigrates the works of a more popular novelist. "There is room for different kinds of writing."
She may be a relativist, but she's right. While we amuse ourselves arguing over who deserves to be called a "great American novelist," the fact is that there's room in the library for Fitzgerald and Franzen and Tao Lin; for Melville and Parini. And sometimes it's a later writer's take on an earlier one that inspires people to dust off a classic and give it a good read.