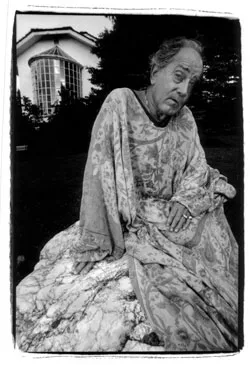 Jon Payne "Zack" Zachadnyk
Chocolate butter and red wine were the talk of the memorial service, and Zack probably wouldn't have had it any other way. In 2002, Jon Payne "Zack" Zachadnyk closed Zack's On the Rocks after 30 years. By that time, the quirky Montgomery Center restaurant had long enjoyed legendary status. The same can be said of the restaurant's proprietor, who died on Tuesday, October 4, 2011, at the Converse Home in Burlington.
Mourners bedecked in purple packed the full-honors military memorial service, held Saturday at Unity Church of Vermont, says Rev. Lane Williams, who officiated. The garb was at the request of Zachadnyk, who had gained fame for the purple muumuus, crowns and ermine-lined robes that he wore at his restaurant.
"Parking was at a premium, and the lawn was filled with all these people wearing purple, laughing and in tears about what a glorious life he lived," says Williams. The reverend says this service stretched much longer than usual; after more than an hour and a half of remembrances, she had to ask friends and family to retire to the lawn to share their stories.
Many longtime diners recalled Zachadnyk's novel dishes, such as chicken banana, "mushrooms Monkey Center" — named for the chef-owner's diminutive for Montgomery Center — and delicacies including escargots and veal kidneys.
During his reign in the Kingdom, Zachadnyk ran not only Zack's On the Rocks but also a bar called After the Rocks, the single-room inn 'Fore the Rocks, and his home, "Off the Rocks." Following his Tuesday interment in the Montgomery Center Cemetery, Zack rests at his "Under the Rocks" location, on a hillside gravesite of 10 plots that he purchased for $5 apiece. In the style of a restaurateur who regularly opened his doors to Meals on Wheels, Zachadnyk shared the rest of the plots with friends.
Montgomery Center will celebrate Zachadnyk's life and contributions to the community with festivities at the town's historical society on October 29 at 4 p.m. His longtime "companion," Lucille Morin, says to expect a fun evening featuring several of Zack's specialties, including "mushrooms Monkey Center."