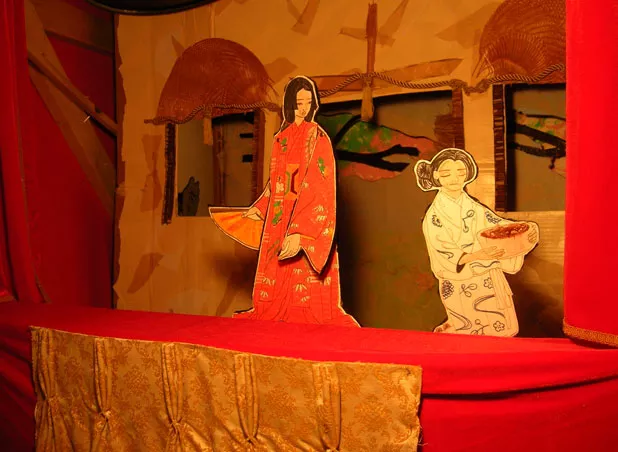 Giacomo Puccini's Madame Butterfly has become a warhorse of the operatic repertoire in the century since its 1904 Milan premiere. American companies stage the tragic love story more frequently than any other opera, so it becomes challenging to put an original stamp on a new production. This weekend, Burlington's Viva Voce Puppet Opera presents the tale afresh with its signature blend of wisecracking, often ribald, puppets and topnotch live singers. Another twist: A woman sings the male romantic lead.
Director Trish Denton, who has recently taken over leadership of Viva Voce from founder Roxanne Vought, explains that the production's saucy spirit starts with the highly irreverent script. "Mark Pekar has no shame, and he absolutely tears apart the original libretto," she says. "But I love it, because I feel like using humor and gall, and obscenity highlights how ridiculous our divisions are." Colonialism and gender inequality play major roles in the storyline, complicating the relationship between American naval officer Pinkerton and his young Japanese bride, Butterfly.
Playfulness, which is "intrinsic" to puppetry, also helps "augment accessibility for the people we're trying to reach," Denton argues. "We're really trying to bring it to an audience that has no prior appreciation for opera." Denton included herself in this group until recently. She admits with a laugh that during her working-class Detroit childhood, listening to the CD of Phantom of the Opera was the closest she came to the "high art" of opera.
Though she's a fairly recent convert to puppetry, too, Denton has now become a bit of a puppet evangelist. She also uses a technique she calls "performing objects" — "animating or bringing to life something that you usually think of as inanimate," she explains. "Doing puppetry and performing objects is so portable and cheap, and it's easy to get the resources. And I really like the melding of visual arts with performing arts . . . It's so juicy to take something that we think of as being inanimate and just breathing and putting life into it and giving it a soul."
In performance, puppeteers animate the characters, but active audience involvement brings them to life, Denton believes. "You're not just being handed these characters, and they're not just coming to life for you. You have to put your imagination to work," she notes. The process requires "more engagement of your mental faculties . . . It's like the difference between seeing a film and reading a book." At the same time, "the kitschiness and the novelty are really fun for people, because they don't feel like they're in over their heads . . . It definitely calls on the kid in you."
The puppets for Madame Butterfly are in the toy-theater style, which is two-dimensional, making it possible for one puppet to embody a whole group of characters. Denton points out that audience members used to be able to buy paper toy-theater opera sets to take home after seeing a show. "I really love that," she says. "Before we had TV, people were sitting around their living rooms re-enacting the operas they just saw!"
Viva Voce's puppets enact the speaking parts of the libretto on their own stage, and the singers step out in front of that stage to sing. Casting Pinkerton as a "pants role" — a woman playing a man — was initially dictated by practical considerations. A good tenor proved hard to find, so soprano Sarah Mell sings the role an octave higher, dressed "as a dude." The cognitive dissonance has its comic aspects, but Denton also sees a deeper message in the cross-gender casting.
"In this piece I thought it would be particularly poignant, because I think Pinkerton's maleness is demonized. He's given the power," Denton explains, and then perceived as a jerk who "screws Butterfly over." The director wanted to shift this perspective. "We don't need to put it all on the male. By continually doing that, how are we going to rise to power as women and take equal responsibility? That's how I justified that we couldn't find a tenor. It really will get people thinking about redefining that character."