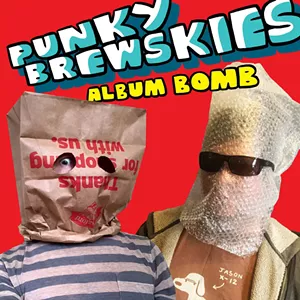 (Self-released, digital)
For obvious reasons, making music in 2020 has become a different sort of beast. Everyone is basically an emotional basket case, so how that affects songwriting in general promises to be weird as all hell. On a technical level, making records when you can't be in the same room with bandmates or a producer is far from ideal.
Unsurprisingly, one of the first to try is local cartoonist/writer/musician James Kochalka, known far and wide for a glittering career in comics and a sprawling catalog of music projects. On Album Bomb, he and longtime collaborator Jason Cooley (Blue Button, the Fags) reunite in absentia as their hip-hop project Punky Brewskies. It's the duo's first record under the moniker in 16 years, crafted entirely in quarantine.
"Stuck Inside" is a laptop-funk track full of COVID-19-era complaints we all recognize. "Now we're stuck inside / Just trying to survive / We order in supplies / Because we stuck inside," Kochalka raps over a twitchy beat laid down by Cooley, who is in full producer mode throughout the record. It's a cool, quick number. Fortunately, the album lightens up thematically from there.
The duo clearly has a good time making music together, which shines through any sort of gloom quarantine might lay over the record. On "Suck Your Singles Pt. 1," Kochalka and Cooley trade old-school MC disses about weak singles before flexing about their own prowess: "We dropped the bomb, we dropped the big album / You're dropping singles, but nobody likes 'em."
It would be all too easy for Album Bomb to devolve into nerd-core or veer toward overindulgent bedroom rap. The songs' vitality keeps that from happening; the undercurrent of energy recalls the postapocalyptic glee of Gorillaz's Plastic Beach. Cooley pushes the beats and stitches together the samples — many of which have to be white-hot illegal. Warren Zevon, the Guess Who and the Cars all make prominent cameos.
Kochalka's raps are rather endearing, full of both humor and a real love for the influences he references, as are Cooley's MC verses. That combination of '80s hip-hop worship and self-deprecating lyrics makes for a potent mix. Some of the best lines on the album pop up on the hilarious "We Lost the Keys." Here, Kochalka raps, "Everybody knows I like to butter the toast / Everybody says I like to butter the bread / Everybody knows that I'm not one to boast / But everybody says that I'm better off dead."
Any apprehension I had about a hip-hop record by two white, middle-aged dudes made entirely in quarantine quickly went out the window. Album Bomb is straight-up fun, at times going for laughs, at others just trying to bring the jams. The interplay and chemistry between Kochalka and Cooley are on full display, and they never let the songs become parodies.
Maybe you want your quarantine records full of brutal emotional honesty or coated in melancholy. I get that, and if that works for you and your emotional needs, you put on that sad-ass record right now. However, if it's one of those days when you need a beat and some lyrics that will make you snort your lunch beer, Album Bomb is the one for you. Check it out at punkybrewskies.bandcamp.com.