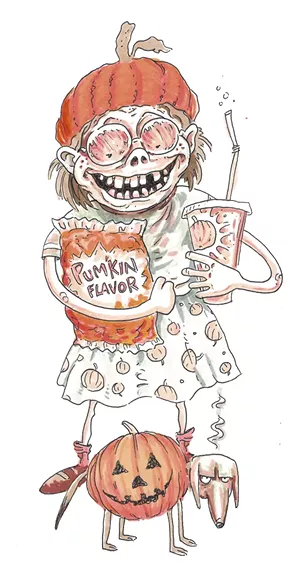 On a Thursday evening in October, the entrance to the South Burlington Trader Joe's boasts a display of pumpkins — oval, round, big, small. Far from perfunctory nods to the season, these are harbingers of what's to come.
Inside the market, lovers of "pumpkin spice" will find a nutmeg- and ginger-scented heaven. For haters, the ambience ranks somewhere between the third and fourth circles of hell. For those not up on their Dante, those are the circles representing gluttony and greed.
Trader Joe's aisles currently offer at least 31 pumpkin products — easily identified by their orange packaging — including Pumpkin O's cereal, Pumpkin Spice Rooibos, and brown-rice crackers made with pumpkin purée, yeast extract and "cream flavor." At the Hannaford across the way, the deli sells pumpkin-spiced ham, pumpkin-spiced coffee and pumpkin-spiced creamer, in case you need a double dose in your cup. Downtown at City Market/Onion River Co-op, by contrast, the pumpkin spice presence is nearly nada.
To understand the ocher phenomenon that grips America's grocery shelves and coffee shops in October, it helps to have a little background. Most of the spices we associate with pumpkin pie — cinnamon, cloves, nutmeg, ginger — come from Asia and Africa. Transported to Europe on the Silk Road, they have a history intertwined with colonialism and the roots of globalization.
Squash, by contrast, originated in Central America. Hence, it wasn't until European explorers arrived in the Americas that cinnamon kissed its first pumpkin. On the inaugural Thanksgiving, the Puritans and Wampanoag may have supped on a pumpkin that had been filled with spiced milk and roasted in the fire. Be that fact or speculation, pumpkin pie is an integral part of a modern Thanksgiving dinner.
In the 1950s, McCormick began selling a blended "pumpkin pie spice." In 2003, according to the Starbucks website, a team of product developers seeking the next big autumn flavor came together to fork up pumpkin pie and drink espresso. They figured out how to combine the two, and the pumpkin spice latte was born.
In its purest incarnation, a 16-ounce grande with whole milk and whipped cream, the drink weighs in at 420 calories, with 50 grams of sugar. Its flavor comes from "pumpkin spice sauce" (which contains sugar as the first listed ingredient, pumpkin purée as the third) and "pumpkin spice topping" featuring the classic spices.
The flavored latte took off in a big way, and an entire pumpkin spice industry followed. And then, predictably, came the backlash. In a New York Times op-ed printed on October 17, former food critic Frank Bruni asked, "Will Pumpkin Spice Destroy Us All?" The piece equates the pumpkin spice phenomenon with the worst aspects of America, including its current president. Bruni does not, however, take the golden opportunity to refer to the commander in chief as "Trumpkin spice."
Haters have their own Facebook group and hundreds of anti-pumpkin spice memes, ranging from the slyly clever to the baldly vulgar. In the latter category is a picture of a pumpkin spice condom, accompanied by the text "picking up white girls just got easier."
And that, at their core, is what the pumpkin spice haters love to hate: the cultural icon of the "basic bitch," a youngish woman who sports leggings, does yoga, Instagrams her every meal (mostly yogurt with different mix-ins), loves Ryan Gosling and drinks the crap out of pumpkin spice lattes. It's a holier-than-thou reaction from people who drink Pabst Blue Ribbon (but only ironically), wear bad sweaters (ahem, ironically) and also love Ryan Gosling, because who doesn't, really?
But there may be other reasons to be concerned about the prevalence of pumpkin spice. "It [flies] in the face of everything that's good in the food and drink world," says Aaron Wisniewski, who, with his brother, Sam, co-owns Alice & the Magician Cocktail Apothecary. Their Burlington company manufactures elixirs and aromatic mists that are designed to add intense bursts of flavor to cocktails but can also be used to enhance coffee beverages and food.
Last week, A&M released its newest product, which it bills as "the anti-pumpkin spice." It's a Chinese five-spice "aromatic mist" with notes of star anise, clove, cinnamon, ginger and Sichuan peppercorn.
What's wrong with pumpkin spice? For one thing, the progenitor latte is simply unhealthy, Wisniewski points out: "It's fat, it's sugar ... Having the word 'pumpkin' in there gives the impression that it's real food."
And, he continues, the pumpkin spice explosion contributes to what he calls the "Jolly Rancher effect." Over time, people come to think that a watermelon Jolly Rancher is what watermelon tastes like, while the real fruit — with less sugar and fewer chemicals — seems to pale by comparison. "The end consumer is so disconnected from the food system," Wisniewski says. "It's disheartening that two-thirds of people buying [pumpkin spice lattes] don't know what a clove or a cinnamon stick looks like ... You could put pumpkin spice on a turd and sell it."
Back at Trader Joe's, a blond woman running the register says that even though it's not yet Halloween, she's already a little tired of pumpkin spice. The staff had a tasting of pumpkin spice products at the end of September, and they've been doing big business in orange goodies ever since. "It's really popular," she says.
At Hannaford, at 10 p.m., the pumpkin muffins and pumpkin doughnuts in the bakery case are sold out, unlike many of the other flavors. In the deli, a young man wearing a beard net slices up some pumpkin-spiced ham. It's a hot item, he says, though he hasn't tried it.
Pumpkin spice may be "basic," but so are a lot of good things, and let's acknowledge that there are plenty of reasons to love the combination. The flavor of winter squash happens to marry beautifully with the flavors of aromatic spices. Chefs know that: Honey Road in Burlington serves a roasted-squash-and-yogurt spread sprinkled with spices. The sample menu posted on Hen of the Wood's website includes winter squash fritters with honey. Who wants to bet there are some spices in those fritters?
Those flavorings have practical roots, too. Historically, spices such as cinnamon and cloves were used as preservatives; both have antiseptic properties and help prevent spoilage. "Without refrigeration, you could use those spices to preserve perishable foods [such as] meat," says Wisniewski.
Over time, the "pumpkin pie" blend of spices became associated with comfort, the holidays and delicious foods that we only cook for family gatherings. While their practical value has faded, they now bear the weight of our memories and our hopes for the future.
"It becomes symbolic," Wisniewski says. "And then it gets co-opted. [Starbucks et al.] capitalized on people's subconscious response to those flavors."
When it comes to this adored and reviled food trend, we don't have to throw the baby out with the bathwater. We can dislike the corporatization of holidays, seasons, gourds and the food system even as we enjoy a well-made slice of pumpkin spice cake or a plate of nutmeg-laced squash ravioli with wilted spinach and a nice cream sauce.
Here's another cliché for you: Variety is the spice of life. At the tail end of the harvest season, we have the opportunity to feast on all kinds of produce before the long slide into winter's beets, cabbage and rutabaga. So let's enjoy pumpkin spice but keep it in its place, alongside kneaded kale salads, endives, roasted cauliflower and apple cider.
Hey, you know what's really good with apple cider? A little sprinkle of pumpkin pie spice.
Salad with Pumpkin Spice Dressing
You can make this dish with any winter squash you like. Many varieties such as kabocha, buttercup, carnival and sweet dumpling are arguably more flavorful than pumpkin.
Ingredients:
For the vinaigrette:
¼ cup roasted winter squash purée
1 cup sunflower oil
⅓ cup apple cider vinegar
½ shallot bulb, minced
1 teaspoon Dijon mustard
1 teaspoon salt
10 grinds black pepper
⅛ teaspoon nutmeg
⅛ teaspoon allspice
For the roasted pepitas:
1 cup raw pepitas (pumpkin seeds)
1 tablespoon sunflower oil
sprinkling of salt
sprinkling of pepper
For the salad:
mesclun or spicy lettuce mix
vinaigrette
pepitas
Jasper Hill Farm Bayley Hazen Blue cheese, crumbled
dried cranberries or slices of apple
Preparation:
Make the vinaigrette: In a blender, purée all ingredients. Taste for seasoning. Does it need more salt? Is it tangy enough, or could it use more vinegar? A bit more spice?
Make the pepitas: Toss the pumpkin seeds with the oil, salt and pepper. If desired, sprinkle them with nutmeg, allspice, ginger and/or cinnamon, too. Toast in a 350-degree oven, stirring every few minutes, until they have just started to turn from green to gold. Remove from pan and let cool.
Assemble: In a salad bowl, toss the greens with a few pinches of salt and just enough dressing to coat. Taste a leaf or two. If it's not as flavorful as you like, add more dressing or more seasoning. When the salad is perfectly dressed, top it with pepitas, crumbles of blue cheese, and the dried cranberries or apple slices. Serve.