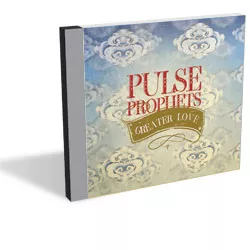 (Self-released, digital download, CD)
Music critics' default state is cynicism. We hear a band and say something like, "Not bad, but it sounds like they're trying to be like so-and-so." Blame our eclectic musical tastes, and the human need to group and classify and compare. Of course, in some cases it's envy. We're in a dark corner with a laptop; musicians have microphones, amps and attention. Secretly, we hates them, we does.
It's refreshing, then, to hear a group with a unique identity, when we are forced to write, "I can't explain what they sound like. You just have to hear them." Such is the case with the Pulse Prophets, the irie pillar of the Burlington music scene. In their latest release, Greater Love, the Pulse Prophets challenge any reviewer — jealously cynical or otherwise — to pigeonhole or categorize.
This 15-track gamut runner is built on a rock of reggae and flows like a river fed with ska, funk, dub and Latin tributaries. At times it moves along lazily, the BPM slowing to that of a heartbeat at rest. At others the songs drive along steadily, with a marching cadence set by drummer Ryan "the Claw" Clausen. At still other times there are tunes that bounce, propelled by Andric "Dog" Severance's bubbling organ, popping with ska upbeats and honeyed chords. Monotonous this is not.
The one unchanging thread throughout Greater Love is the presence of lead vocalist Elijah Kraatz and lead guitarist Rudy "Tootie" Dauth. Kraatz — who is also credited with writing and producing the album — is a quintessential front man and an unquestionably capable songwriter. Dauth's crunchy lead licks complement the gravel in Kraatz's vocals. And though neither man overwhelms any given song, both give the album distinction, that aforementioned "identity." You will know a Pulse Prophets song by Kraatz's voice.
And he uses it to full effect. On the politically charged "Osama," Kraatz chants, "The people have the power / the power is the people / bring ding let it ring from every steeple." Underneath is a seamless blend of skank guitar, a trancelike soundscape of atmospheric keys and synth, and a split-personality drumbeat that swings from rim-shot steppers to aggro rockers and back again.
As great as this template is, Kraatz and Co. don't overdo it. The album moves on to the more roots-centric "Call on Jah," featuring the ethereal harmony vocals of Dauth and guest vocalist Myra Flynn, and then on to the Sublime-y title track, with its chunky Clavinet and chugging vibe. And on and on.
It may be too much to call Greater Love a masterpiece. But it's no stretch to say that the collection has more gems than filler. It's an album that demands listening to — from start to finish — multiple times. And that is refreshing indeed.
Greater Love is available for download at cdbaby.com. Pulse Prophets play Club Metronome this Monday, October 24, with the Mighty Diamonds.