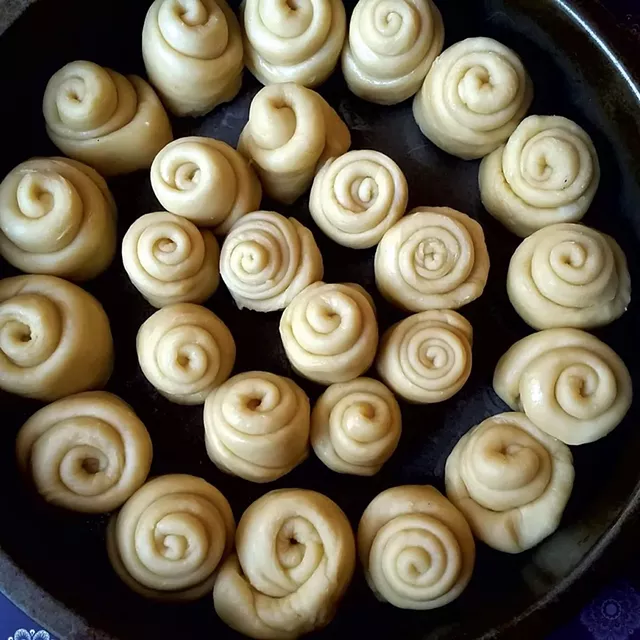 Every time I mention challah, my kids erupt in choruses of "Holla!" The soft, lightly sweet bread — traditionally eaten on the Sabbath and Jewish holidays — is fun to say and even more fun to eat.
Challah is usually braided, but I wanted to create a shape that would celebrate the beginning of spring. So I sculpted the pliable dough into rose-shaped coils that look fancy but are fairly simple to make. After letting the dough rise, I divided it into ropes, flattened them out, then rolled them into spirals, like tiny cinnamon rolls. I divided each little roll widthwise to form two rose shapes, then nestled the roses into a cake pan for a second rise before baking.
Instead of the traditional honey for sweetness, I added pure Vermont maple syrup to my dough. I also mixed maple syrup into the butter I spread on the finished rolls. Splurge on a good cultured butter for this — it has a higher fat content than regular butter, which makes it extra creamy and delicious.
A word of warning: This is not a quick bread to make. Although there's not a lot of hands-on time, the rising process takes a while. Try this recipe on a lazy weekend. It's well worth the wait.
Pull-Apart Maple Challah Roses
Ingredients
For the dough:
½ cup lukewarm water
6 tablespoons vegetable oil
2 large eggs
¼ cup pure Vermont maple syrup (the darker, the better)
4 cups all-purpose flour
1 ½ teaspoons salt
1 tablespoon yeast
For the egg wash:
1 egg
2 tablespoons water
For the maple butter:
3 tablespoons softened butter
1 tablespoon maple syrup
Directions
Combine all dough ingredients and mix them — in a bread machine, stand mixer or by hand — until they form a smooth, soft dough. Continue kneading for about 8-10 minutes in a stand mixer or 10-12 minutes by hand.

Turn dough out into a lightly oiled bowl and cover with plastic wrap or a towel. Allow dough to rise until puffy and about doubled in size, about 2 hours.
Gently deflate the dough by turning it out on to a floured work surface and gently punching it down. To make the roses, separate dough into about 14 roughly equal portions. One at a time, roll each into a rope about 8-10 inches long. Flatten each rope and roll up lengthwise into a spiral. Gently pinch each rolled portion widthwise, so that you create two roses. Place roses next to each other in a lightly greased 9-inch circular cake pan. Continue until all the dough is used up and the cake pan is full.
Cover with a towel and put in a warm place to rise about 60-90 minutes.
Preheat oven to 375 degrees. Whisk the egg and water together to make the egg wash, then use a pastry brush to coat the surface of the dough.
Place the cake pan on a baking sheet so that the bottom is a bit insulated and less likely to burn. Bake for 45 minutes, folding a sheet of aluminum foil in the center and placing it in a tent shape over the bread after 20 minutes. You'll know the bread is ready when it's a light, golden brown.
Remove from the oven and allow to cool for 5 minutes on a cooling rack before turning it gently out of the pan.
Pull apart bread and enjoy while still warm, with a slathering of maple butter.