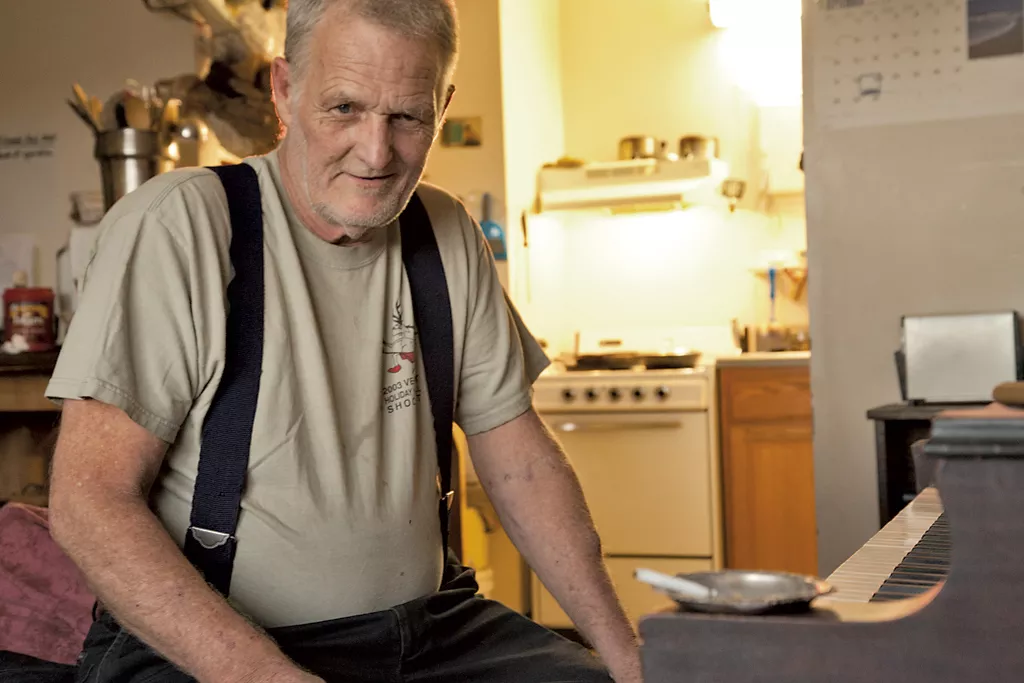 John Finn is not happy. "I moved into this place with the understanding that I could smoke here until I moved out in a pine box," said Finn, 68, who lives in a Winooski Housing Authority apartment on East Spring Street. "I don't want to quit."
But he'll be in a position to on Sunday, when the WHA joins a growing number of public-housing agencies in Vermont and across the country that have banned smoking inside their properties.
It may seem like an obvious and uncontroversial step; Vermont's first such law, which banned smoking from the workplace, passed in 1987. Smoking was barred in restaurants, bars and most public spaces almost a decade ago. And a few months ago, state lawmakers made it illegal to smoke inside hotel rooms or in cars with young passengers.
But public-housing agencies are something of a last frontier in the no-smoking movement. Even advocates of the ban are hesitant about a law preventing people from engaging in a legal activity inside their own homes.
The WHA law applies to three senior-housing apartment buildings, where units are closely packed together. For now, smoking is still permitted inside their townhome-style family properties.
Last year, the WHA polled residents in its 338 units about a possible ban. While most were in favor, at least a dozen protested, said Wendy Sweet, the authority's assistant executive director.
Of those who are "strongly opposed," Sweet said, "thus far, no one has moved out." On the other hand, she pointed out, "You have to look at their neighbors who aren't smokers and are exposed to secondhand smoke. They have no option if they live near a smoker. It was time to do this."
Finn is fuming. "Smokers are not lepers," he said.
Finn said he asked the WHA administration to compromise and grandfather in existing smokers. "I think that's a policy that would satisfy smokers and nonsmokers," said the former math instructor at Dartmouth College. But he never heard back.
Sweet said that, logistically, it would be too difficult to enforce a ban that only applied to some residents.
Finn drafted a petition protesting the WHA's move, but acknowledged that he won few backers — a failing he attributed to his shortcomings as an organizer more than his cause. Finn rolls his own cigarettes and says he enjoys smoking too much to quit. "I guess I'll go sit in my car if I want a cigarette," he said.
In 2010, the Burlington Housing Authority was the first public-housing agency in Vermont to ban smoking in its units. It was controversial at the time — one resident threatened to sue, though he eventually backed down — and, according to BHA executive director Paul Dettman, it still occasionally causes tension between administrators and residents.
Many housing authorities agree that even when a nonsmoking law is in effect, it isn't easy to enforce. Agencies don't conduct unscheduled apartment inspections, and there aren't a lot of sanctions that housing authorities can impose; they can only issue warnings or kick people out.
"We have to catch people," Dettman said. "I don't doubt that some continue to smoke. The sad part is some of the folks in the worst condition physically will be the ones smoking up a storm."
After three warnings for smoking violations, the BHA starts the eviction process. (The WHA plans to adopt a similar policy.) So far, the BHA has evicted one resident and was in proceedings to evict another, but she died during the process.
The BHA considered building a small outdoor smoking pavilion, but Dettman was concerned about handicap accessibility. The association also offered smoking-cessation programs to residents when it implemented the ban, Dettman recalled, but no one signed up.
The ban has triggered an unintended consequence: Forced to smoke outside of BHA's properties, many residents light up in a bus shelter on St. Paul Street during the winter, despite the city's ban on smoking in bus shelters.
"It's having a negative impact on our community," Dettman said. "People on the sidewalks or waiting for the bus have to go through a phalanx of smokers."
The Rutland Housing Authority banned smoking within 25 feet of any of their buildings in 2013 after spending almost a year preparing residents for the change and trying to head off opposition.
"The sense was, these are people's homes and they should have a right to do whatever they want in their home," RHA executive director Kevin Loso said. "[But] I think the right to smoke ends where the nostrils of nonsmokers begin."
The RHA also held smoking-cessation classes, with more success than the BHA: Around a dozen residents have quit, Loso said. "We had some people thank us, saying they wanted to quit, and this gave them the motivation they needed."
For the housing authorities, there is also a financial incentive: Loso said it costs up to $2,000 more to clean a smoker's vacated unit compared to that of a nonsmoker.
Smoke-free public housing appears to be catching on. In 2005, only 32 housing authorities in the country had implemented smoking bans, according to the Smoke-Free Environments Law Project, a government-funded research group based in Michigan. By 2011, the last year the data was examined, that figure had risen to 230.
In recent years, Vermont's largest funding source for public-housing agencies, the U.S. Department of Housing and Urban Development, has encouraged agencies to go smoke-free but has not issued any formal mandates.
And, just last week, a study by the Centers for Disease Control and Prevention estimated that Maine saved $1 million a year by banning smoking from its public-housing complexes in 2011, mainly by a reduction in health care costs related to secondhand smoke. A nationwide ban on smoking in public-housing properties would yield nearly $500 million in savings, the CDC said.
Housing officials also cite a unique safety concern that few other Vermont property owners face: height. In several Vermont communities, the tallest buildings are public housing apartment complexes, and when they catch fire, it is costly — and dangerous.
In Brattleboro, an elderly resident died in 2011 in a fire that forced costly renovations to the seven-story Samuel Elliot Apartments. In Rutland in 2008, an explosion badly damaged units in a 10-story high-rise. Both fires were caused when a cigarette ignited a resident's oxygen tank.
While housing agencies must follow both state and federal fair-housing laws, smokers are generally not considered a protected class that could pursue legal claims of discrimination. Vermont American Civil Liberties Union executive director Allen Gilbert said his agency took no position on the smoking bans.
The push to ban smoking comes as agencies struggle with a related issue: marijuana.
HUD has told local housing agencies that it follows federal law, which makes marijuana use illegal. Therefore, it will not allow residents to use it — even in states like Vermont, where it is legal for medical use.
Vermont housing officials say that discrepancy has put them in a difficult position.
Brattleboro Housing Authority executive director Chris Hart said her agency, and most others in Vermont, have settled into an informal "don't ask, don't tell" policy, in which it only takes action against residents who use marijuana in plain sight.
"How can we walk this tightrope between the federal government and the state and the benefit of the residents, which, at the end of the day, is what public housing is about?" she said. "It's a very smoky area. We said, 'Do it discretely. If you tell us you're using medical marijuana ... We may have to deny you [housing] because of that.'"
Housing officials say that smoking bans complicate the marijuana issue, but say they see little choice.
"These are always the challenges for public housing, because we're small, we're close to our residents," Hart said. "We have to find a way through these things."