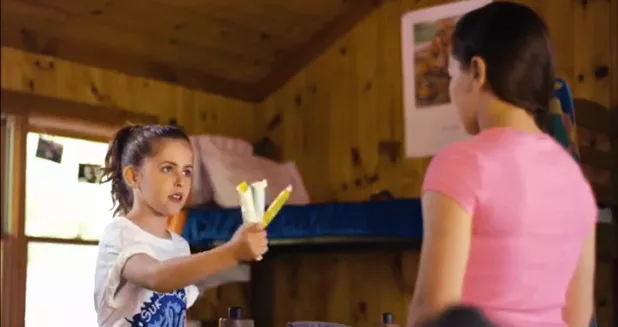 Screenshot from HelloFlo's "The Camp Gyno" ad
The vagina has had a hard year. But things are looking up. A year after Michigan Democratic State Rep. Lisa Brown was silenced for uttering the word on the House floor — debating against that state's massive anti-abortion bill — three more states have passed, or moved toward passing, laws mandating unnecessary vaginal invasions.
As of August 1, according to the Guttmacher Institute, 22 states require that women seeking abortions either submit to a transvaginal ultrasound (involving the insertion of a wand-like sensor) and be shown the images from it or given the "option" to view them. All, of course, to help women make "informed decisions."
Last month, with Gov. Scott Walker's signature, Wisconsin joined four other states with the severest standards: They command every potential abortion patient to undergo the probe. Reproductive rights advocates call it "medical rape."
Not everyone is taking these developments lying down with legs open. The laws are under legal challenge. And when Wisconsin joined the dishonor roll, comedian Sarah Silverman got right to the point: The governor wouldn't dare treat a man's orifice with such impertinence.
"I'd very much like to anally probe @govwalker each time he needs to make an 'informed decision,'" Silverman tweeted impertinently.
Joe Salazar, the blabbermouth Colorado Democratic legislator, approvingly retweeted the comment, which moved the state's Republican committee to dash off a press release accusing Salazar of calling for Walker's rape. And that, the GOP snipped, was "demeaning and offensive to victims everywhere."
You may recall Salazar expressing the view that female students shouldn't be allowed to carry concealed handguns on campus (yes, this is legal in Colorado) because they might mistake an innocent guy for a rapist and "pop a round at him."
Setting aside the dubious wisdom of arming the students of Colorado — home of Columbine, Platte Canyon and Aurora — it becomes apparent that where women and their vaginas are concerned, male politicians have a lot to say.
And what they're saying, on the whole, is that women can't be trusted to look after their own.
But vaginal intrusions are not just for politicians anymore. In Texas — which, incidentally, just passed one of the most restrictive abortion laws since Roe v. Wade — cops have been taking the prerogative literally into their own hands.
Last week, the press posted videotapes of state troopers conducting vaginal and anal searches on women stopped for speeding or, in one case, dropping cigarette butts out her car window. The Texas Department of Public Safety, which oversees the state police, claims this isn't official policy, and indeed you won't find it in the training manuals. But lawyers and civil rights advocates representing the women wonder how nearly identical assaults — you can hardly call them "procedures" — could have happened at traffic stops hundreds of miles apart.
Women are suing police for similar fishing expeditions in Florida and Milwaukee, Wisc.
That's the bad news.
Now the good news: The vagina is enjoying a little public relations blitz.
I'm not talking about the reading of the 17-year-old Vagina Monologues by playwright Eve Ensler and several female legislators on the Michigan Statehouse steps after Lisa Brown's censure.
I mean two brand-new witty bits of Pubic Pride propaganda.
The first is the production of a color poster and postcards that "celebrate female genital diversity" with illustrations (from photos) of 16 unique vulvas, accompanied by women's admiring descriptions of theirs.
Launched by Kinsey Institute sex researcher and educator Debby Herbenick and her University of Indiana colleague Vanessa Schick, the project started with a survey investigating women's feelings about their vulvas and vaginas. Asked what they like about their genitals, the respondents waxed ecstatic: They're "fun," "intriguing" and "cozy and comfortable," women said. One called hers "absolutely beautiful."
Research shows that women who "feel positively about their vulvas and vaginas" have better sex and less sexual anxiety and take better care of their gynecological health, says Herbenick. So the professors want to spread the love.
The posters are "perfect" for hanging in dorms and clinics, Herbenick notes in a Kickstarter video. Or you can send a postcard to "your favorite politician" who could stand to learn a thing or two about women's bodies.
The pitch quickly outraised its goal of $4000 and closed donations last week. But watch the video anyway. It's consciousness raising simply to peruse the collection of satin, plush and crocheted vulva puppets and hear the lovely, bright-eyed Herbenick say "vulvas and vaginas" over and over.
The other, much bigger phenom is "The Camp Gyno," a promotional video from HelloFlo, a company that mails consumers a monthly menstrual supply package timed to their cycles. The ad, which has been viewed more than 5 million times on YouTube, is hilarious — positively exhilarating. The best part: It's aimed at girls.
In the spot, a camper played by 10-year-old Macy McGrail tells how she goes from being a "big random loser" to the first girl at camp to get her period — "the red badge of courage" — and assumes the mantle of Camp Gyno, dispensing advice and enforcing military-like discipline on other menstruating campers.
"I was their Joan of Arc," she says. "It's like, I'm Joan, and their vag is the ark."
Then girls start getting "friggin' care packages" containing tampons, panty liners and candy. The Camp Gyno is deposed.
Will anyone sign up for HelloFlo? You almost hope the ad campaign will kill the service it's advertising.
After all, more than convenience, it's shame about the vagina and its doings that would motivate someone to receive her tampons in a plain brown wrapper.
And the Camp Gyno will have none of that.
Poli Psy is a monthly column by Judith Levine. Got a comment on this story? Contact levine@sevendaysvt.com.