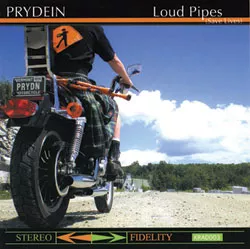 (Self-released, CD)
Loud Pipes (Save Lives), the latest album from Vermont Celtic rockers Prydein, comprises both traditional and original pieces. Some are instrumental, while others showcase the vocal stylings of guitarist Aron Garceau.
Fans of the genre will appreciate the group's respect for, and tasteful handling of, the rich musical legacy they draw on. While the musicians' individual idiosyncrasies provide distinction, their collective approach is to fully exploit Celtic music's versatility. Toward this end, Prydein employ broad musical proficiency, enthusiasm and a dash of humor, blending Celtic tradition with playfully eclectic modern sensibilities. At times, though, this delicate balance is strained.
The band occasionally stalls while venturing deep within the well-worn conventions of the genre. Conversely, they sometimes all but abandon their musical foundation. These are notable lapses given the overall strength of the album. Prydein never sound lazy, but they can sound unfocused.
Garceau and Iain Mac Harg, the bagpipe, bombard and pennywhistle player, are mainly responsible for the band's character and embody the yin and the yang of its sound. Mac Harg represents the traditional elements, both with the instruments he plays and his straightforward style. His skill is apparent and integral. Garceau uses a number of styles to re-contextualize Mac Harg's conventional elements.
Bass player Andy Smith is an excellent liaison between the band's rhythm section and its stylistic drive. Given Prydein's sonic duality, Smith is in the unenviable position of reinforcing the material's Celtic foundation while at the same time abetting the music's subversion. By and large, he's successful. But on a number of songs Smith plays too discreetly, as if he's trying not to compromise, or get in the way of, the band's dynamic.
Vermont music scenesters will be interested to note that Prydein's drummer is Caleb Bronz, one of those local "Where's Waldo?" musicians — always playing somewhere. Here Bronz is worthy of the highest compliment one can pay a drummer: He elevates the music without drawing too much attention to himself, or detracting from the other performers. An engaging recording, Loud Pipes (Save Lives) should appeal to Celtic rock fans as well as those interested in how established genres stay vital.