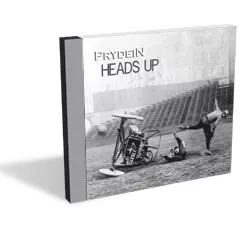 (Kynsfolk Records, CD)
Full disclosure: I hate bagpipes. Passionately. And I know I'm not alone. If you were to ask an instrument maker what qualities they would specifically avoid when designing a musical instrument, the terms "grating," "droning" and "off-key even when they're in tune" would rank high on that list. And yet bagpipes are among the world's most beloved instruments; a symbol of Celtic pride that makes my Irish blood boil. Or maybe that's just the whiskey.
And so I approach the latest from local "bagpipe rock" outfit Prydein, Heads Up, at a distinct critical disadvantage. Comprising a mix of traditionals reimagined as rock, and a handful of rock covers filtered through a tartan prism, the album balances the band's affinity for rock and roll with a clear reverence for the Highlands. Though a little more Wolfstone than, say, Dropkick Murphys, Prydein manage a vigorous, kilt-raising romp that will no doubt thrill Celtic-rock fans.
The album opens on "Devil's in the Kitchen," which features bagpiper Iain MacHarg front and center. His blistering reel takes on an appropriately sinister tone over Aron Garceau's distorted guitar sustains. Even given my admitted dislike for the instrument, MacHarg's talent is obvious. He is elite.
A souped-up version of the Scottish traditional "Loch Lomond" is next. Garceau's vocal line is clean and compelling as he soars over a punky arrangement propelled by ace skins man Caleb Bronz's thundering backbeat and a wall of guitar distortion. MacHarg proves equally adept with the pennywhistle as he is with bagpipes, effortlessly letting loose with fluttering bursts.
Unfortunately, the Scottish-to-rock conversion doesn't work as cleanly when inverted. A limp cover of the J. Geils Band's "Centerfold" loses something in the translation from rogue to brogue. Similarly, the band's formulaic take on "Feelin' Alright" feels, well, anything but; it lacks the gusto of Traffic's original, the gritty immediacy of the Joe Cocker version, and the youthful energy of the Jackson Five's gleeful interpretation.
Indeed, Prydein are at their best infusing well-loved traditional music with a sneer. In particular, the medleys "Thyme Changes" and "¼ Short" showcase a clever, rock-informed approach, as does the rousing, metal-tinged Irish reel "The Drunken Piper." An amped-up adaptation of "Whiskey You're the Devil" — a trad tune popularized by the Clancy Brothers and, more recently, the Pogues — is also indicative of the qualities that makes Celtic rock so appealing: a sensitivity toward source material balanced by a willingness to tease tradition. Bagpipe allergy or not, I'll drink to that.
Prydein appear at the FlynnSpace on Friday, December 31, as part of Burlington's First Night celebration.