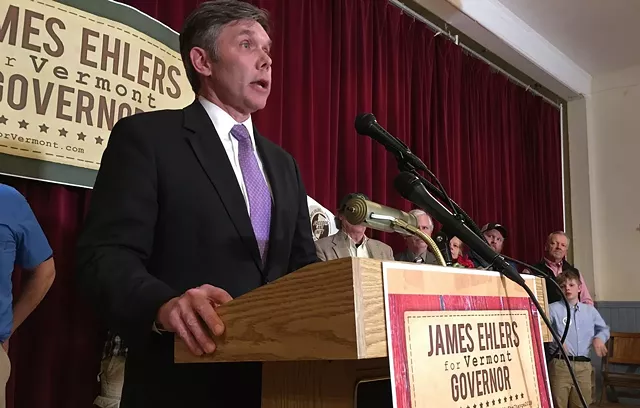 John Walters
James Ehlers
Gubernatorial candidate James Ehlers has claimed to be the progressive choice in the four-way Democratic primary, positioning himself as a fighter for the environment and the interests of working Vermonters. But he has a long record of writings and statements that cast doubt on his progressive bona fides. On a series of issues — from labor to abortion to the environment — Ehlers has expressed views that seem quite conservative, often in inflammatory rhetoric.
Recently, VTDigger.org reporters have begun to explore his writings on social media and in print, and his campaign has struggled to respond. Ehlers' replies have been social media posts or emails; his campaign has not made him available to the press for interviews.
On Monday evening, after multiple requests, he engaged in a lengthy and sometimes-contentious conversation with me about his past statements — his first interview on the subject since those pesky media reports began to circulate. He tried to explain the consistency of his positions and argued that his extreme rhetoric is a deliberate tactic to spark debate. He wasn't entirely convincing.
For most of his career, Ehlers' advocacy has come from a sportsman's point of view — that environmental protection is a good thing if it serves human interests. Lake Champlain International, the advocacy group he leads (and from which he draws an annual salary just short of $90,000), holds a Father's Day Fishing Derby as its biggest fundraiser. He has fought the establishment of new wilderness lands in Vermont and slammed environmental organizations as elitist. He has called into question the very idea of the "green economy," which he now heartily espouses.
Here are some highlights, or lowlights, from his written record.
In 1998, the State of Vermont purchased 132,000 acres of Northeast Kingdom forest from Champion International, the timber company. There followed four-plus years of debate over the use of what was then referred to as the Champion lands. Ehlers fought vociferously against any wilderness designation for any part of the tract. He accused wilderness advocates of seeking to block all human uses of the land — which was not true, as we shall see.
In a 2001 email exchange with Annette Smith, executive director of Vermonters for a Clean Environment, he alleged that then-governor Howard Dean had broken promises to keep all the Champion lands open to human use, and characterized the battle for access as "a fight between the common working people and Howard's elitist cocktail crew."
During this time, Ehlers was working on Progressive Anthony Pollina's 2002 campaign for lieutenant governor. Ehlers claims to have "designed the Bull Moose logo for the Progressive Party."
Progressive on one hand — anti-wilderness activist on the other? Seems contradictory.
Ehlers asserts that he has been ideologically consistent throughout. "There has not been a fiercer advocate for conservation than myself," he said.
And there's the rub. Ehlers draws a distinction between conservation, which he espouses, and preservation, which he does not. "Conservation" is a human-centered concept: protect the environment for the benefit of people. "Preservation" is environmentalism for its own sake, which he sees as elitist.
"'Wilderness' is about preservation, not conservation," he said. "Wilderness isn't an environmental designation; it's a sociopolitical designation for fundraising purposes."
Or, as he put it less delicately in the pages of Vermont Outdoors, the magazine he helmed in the early 2000s, "Biodiversity is the rallying cry of hell-bent preservationists everywhere. It is to the environmental community what rear-end revealing pants are to high-school kids today." Biodiversity "zealots," he added, "are on a crusade to control the social agenda, equating the constitutional rights of humans with the supposed rights of bugs."
He does not disavow those sentiments today. "I don't think it's radical for Vermonters to have access to their land," he said Monday. Preservationists, he said, are "political interests that want to lock up the land."
Ehlers again opposed an effort to create wilderness areas in the mid-2000s, this time within the Green Mountain National Forest. Springfield resident Dick Andrews, now president of the Upper Valley Ottauquechee Section of the Green Mountain Club, was involved in other environmental organizations at the time. He recalls Ehlers as a fierce, and not always truthful, opponent of wilderness designation.
"He frequently used the term 'land grab,' which is absurd because the federal government already owned the land," said Andrews. "He claimed that hunting and fishing wouldn't be allowed on wilderness lands, which is completely wrong. He knew it was wrong, and he kept saying it.
"For him to be called an environmentalist is, to me, preposterous," Andrews added. "As far as I'm concerned, he's a complete fraud."
Whether he is a fraud or not, Ehlers' version of environmentalism puts him at odds with other advocacy groups.
In 2007, Ehlers wrote a letter that was published in the Rutland Herald and St. Johnsbury's Caledonian-Record. In it, he depicted the idea of the "green economy" as "a political creation" and argued that all businesses should be considered equally important. And he added: "Excessive government regulation escalates the cost of doing business to the point that many of us entrepreneurs that you supposedly want in this state are looking to invest their money elsewhere."
Sounds more like a Republican than a progressive. And it seems completely at odds with the 2018 candidate who claims to be a champion of the green economy.
Ehlers now asserts that "the definition of 'green economy' has changed." His explanation of exactly how it has changed was less than revealing. "The green economy I put forward now prioritizes water. The green economy at that time did not."
Still, his 2007 critique attacked the very concept of a green economy, not just an insufficiently evolved version.
This brings us to his series of anti-union tweets in 2010, as first reported by VTDigger. The self-described champion of labor accused the teachers' union of "protecting deadbeats" and teachers of "looking 4 job w long paid vacations." He depicted working conditions featuring "small class, no violence, long vacations, cadillac healthcare."
"I've played a role of instigating and agitating," he explained on Monday. "For a critical thinker to question the establishment is a very Vermont thing to do — questioning authority figures."
Yeah, well, there's a difference between critical thinking and name-calling.
The two unions that have endorsed Ehlers, the Vermont Building and Construction Trades Council and the Vermont State Labor Council, AFL-CIO, have stood by their man — but the Vermont-National Education Association is not happy.
"The views expressed are abhorrent to us as a union," said Vermont-NEA spokesman Darren Allen. "That sentiment is a hallmark of an anti-union ethos." Allen said his union will make an endorsement after the August 14 primary — but Ehlers will have to do a lot of fence-mending if he hopes to get the nod.
Finally, we come to Ehlers' tweets from 2015, again first reported by VTDigger, in which he linked to stories promoted by anti-abortion groups and posed provocative questions about the pro-choice movement.
Four days after the tweets were reported, he issued a non-apology on Facebook.
"There are times that I expressed my views in a way that lead to an unfortunate impact," Ehlers wrote. "I regret that and apologize to those who have ever been offended, confused or disappointed in my choice of words."
Sorry, but any apology that includes the phrase "those who have been offended" is not a true apology. It puts the onus on the offended, not the offender.
On Monday he explained his anti-abortion tweets as the musings of a critical thinker, questioning conventional thinking in unconventional ways. He maintained that he is staunchly pro-choice.
"I'm perhaps guilty of being a contrarian," Ehlers said. Contrarian, loose cannon — choose your descriptor.
He has burned plenty of bridges with his "contrarian" rhetoric. He now faces a completely different challenge: Bringing people together behind his campaign and being a leader instead of an agitator.
It's a virtual certainty that more of his past writings will be discovered and used against him. He may find it impossible to cross the divide between instigator and leader. At the very least, he will have to explain himself to many people.
Media Note
On July 4, a Barre woman named Courtney Gaboriault was fatally shot by a former boyfriend, Luke LaCroix, who then killed himself. The crime was duly reported by the local paper, the Barre-Montpelier Times Argus.
The following day, the Times Argus published a follow-up story by reporter David Delcore. Much of it focused on the perpetrator, depicting him in sympathetic terms. He was a "popular lacrosse coach" at Spaulding High School. He was "well-known and generally well-liked." The putative tragedy of LaCroix's death was center stage, while his victim was reduced to a supporting role.
Perhaps the most bizarre passage was this: "Though LaCroix and Gaboriault were together for several years, friends and family members said she ended their increasingly troubled relationship and he did not take it well."
"...he did not take it well."
Ya think?
Reaction from the community and from the Department of Public Safety, where Gaboriault worked as administrative services coordinator with the Vermont Marijuana Registry, was swift and vociferous. And justified. The article was fundamentally slanted in a way that ought to be impossible in the #MeToo era. The fact that Times Argus editors approved the story was a failure bordering on dereliction of duty.
How did this happen? Well, one hint can be found in the newspaper's staff listings. The news and editorial crew consists of people named David, David, Eric, Greg, James, Jeb, Jim, Rob, Stephen and Steven. Yep, they're all men.
I'm not saying that men are incapable of accurately reporting on male-perpetrated domestic violence. But I am saying that an all-male newsroom is much more likely to commit such a blunder. There is an upside to workplace diversity.
"They don't get female issues there at all," former Times Argus reporter Gina Conn told me. She could be dismissed as a disgruntled ex-employee, but her diagnosis seems spot-on.
On July 9, editor in chief Rob Mitchell posted a lengthy explanation and apology online. It went much further than news organizations are typically willing to go in revealing newsroom processes and objectively evaluating failures.
But to many, the post was too little too late, and the explanation felt more like rationalization. The people at the Times Argus are well-intentioned professionals, but they screwed up royally on this one. Mitchell's apology was only a first step in the process of repairing the damage. Which ought to include a healthy dose of staffing diversity.
Meanwhile, in a painful irony of the internet age, on Tuesday morning the top three trending stories on the paper's website were Delcore's LaCroix-focused piece, the original breaking-news account of the crime and Mitchell's analysis.
And thus, failure is rewarded with web traffic.