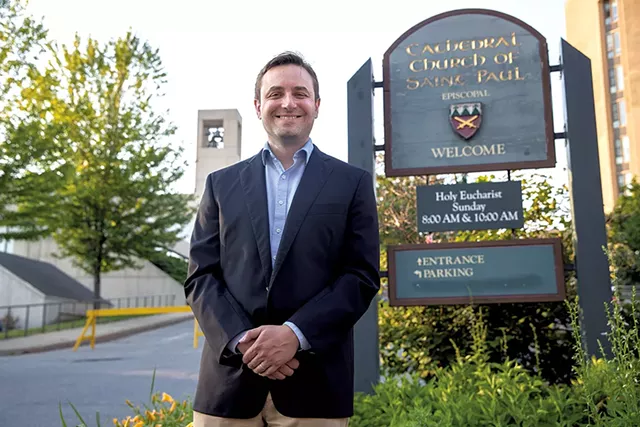 James Buck
Bram Kranichfield
Bram Kranichfeld was having a rough go of it in May 2017 when his pastor approached him with an unexpected proposition.
"I said, 'I think you're called to be a priest,'" recalled Jeanne Finan, then the dean and rector of the Cathedral Church of St. Paul, the Episcopal congregation in Burlington. "I just felt that Bram had the gifts."
Kranichfeld, a former Burlington city councilor and mayoral candidate, had recently been passed over for a position he'd long coveted: Chittenden County state's attorney. Months before that, his father had died of mesothelioma, an aggressive form of cancer.
As he grappled with professional adversity and familial tragedy, Kranichfeld pondered Finan's suggestion. "I had been interested for years in exploring the ordained ministry," he said. "But that was the first time in my life that I felt it was actually a viable option."
Kranichfeld decided to give it a shot.
Last month, after a two-year trial period with the Episcopal Church, the 39-year-old left his job as chief of the criminal division of the Vermont Attorney General's Office. He plans to begin a master of divinity program this fall at the Montréal Diocesan Theological College. And in three years — with a little bit of luck and, perhaps, a lot of prayer — the lawyer and ex-politician hopes to become an ordained priest at a Vermont church.
"I think a lot of people have a lot of dreams, and life gets in the way," said Attorney General T.J. Donovan, who served as Kranichfeld's boss for most of the past dozen years. "I think it's a rare and courageous thing that somebody who is in the middle of a career follows his life's calling."
Kranichfeld's priestly path wasn't preordained. Born to a Jewish mother and "borderline atheist" father, he was raised in Dummerston and then Rye, N.Y. Religion, he recalled, "was not a thing we did."
After graduating from the University of Chicago and Cornell Law School, Kranichfeld found himself working for a corporate law firm in New York City, specializing in securities, as well as mergers and acquisitions.
It was there that he had his first brushes with tragedy and spirituality. His mother, who had joined the Episcopal Church years earlier, was diagnosed with leukemia. At the time, Kranichfeld was living and working in the financial district, and every day he walked by Trinity Church Wall Street, an Episcopal parish.
"One day, I looked up at it and saw it as a hospital, a sanctuary," he said. "So I walked in, and it pretty much changed my life." He reread the New Testament and, at 25, was baptized into the church.
It didn't take long for Kranichfeld to realize that corporate law — and "getting some guy another yacht" — wasn't right for him. "I've made a lot of life decisions based on what other people expected of me and not necessarily what would be the most resonant with who I am," he said. "And I think [corporate law] was maybe one of them."
Kranichfeld moved to Vermont in 2006 to take a judicial clerkship in St. Albans. Donovan, then the Chittenden County state's attorney, remembered meeting him shortly thereafter and hiring him on the spot. In the busy county prosecutor's office, the young lawyer would have the opportunity to bring 25 cases to trial. "I loved it," Kranichfeld said. "You don't get many legal jobs where you get to be litigating."
He met his future wife, Erin, on a blind date in March 2007. When she invited him on a second date on a Sunday morning, he left her a message saying he would be busy at church.
"I remember getting that message and thinking immediately, Oh, God! He goes to church!" said Erin, who was raised Catholic but no longer practiced. "Immediately I went to this place of, He's anti-abortion; he's anti-gay; he's this conservative, crazy person." Her fears were unfounded.
After they began seriously dating, she recalled, "He said, 'What would you do if I became a priest?' I said, 'I'd leave you! I'm not going to be married to a priest!' "
Kranichfeld became engaged in local politics soon after arriving in Burlington. In 2010, he won a seat representing the Old North End on the Burlington City Council and, a year later, sought the Democratic nomination for mayor of the Queen City. He came in third place, after airport commissioner and future mayor Miro Weinberger and Sen. Tim Ashe (D/P-Chittenden).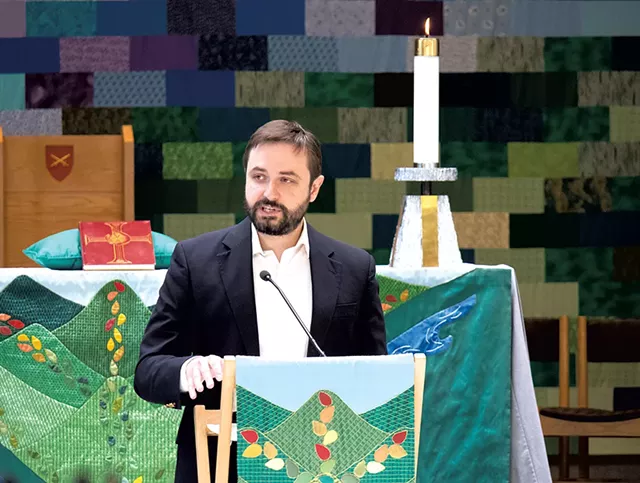 Courtesy Of Greg Merhar
Bram Kranichfield delivering a sermon at the Cathedral Church of St. Paul
Kranichfeld's Hyde Street neighbor, Jill Krowinski, volunteered for his first campaign and managed the second. She said she was struck at the time by what a powerful storyteller Kranichfeld was.
"That skill helps you connect on the campaign trail and in the courtroom and in church," said Krowinski, now the Democratic majority leader of the Vermont House. "It's an interesting link that just totally makes sense."
Kranichfeld resigned from the council in 2013, citing the looming birth of his first child and a new job as executive director of the Department of State's Attorneys and Sheriffs, which coordinates the work of Vermont's 28 county law-enforcement offices.
He returned to the Chittenden County prosecutor's office two years later and, when Donovan was elected AG in 2016, he hoped to succeed him as state's attorney. But Republican Gov. Phil Scott appointed Kranichfeld's colleague, Sarah George, to complete Donovan's term.
"I was disappointed by the governor's decision, and it really kind of left me very uncertain about my place in the office and, really, about my legal career in general," Kranichfeld said.
That was when Finan approached him about the priesthood.
Kranichfeld and his family had some reservations. He and Erin, an English teacher at Essex High School, now had two young children and were firmly rooted in Burlington.
"It was a little scary," Erin said. "I married a lawyer, and now I'm gonna be married to a priest." But even though she had never joined the Episcopal Church, Erin said she fully supported her husband's decision.
"We're kind of taking it one day at a time," she said.
According to Finan, who has since retired from the church and moved to North Carolina, ordination is never "a slam dunk." The Episcopal Church's "discernment process" involves months of meetings — first with a parish priest, then with a committee of clergy members and congregants, and finally with the bishop and a statewide diocesan committee. Along the way, Kranichfeld has tried his hand at pastoral duties, including delivering sermons at the Cathedral Church of St. Paul.
"He is a fantastic preacher," Finan said. "This is a person who has argued in court, so he knows how to look people in the eye and not read from a script."
In one recent sermon, Kranichfeld wove together personal anecdotes about a childhood playground mishap and a recent brush with the opioid epidemic — along with a quotation from a former Vermont Law School professor — to explain the parable of the prodigal son.
According to Bishop Thomas Ely, the retiring leader of the Episcopal Diocese of Vermont, "He's done an awful lot of reading and thinking and praying around spiritual life and spiritual practices, so I think he's a person who's deeply committed to the spiritual practice of prayer and study and community engagement."
Even as he explored a higher calling, Kranichfeld remained grounded in the law. In December 2017, Donovan asked him to serve as chief of the criminal division in the Vermont Attorney General's Office. There, he led investigations into officer-involved shootings, racial harassment of a Bennington state representative and allegations of abuse at a shuttered Catholic orphanage in Burlington.
Kranichfeld wouldn't remain in the job long. In February 2019, Ely admitted him as a postulant for holy orders, which meant the church had given its blessing for him to attend seminary. The prospect of informing his colleagues that he'd be leaving the law for the church made Kranichfeld anxious, he said.
"I wasn't sure how people were going to respond," he said. "It's such a huge change, and it's so different from being a lawyer. It's also so different from what people expect lawyers to do."
But other than one person at a party who mistakenly thought the job required celibacy, as the Catholic priesthood does, most have reacted positively to the news, Kranichfeld said.
"I'm not converting, but I look forward to seeing him on the pulpit," said Donovan, who is Catholic.
According to Ely, even ordination doesn't guarantee a paid gig in the church. The Diocese of Vermont has 45 congregations and roughly 6,000 members, but only 10 clergy have full-time jobs within the church. Many Episcopal priests in the state are what Ely refers to as "bi-vocational."
"Look, there's a lot of uncertainty," said Kranichfeld, who intends to continue practicing law on the side, at least for now. "Part of the challenge of this whole thing is the uncertainty."
But Kranichfeld is certain that, at 39 years old, he's finally on the right path.
"I think I'm a public servant at heart, and I see the priesthood as another form of public service," he said. "I can be my true self. I don't need to put up a persona. I don't need to fake it at all. It feels natural to me, and it feels like it's resonant with who I am."