Courtesy Of H. Brooke Paige
The Spavin Cure Building, circa 1890
When Dr. Ashbel Parmlee Grinnell conducted a study of Vermonters' opiate usage, he couldn't believe the results. According to Grinnell's statewide survey of physicians, druggists, store owners and medical wholesalers, the state's population was consuming 3.3 million doses of opiates per month. The University of Vermont physician, professor and dean was so surprised by the results that, initially, he assumed the respondents had misunderstood his query and reported their annual sales figures.
But the numbers weren't overstated. Grinnell eventually concluded that the consumption of opiate-based medicines was likely underreported by a factor of five, because many Vermont doctors and pharmacists, suspicious of his motivations, didn't respond to the survey. As the Burlington physician later asserted in a report titled "Use and Abuse of Drugs in Vermont," the Green Mountain State was in the grips of a public-health crisis aided and abetted by the state's medical and pharmaceutical industries.
The year of that grim warning? 1900. And Grinnell was only one of several Vermont doctors to sound the alarm in that era, according to Shrewsbury author Gary Shattuck. His article "Opium Eating in Vermont: 'A Crying Evil of the Day,'" published in Vermont History Journal in 2015, describes the widespread availability and consumption of medicines containing opium, morphine, laudanum, alcohol and cocaine in 19th- and early-20th-century Vermont.
In 2017, Shattuck, a former federal prosecutor, assistant Vermont attorney general and retired state police commander, published Green Mountain Opium Eaters: A History of Early Addiction in Vermont. Much of that book's narrative could soon inform exhibits and programming at an unusual history museum proposed for Enosburg Falls — one devoted entirely to Vermont's centuries-old struggle with substance abuse.
Courtesy Of H. Brooke Paige
Spavin Cure wagon in Enosburg Falls, 2006
By any measure, the problem continues to this day. In 2015, more than 601,500 prescriptions were issued for opioid pain medications statewide — nearly one for every Vermonter, according to data from the state Department of Health. Abuse of opioids that year resulted in 1,375 emergency-response calls for drug overdoses, 8,600 people seeking opioid-dependency treatment and 76 accidental deaths.
Will locals rally behind a museum devoted to Vermont's history of drug abuse? As of press time, few Enosburg Falls residents seemed aware of the project, including several town leaders contacted for this story.
The opiate museum is the brainchild of business partners Tim Camisa and Mike Rooney. They own the so-called Spavin Cure Building, a mostly vacant structure on North Main Street in Enosburg Falls, where they hope to unveil the museum as early as June 2019. The two are looking to piggyback on a campaign launched in September called the Enosburg Initiative, which aims to revitalize the village downtown on the model of communities such as St. Albans.
And they have a compelling argument for their choice of location: Enosburg Falls could be called the town that opium built, with Spavin Cure as its cornerstone.
"Spavin Cure: What was it? Basically, opium in a bottle," Camisa said on a recent tour of the building, which is currently under renovation. "This is the perfect place to house [an opiate museum] because this is where it was made and sold with a smile."
Built in 1880 and listed on the National Register of Historic Places, the Spavin Cure Building once housed the B.J. Kendall Company, which manufactured numerous patent medicines, including a wildly successful veterinary product called Kendall's Spavin Cure that was used to treat joint ailments in horses.
Spavin Cure was invented by Enosburgh physician B.J. Kendall, who had studied medicine under William Mayo, a founder of the Mayo Clinic. After returning to Enosburgh in the 1870s, Kendall opened a drugstore on Main Street, where he peddled his own medicinal concoctions. As demand for Spavin Cure exploded, especially among local farmers, Kendall took on three business partners to help with its production, sales and distribution.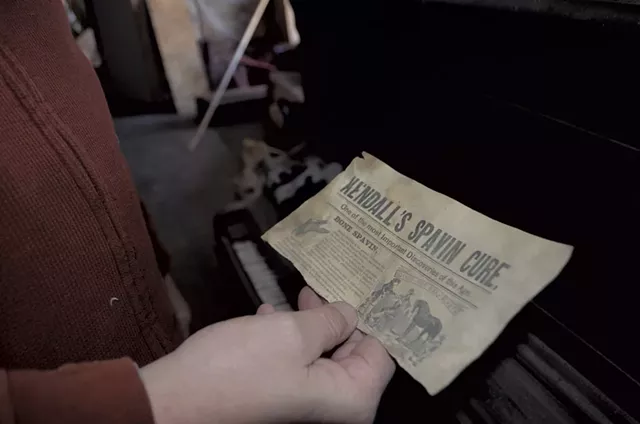 Though Spavin Cure was ostensibly an equine medicine, it was also ingested by the people who bought it and eventually marketed as a cure-all for "man or beast." Like many such 19th-century tonics and tinctures, Camisa noted, it was unregulated by the federal government.
In many respects, Kendall and Spavin Cure put Enosburg Falls on the map. At its peak, the town was home to six patent-medicine manufacturers, whose products were distributed worldwide.
Each spring the Kendall Company dispatched teams of salespeople as far west as Kansas, via railroads and horse-drawn wagons, to sell their wares, according to the Enosburgh Historical Society. The Kendall Company's enormous profits eventually funded the construction of the Enosburg Opera House as well as the town's water system, electrical grid, sewers, public parks, sidewalks and public library.
But the Kendall Company's financial success came at a devastating price, Camisa pointed out, as customers got hooked on the opium it contained. As he put it, "These people actually built great wealth from a lot of people's addiction."
The problem wasn't unique to Vermont. As Shattuck explains in his 2015 article, widespread and unrestricted access to opium and morphine was the norm in the 19th and early 20th centuries. Opiate-laced products were especially popular among women, who routinely used them for, among other things, relief of menstrual pain. Opiate-based meds were also commonly administered to children to calm coughs or, Shattuck notes, to calm the kids themselves, freeing their mothers or maids to perform other tasks.
Stricter federal regulations eventually brought the turn-of-the-century opiate epidemic under control. Soon after Grinnell and other physicians issued warnings about opiate consumption, Congress passed the Pure Food and Drug Act of 1906, banning the manufacture, sale, distribution and mislabeling of foods, beverages and medications containing poisons or other dangerous ingredients. As automobiles replaced horses, Spavin Cure and the Kendall Company went into steady decline; the company finally closed in 1954.
Camisa and Rooney currently plan to end their museum's historical timeline at that point. That said, it's hard to envision such a retrospective ignoring more recent developments in Vermont's war on opiates, such as then-governor Peter Shumlin's 2014 decision to devote his entire State of the State address to the drug scourge.
Ken Picard
The Spavin Cure Building today
The proposed museum would occupy 5,000 to 6,000 square feet in the basement and first floor of the Spavin Cure Building. Because neither Camisa nor Rooney are historians, they've sought guidance from Shattuck and professors in UVM's History Department and Historic Preservation Program. They're looking to recruit UVM students as interns, possibly as early as this summer, to help conduct more research and create exhibits. Camisa said that, while they're interested in seeking state or federal grants, thus far no applications are in the works.
There's plenty to display: Camisa and Rooney said they've already amassed "a couple thousand artifacts" — including original medicine bottles, wooden crates and advertising materials — that they either salvaged after buying the building in 2000 or purchased from antiques dealers.
Evidently, some of Kendall's products remain potent. A few years ago, Camisa recounted, he was contacted by a man interested in selling a crate of Spavin Cure bottles, their contents intact. Because the man was unaware of their history, Camisa mentioned that they contained opium, then offered to buy them.
"Well, he never brought it down to sell to me," Camisa recalled. "He was on TV a couple weeks later for doing armed robberies to buy more drugs."
Before the museum can mount any displays of antiquated meds, Camisa acknowledged, the structure needs another estimated $60,000 to $80,000 in improvements. Those renovation efforts have been stymied, in part, by repeated vandalism, Camisa said, including the smashing of more than 90 windows in recent weeks.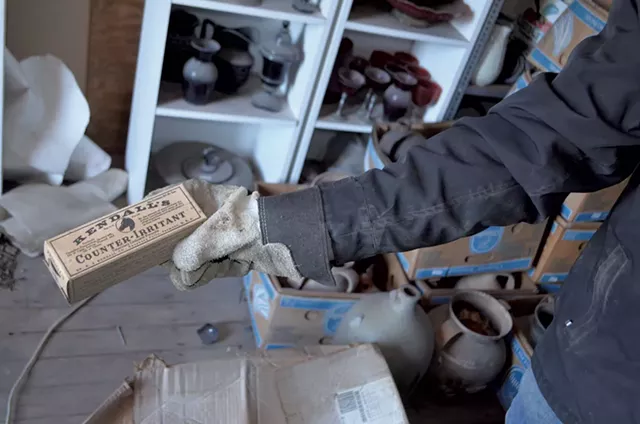 Thieves recently broke into the building and stole $25,000 worth of broadcast equipment from the third floor. Among the seven businesses that Camisa and Rooney own — including Vermont Organics Reclamation in St. Albans, two Lovermont 802 retail stores in the Burlington area and Ethan Allen Coachworks in Williston — is WEVT-FM radio, which broadcasts from an antenna atop the Spavin Cure Building.
Many locals seemed unaware of the museum project. One who knows of its existence — though she said she had few details — is Suzi Hull-Parent, treasurer of the Enosburg Business Association, who's also involved in the Enosburg Initiative. While Hull-Parent acknowledged the Spavin Cure Building's historic significance, "I think that when you say 'opiate addiction,' it makes some people alarmed," she said. "It all depends on how it all gets presented — if it ever happens."
Daryl Robtoy owns Cold Hollow Computing, an electronics repair business on Main Street several blocks from the Spavin Cure Building. Robtoy, who also writes a newsletter for the Enosburg Historical Society, said he thinks an opiate museum is "a great idea," but he's not yet convinced that Camisa is the one to do it.
"He's talked about doing this forever," Robtoy said. "Whether he has the means to do it or the will, I don't know. But you can tell he's excited about it."
Reached by phone, Shattuck called the museum concept "a terrific idea" but clarified that, except for having provided Camisa and Rooney with a rough historical timeline, he's not personally involved in the project.
Camisa and Rooney sounded confident that they could make the museum work but described themselves as reluctant to proceed without community support. Camisa suggested that a cultural heritage museum devoted to the history of opiates could become a huge tourist attraction for the town.
And, he noted, an educational one. As he pointed out, even Kendall wasn't immune to the power of his own medicine. At one point, Kendall's business partners offered to buy out his share of the company for $100,000. Instead, they eventually had him committed to a sanitarium for his opium addiction, where Kendall died penniless.
"There's a big lesson there," Camisa said. "You can be on top of the world and quickly end up on the bottom."