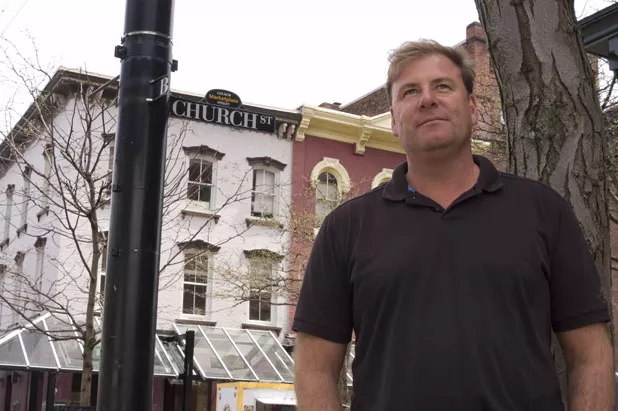 Matthew Thorsen
Yves Bradley
When Yves Bradley, owner of the Body Shop in Burlington, decided to replace all the old, wooden windows in the building he owns, at the corner of Church and Bank streets, with energy-efficient ones, he thought he was making a wise investment - for his business, his tenants, the city and the planet.
Halfway into the $20,000 job, however, the city shut down the project. Apparently, the new windows, while consistent with the shape and design of the existing ones, were made of vinyl, not wood, which doesn't match the historical architecture of the building and the block. Moreover, according to a complaint filed with the city, the original design of the "muntins" - crossbars that hold the windowpanes in place - had been altered, creating different shadow lines.
Bradley appealed the city's decision, but lost. Faced with choosing among several unpalatable options - reinstalling the old, damaged windows; installing more expensive wooden windows piecemeal over the next 10 years; suing the city and potentially incurring $100-per-day fines for noncompliance - he acquiesced to the city's demand that he replace the old windows with historically accurate wooden ones. To cover the additional $50,000 in expenses (not including what he has already spent on materials and labor), Bradley has secured a second $150,000 mortgage on the property; he's taking the opportunity to replace the heating and ventilation system.
Bradley readily admits that he goofed. Due to a miscommunication between the contractor and his property manager, Pomerleau Real Estate, no one had obtained the building permit needed for work in a historic district. Still, after keeping rents "artificially low" in order to retain his tenants, Bradley is bitter about being forced to take on another five years of debt.
"Everyone's talking about energy efficiency and doing the right thing," Bradley said. "But it's one thing to spend $20,000. It's another to spend $70,000."
Bradley isn't the only Burlington landlord who's angry. Other commercial and residential property owners who've tried to make improvements to historic properties have run into similar obstacles. They say that requests to use cheaper, easier-to-maintain and/or more energy-efficient materials - such as vinyl windows or asphalt roofing - are frequently denied in the interest of preserving the "historic character" of the neighborhood. This is true, they complain, even when neighboring structures don't comply with the rigorous standards.
Bill Bissonette owns 200 apartments in Burlington, about 95 percent of which are in historic districts. More than 90 percent of his tenants qualify for Section 8 housing vouchers, Bissonette said, meaning he can't raise rents to cover his expenses.
Last year, Bissonette applied for a permit through the Development Review Board (DRB) to replace the 120-year-old wood siding on three King Street buildings with Hardy Board, a cement-based product manufactured to look almost identical to wood siding. Hardy Board comes pre-painted from the factory, requires very little maintenance and is guaranteed for 50 years. It also costs 75 percent less than traditional wooden siding. "This is basic economics for me," Bissonette said.
The DRB denied Bissonette's request and told him he can only install wood siding. Bissonette responded by suing the city in Environmental Court; he expects a ruling in a few weeks. "I'm a serious taxpayer in the city of Burlington," he said, "so in a sense, I'm suing myself."
City officials and historic preservationists say they're sympathetic to owners' concerns about affordability and ease of maintenance. But, they add, other factors must be considered: the obsolescence of replacement materials; the energy and resources needed to manufacture new materials; the ecological cost of landfilling construction debris; and the visual deterioration to Burlington's landscape when replacement materials don't match the original design and construction.
"I don't think there's any effort at all to make Burlington into a museum," said Mary O'Neil, an associate planner in Burlington's Planning and Zoning Department. "But there is great recognition that Burlington has its own character and is a magnet. This is why people want to live and work here."
O'Neil is reluctant to discuss Bradley's case since there's the potential for litigation. However, she said the city cannot approve or deny an application based on the applicant's financial resources. "Sometimes it'll be the Pomerleaus of the world and sometimes it'll be folks who live in a land-trust house," she said. "The [Development Review] Board must have blinders on when making these decisions."
Ron Wanamaker is a member of Burlington's Design Advisory Board (DAB), which issues nonbinding recommendations to the DRB on historic and aesthetic matters. Wanamaker, who also serves on the board of the nonprofit Preservation Burlington and restores old buildings, is sensitive to cost. But he warns that cost considerations represent a slippery slope because every property owner will claim a hardship.
"I'll admit, there's a fine aesthetic sensibility that many, many people don't ascribe to," he said. "But for me, there is no vinyl window that replicates the pattern and feel of an original window."
Wanamaker likens the loss of old, historic materials in Burlington to "clear cutting our old-growth forests again." In his view, many old building materials can be salvaged, repaired, reused and made energy-efficient. It may cost more, but the materials will last four or five times longer than the cheaper alternatives.
Take the restoration currently underway at the First Congregational Church, Wanamaker said. It would have been easier to install vinyl replacement windows with a 20-year lifespan. But by rehabbing the historic wood windows, they will last another 100 years, with only a "marginal" difference in energy efficiency.
Burlington's new zoning ordinance now includes language from the U.S. Department of the Interior's standards for historic properties. Both O'Neil and Wanamaker acknowledged that the wording is vague and open to interpretations, so city officials are still trying to hash out language that will align the goal of historic preservation with affordability, property rights and eco-friendliness.