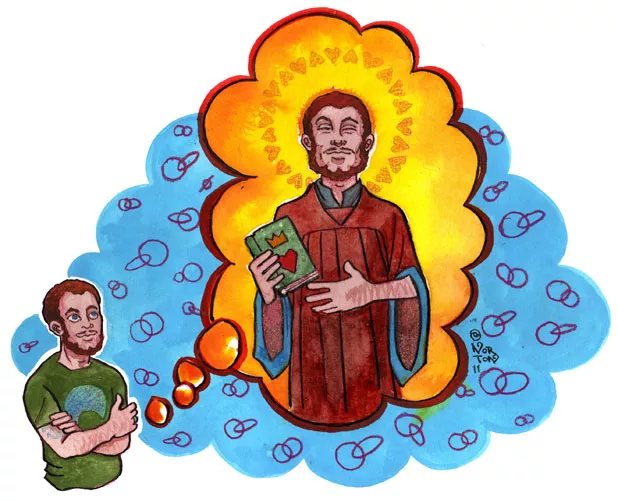 Five years ago, a friend asked me if I would consider being in her wedding. But she didn't want me to stand by her side as a bridesmaid in a meringue dress, or to perform a dramatic reading of her favorite poem. Nor did she care to have me toss flower petals or carry rings on a satin pillow.
No, what my friend wanted from me was more complicated than sashaying down the aisle and smiling pretty. She wanted me to marry her. And her fiancé. Together. Forever.
I must admit that, at first blush, the request was thrilling. Who has more authority, more power over the tenor of the ceremony, than the officiant? This is the person who asks the couple if they take each other in sickness and in health, for all the days of their lives. Who unites two souls. Who is responsible for the service's success or failure.
That's a lot of pressure for one person who is neither religious nor romantic. The more I thought about it, the less officiating sounded like such a great proposition.
What did I know about marriage and the ultimate commitment? I didn't know any married folks who stuck it out to the end except my grandparents, and I don't think they even liked each other. Wouldn't I be more supportive as a gleaming face smiling up at the couple from the rows of guests, rather than standing in front of them on the dais asking them, "Do you...?"
In the end, my desire to be part of the wedding defeated my trepidation. I agreed to officiate. While the ceremony was not without its hiccups, it was unique, and the couple was pleased. It was a win-win deal for all of us. They got a meaningful ceremony with an appropriate mix of humor and poignancy, and I got to join an ever-increasing group of lay people who can say they have hitched two of their pals.
In recent years, the number of people getting ordained through virtual ministries such as the Universal Life Church has exploded. Anecdotal evidence suggests weddings performed by friends and family are on the upswing. Perhaps this is because people have come to believe that marriage is less about religion and its attendant hierarchy and doctrinal contradictions, and more about community and family.
What clerical figures still have over us lay folks, at least in terms of marrying people, are the twin advantages of history and experience, as well as an acute understanding of ceremony. Priests, ministers and rabbis know how to get the job done. Most of us, unless we're theatrical types who can improvise, do not. But that doesn't mean we can't learn.
Before you take on the responsibility of being the officiant, you need to ask yourself if you can handle it, says Kathryn Blume, a nondenominational minister (her ordination came from an ad in the back of Rolling Stone years ago) who performs roughly 40 weddings a year. Committing to running the ceremony will require a level of comfort with public speaking, something that Blume, an actor and theater director, certainly has. If that prospect makes you queasy, perhaps it's best to take a pass.
"Don't say yes unless you're really willing to do it," Blume counsels. "There's no reason to stress out a friendship over such a big occasion. This is not the time to challenge yourself."
Once you say yes to performing a friend's or family member's wedding, you need to figure out what the couple wants, says Moretti, a mono-named officiant with a decade of experience marrying people. His first suggestion for the couple: Stay away from traditional wedding guides.
"I advise every couple to not read anything on [TheKnot.com] or in Emily Post or Martha Stewart," Moretti says. "They just put out this list of shoulds. You should do this, you should do that. But Martha doesn't know you."
He tells couples to close their eyes and envision what their wedding will look like — "paint a picture of the day." To mitigate the stress and anxiety, Moretti reminds the couple that only two things have to happen on their wedding day: (1) Both parties have to indicate consent to marriage, and (2) the officiant has to witness that consent. Beyond that, "It's all bells and whistles," he says.
Getting the couple to a place where they can envision the wedding they want, and not the wedding their friends and family want, is essential. From there, you can begin a discussion of the ceremony itself.
One of the most important roles of the officiant in those early planning days is to act as the couple's sounding board. When they talk about elements they'd like to see in the ceremony, Moretti suggests asking them why such components are meaningful. What does this reading or that tradition say to or about the couple?
It's not meant to be an interrogation but an opportunity to reinforce the couple's values. If your friends are thinking about adding movements such as handfasting or candle lighting, asking them to explain their motivation can help refine the ceremony.
Once you have discussed important components, you need to design the ceremony itself. There is a basic structure to every wedding ceremony, says Blume, so there's no need for procedural reinvention.
Begin with a prayer, a poem or some kind of reading. Talk about why the partners are good together. Throw in a reading or a song. Then you're on to the vows, which are "a little bit trickier," Blume says.
The Internet is a boundless resource for ceremony structure ideas, as well as boilerplate vows. If the couple chooses to write and read their own, Blume stresses, they needn't memorize them.
"It's the worst idea ever. It's just asking for trouble," she says.
After the vows, the officiant can offer some final thoughts — another poem or a blessing — and it's on to the pronouncement and the much-anticipated smooch. Then, as the officiant, you're home free and making a beeline for the open bar.
It's one thing to plan a ceremony, another thing to perform it. How do you get the couple (and yourself) from quivering puddles to relaxed and happy? According to Moretti, it's all about breathing, both real and metaphorical.
In successful wedding services, he says, energy is shifted onto the couple, off them and back throughout the ceremony. When the focus is on you, you can switch it by pausing occasionally and checking in with the couple through little jokes or gentle touches. The calmer you are, the more at ease they'll be.
"You want to create some space, and let them relax and reflect," Moretti says. "The hardest part of being an officiant is holding space and dealing with whatever emotions come up."
When the day of the wedding I'd agreed to officiate finally rolled around, the couple and I had sketched out the structure of the ceremony and written the script for the day together. I cracked some jokes, remembered to stand up straight and fashioned a perma-smile so the assembled knew it was a wedding, not a funeral. I talked about the couple's attributes and even a few of their failings, albeit gently and with love.
I explained the traditions they had chosen to incorporate into the ceremony — a chuppah and some glass breaking. I prompted them to read their vows and then proudly pronounced that, by the power vested in me by the state of New York and the Universal Life Church, they were married.
Things didn't go exactly as planned. But the only people who knew that were the bride and groom, and they were too over the moon to care. It was a lot of work to make sure my friends got what they wanted. And it was emotionally draining to participate so intimately in such a momentous life event. But it was worth it.
"It's the best seat in the house," Moretti says. "It's so delicious."
I wholeheartedly agree.