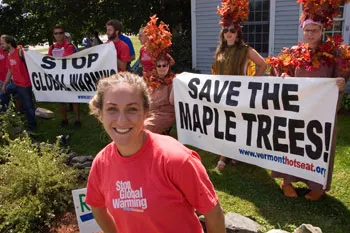 Local "Project Hot Seat" organizer Rebecca Sobel
VERMONT -- Sugar makers are tapping their maple trees as early as February. The state's ski resorts are experiencing 15 percent less snow than they did in the 1950s, forcing them to make more artificial snow. Farmers across the state are struggling to survive because record rains are causing their crops to rot in the fields. Global warming is real, it's here, and it's hitting Vermonters hard. And now, activists from around the state say they intend to hold Vermont's congressional candidates' feet to the fire to do something about it.
That was the message last week as "Project Hot Seat" kicked off its campaign to make global warming a hot-button issue in the November general election. Project Hot Seat, a Burlington-based grassroots effort launched with support from the international environmental group Greenpeace, is looking to "cultivate a champion in Vermont in the fight against global warming," according to organizer Rebecca Sobel.
Vermont is one of six congressional districts around the country being targeted by Greenpeace because it's considered a hotly contested race with no clear frontrunner, Sobel explains. Vermont is also a district where citizens have traditionally shown strong voter preferences on environmental issues, and where the candidates' differing positions on global climate change could be enough to sway undecided voters. Project Hot Seat campaigns are also being waged in Seattle, Washington; Denver, Colorado; West Palm Beach/Fort Lauderdale, Florida; Bucks County, Pennsylvania; and the Upper Peninsula of Michigan.
"We believe it's the issue of our time, and we know we only have a decade or so to seriously halt the extreme effects of global warming before it's too late," says Sobel, who spoke from her Burlington office at the eco-friendly consumer-products company Seventh Generation. Company President and CEO Jeffrey Hollender sits on the board of Greenpeace USA and has donated office space for the Project Hot Seat campaign.
Last week, about 35 activists from around the state held demonstrations outside the campaign headquarters of both Democrat Peter Welch and Republican Martha Rainville to voice their concerns on this issue. Among them were David Zuckerman, chair of the House Agriculture Committee; Bryant Watson, executive director of the Vermont Association of Snow Travelers (VAST); and Burr Morse, a seventh-generation sugar maker from Montpelier. About a half-dozen others carried banners or wore maple tree costumes to highlight the state's dwindling maple tree population.
By now, scientific evidence overwhelmingly concurs that the Earth's temperature is steadily rising. A study done last year by the Climate Change Research Institute at the University of New Hampshire found that between 1970 and 2000, the average winter temperature in the Northeast rose by 4.4 degrees. Vermont's winters have also grown shorter by about two weeks since the 1950s, with a 15-percent decline in snow levels and a concomitant increase in rainfall, according to the Vermont Public Interest Research Group.
Peter Welch wasn't in Burlington when the activists showed up at his office last week. However, campaign Communications Director Andrew Savage highlighted some of the candidate's positions on the issue. Among them, Welch is calling for an "Apollo-like project for the 21st century" to address global warming. He also supports increasing fuel-efficiency standards on all new cars and trucks, tax incentives for "green" businesses, and shifting federal subsidies and tax cuts from oil and natural gas production to renewable energy and alternative-fuel sources.
Next, Project Hot Seat moved on to Martha Rainville's Williston headquarters. A campaign press release describing Rainville's "National Energy Plan" doesn't specifically address global warming; the Republican candidate does support more domestic offshore production of fossil fuels as a way to reduce America's dependence on foreign sources. On her website, Rainville also calls for increasing nationwide conservation programs, encouraging the production of alternative fuels such as ethanol and biodiesel, and mandating that government fleet vehicles use flex-fuel or hybrid technologies.
Sobel of Project Hot Seat says she and other Vermonters will keep the heat on Rainville and Welch to ensure that this issue doesn't get pushed to the back burner. And although Greenpeace has earned a reputation for engaging in dramatic and high-profile demonstrations on behalf of environmental issues -- from interdicting commercial whaling vessels on the high seas to hanging anti-logging banners in old-growth forests -- Sobel says this campaign likely won't result in any arrests. "Are we going to be rappelling from buildings? No," she says.
Project Hot Seat is helping to organize a five-day citizens' march from Ripton to Burlington over the Labor Day weekend. The 49-mile walk will feature nightly community discussions with author and activist Bill McKibben in the village greens in Middlebury, Vergennes and Charlotte, and at Shelburne Farms and Burlington's City Hall Park. Several hundred people are expected to participate in the final Shelburne-to-Burlington leg of the walk.