Courtesy photos
FaRied Munarsyah (left) and Will Anderson
It will be a few days yet before Burlington Progressives have a slate of city council candidates for the March ballot, as one of the contests ended in a tie.
FaRied Munarsyah and Will Anderson each earned five votes to represent the South District, party officials announced on Thursday evening. The party's steering committee will meet this weekend to determine how to crown a winner.
In the night's two other contested races, voters picked Jake Schumann to represent the East District with 35 votes over competitor Adam Franz, who earned 14. In Ward 8, Rhone Allison got 11 votes to Romeo von Hermann's two.
And police commissioner Melo Grant won her uncontested bid for the Central District. She's running to replace incumbent Progressive Councilor Perri Freeman, who
isn't seeking reelection
.
The Progs aren't running a candidate in the North District, where incumbent Councilor Mark Barlow, an independent, is seeking reelection with Democratic support. So far, he's unopposed.
The South District candidates made similar pitches to voters, though only one — Anderson — committed to running as a Progressive. Munarsyah, who made an unsuccessful bid for the Democratic nomination last month, said he'd run as an independent.
Both candidates focused on housing. Munarsyah, who organizes with the mutual aid group the People's Kitchen, said he's "willing to put everything on the table" to solve the city's housing crisis, including rezoning to increase residential development and repurposing unused buildings as housing units.
Anderson, who works as an analyst for the Vermont Department of Finance and Management, said he'd push for rent stabilization and to subsidize taxpayers on fixed incomes by taxing owners of multifamily properties at a higher rate. He also supports Burlington's recent attempt to ban no-cause evictions, a charter change voters approved but that was vetoed by Gov. Phil Scott last year.
Anderson said he'd focus on promoting policies that voters "just can't turn down," including reforms to increase residential density and to make the police department "better — not racist, not brutal."
"And I'm going to present that in a way that's better than Joan Shannon's very tepid platform," Anderson said.
Munarsyah, meanwhile, said his priority is passing
"Proposition Zero"
on the March ballot. If approved, the measure would allow residents who collect enough signatures on a petition to place ordinance changes and advisory items directly on the ballot; the current process requires city council and mayoral sign-off.
"As far as Joan Shannon, hopefully [passing Prop Zero] will provide a countercheck and provide some balance to the decisions that she's part of," Munarsyah said.
The candidates also both want to hold the University of Vermont accountable for its growing student population, which crowds the city's rental market and drives up costs.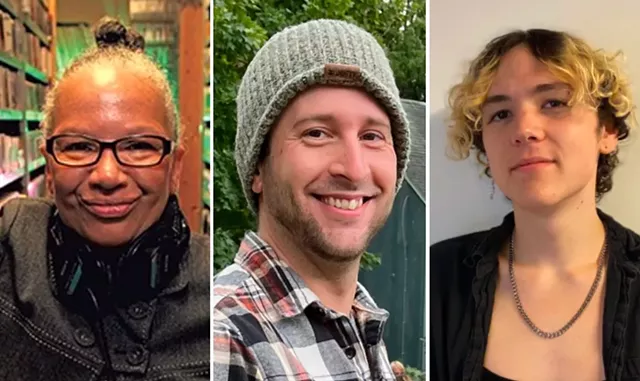 Courtesy photos
From left: Melo Grant, Jake Schumann, Rhone Allison
That's also a cornerstone of Allison's campaign. A third-year UVM student, Allison wants the university to contribute more money to the city's Housing Trust Fund in lieu of paying property taxes. The fund helps support affordable housing projects in the city.
Allison also wants to ban short-term rentals in Burlington, decriminalize drugs and improve civilian oversight of the police. The candidate previously canvassed for former Ward 8 councilor Ali House, who resigned in October, and newly-elected Vermont Sen. Tanya Vyhovsky (P/D-Chittenden-Central District).
Von Hermann, who lost to Allison, moved to the U.S. from Somalia and works for Green Mountain Transit. He told voters he would promote diversity "at every level of governance" and work on solutions to homelessness, substance abuse and climate change.
Allison was running a joint campaign with Franz, who lost in the East District. Both candidates were endorsed by the Champlain Valley Democratic Socialists of America.
Schumann, who defeated Franz, is already a familiar face to East District voters. The candidate made an unsuccessful bid for the East District in a special election last month, which was called after former Prog councilor Jack Hanson resigned. Schumann, who ran as an independent in that contest, is running as a Prog this go-round.
Schumann will face incumbent Councilor Maea Brandt, a Democrat, in the March ballot. Ward 8 is a contest between Allison and Hannah King, a fellow Dem. The Central District will go to either Grant or Avery Muzikar, a Democrat-endorsed independent. Shannon, the Dem incumbent, will face off against the winner of the Munarsyah-Anderson race.
Other hopefuls could still join the race. Independents have until January 30 to file petitions to get on the ballot.