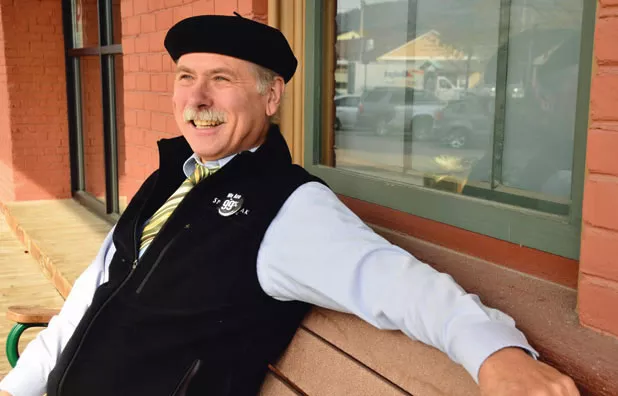 Jeb Wallace-Brodeur
Ed Stanak
If he'd had anything close to the campaign cash of his two major-party opponents, the Progressive candidate for Vermont attorney general could've been a contender.
Ed Stanak, a 62-year-old retired state environmental official, has impressed political observers with his understanding of the issues facing Vermont's top cop, as well as with his persuasive advocacy of left-wing causes. "Ed is articulate and knowledgeable," comments Middlebury College professor emeritus Eric Davis. "He's a credible candidate."
An emphasis on activism and "economic justice," along with his stands on Vermont Yankee and marijuana legalization, have enabled Stanak to draw clear distinctions from seven-term incumbent Democratic Attorney General Bill Sorrell.
Democrats and Progressives teamed up for two big statewide contests this year, co-endorsing the candidates for lieutenant governor and state auditor. But after Sorrell emerged victorious from a bruising Democratic primary this summer, the Progs decided to run their own candidate for attorney general.
Stanak recounts telling Sorrell's primary opponent, Chittenden County State's Attorney T.J. Donovan, prior to the primary, "If you win, I won't run. If you lose, I'm in." Stanak supported Donovan's challenge largely because of the challenger's position on drug addiction — that it should be treated as a public health problem, not just a crime.
Like Donovan, he also views Sorrell as a "passive" attorney general and wants to give the office an activist character so it becomes "the Vermont equivalent of the Justice Department."
Stanak's own views are encapsulated by the large "We Are the 99%" badge he wears on his lapel. In debates and during an interview last week, the balding six-footer with a thickly-bristled white mustache suggests that the attorney general's office should be investigating the Wall Street banks whose close call with collapse drained millions of dollars from Vermont state employees' pension funds. Stanak also urges a frontal attack on the claim of corporate personhood that underlies the U.S. Supreme Court's Citizens United decision that allows unlimited campaign spending by quasi-independent political action committees.
Declaring the state's nuclear power plant "a danger to the public," Stanak argues that the attorney general should now be coordinating with the Agency of Natural Resources on a strategy for shutting down Vermont Yankee. Stanak predicts the state will lose its appeal of a court ruling in favor of the plant's continued operation and believes the Shumlin administration should use its own power to close Yankee by denying it a water-discharge permit.
"It will take three or four years to accomplish that, but it's the best way to proceed," he says, noting he was opposed to nuclear power even before Yankee went online in 1972.
Sorrell, meanwhile, maintains the state should focus on its appeal of the federal decision that allows relicensing of the Vernon nuclear power plant.
Stanak favors full legalization of cannabis and hemp products — a proposition Burlington voters will take up in a non-binding referendum on Election Day — suggesting that taxes on their sale could generate as much as $10 million in annual revenues for the state. Outlawing marijuana entails "a misallocation of resources," in Stanak's view. He calls the War on Drugs a "failed" policy and uses a Vermont-y analogy to underscore his point.
"A Vermonter whose car slides into a snow bank knows that you don't keep trying to plow forward," he says. "A Vermonter knows you should back up and try a different route."
In the primary campaign, Donovan called for decriminalizing possession of small amounts of marijuana. Sorrell took a more cautious approach — saying he'd favor decrim if he were a legislator, but that doing so as the state's top law enforcement official would send a bad message. In a recent debate, however, Sorrell said simply that he wants to see marijuana possession stripped of criminal penalties.
Stanak, a former president of the Vermont State Employees Association, has been endorsed by that union as well as by the state branch of the AFL-CIO. Both unions backed Donovan during the primary. Cassandra Magliozzi, legislative researcher at the VSEA, says, "Ed will resist privatization of government services."
In one of his few direct assaults on Sorrell, Stanak says the AG has "done little more than rubber-stamp" $250 million worth of state contracts with private firms. "The attorney general should be working to ensure [private interests] will provide the same quality of services to the public as if they were provided by [state] employees," Stanak declares.
The unions could help boost Stanak's vote tally on November 6 by publicizing his candidacy with their members, and Stanak's message might resonate with Vermont voters if it were to reach them.
But Stanak's campaign is all but invisible. As of October 15, Stanak had raised just $4190 for his race, compared to $144,585 amassed by Sorrell and the $48,767 raised by Republican candidate Jack McMullen, who has also lent his campaign $152,681.
Stanak, whose motto is "Don't Panic, Vote Stanak," hasn't gotten a penny from the Progs. "The party puts its resources into legislative races, not statewide campaigns," explains Progressive chairwoman Martha Abbott. Her prediction? "I think some of T.J.'s supporters will go to Ed. I also think a lot of them will follow T.J.'s advice and vote for the Democrat in the race." Abbott predicts Stanak winning less than 20 percent of the vote, while Davis guesses he'll win 10 percent.
Stanak does lack cred as a legal eagle. Although he spent four years in the Vermont Supreme Court's reading law program, Stanak opted not to take the bar exam in favor of taking a state job that provided health insurance. That has allowed Sorrell to tout himself as the only candidate in the race licensed to practice law in Vermont.
But Stanak points to his Vermont Supreme Court clerkship and to his years of teaching legal research and environmental law at Woodbury College, now part of Champlain College, as credentials that help qualify him to oversee the attorney general office's $8 million budget and staff of 75 lawyers.
Stanak nonethelesshas almost no chance of winning — and he knows it. He says it would be "great" if he won 10 percent of the vote. By way of comparison, in 2008, Progressive attorney general candidate Charlotte Dennett got 18,000 votes, or nearly 6 percent of the total. Sorrell won with a whopping 73 percent of the vote, while Liberty Union candidate Rosemarie Jackowski, who's running for the same office again this year, received 2.5 percent.
Stanak was once a "dyed-in-the-wool Democrat." He ran unsuccessfully for a Washington County state Senate seat as a Democrat in 1984, the year when Jesse Jackson's Rainbow Coalition campaign for the Democratic presidential nomination energized many liberals in Vermont and beyond.
Stanak recalls that he strongly supported the state Democratic Party's 1984 platform, which he helped to draft. But he became disillusioned after many Democratic candidates backed away from some of its core planks, though he cannot now recall which ones. He aligned with the Progs in the mid-'80s and remains one of the party's purists who resist the trend to run "fusion" candidates with both Democratic and Progressive backing.
A Vermonter since 1973, Stanak moved from Marshfield to Barre in 1984 in part because it reminded him of his native Jersey City. He and artist JoEllen Mulvaney have two adult twin daughters, one of whom, Emma Mulvaney-Stanak, served three years as a Progressive city councilor representing part of Burlington's Old North End. In addition to holding the unpaid post of president of the Vermont State Employees Association for six years, Stanak worked for 31 years as central Vermont district coordinator for Act 250, the state's land-use management law.
While that experience makes Stanak a viable alternative in the attorney general's race, it has not made him a real threat to Sorrell, which may be mainly a matter of party label and a lack of resources.
Still, Stanak says he feels "an intense ethical obligation" to run.
"I'm running to uphold the social compact between generations," says Stanak, who attended a Jesuit military high school in Manhattan and a Jesuit university in Pennsylvania. "We do have a responsibility to leave the world a better place for those who follow us."