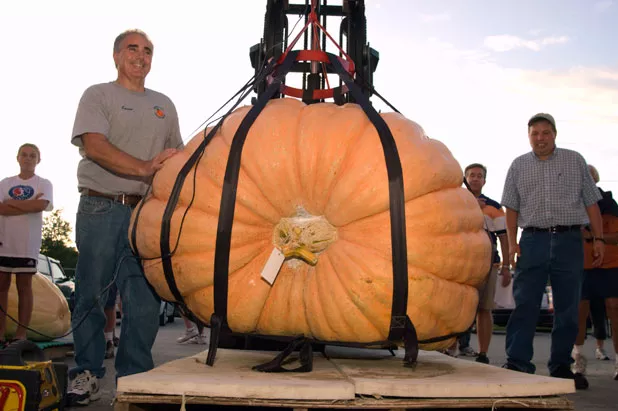 The king of the state's giant-vegetable-growing community wasn't worried about taking home the blue ribbon. When he sized up the other entrants in the recent Champlain Valley Fair giant pumpkin weigh-off, he knew he had the competition locked.
Granted, there were a couple of challengers to his throne — an ungainly thousand-pounder that caused the forklift weighing it to wheeze; a craggy, mottled mass of orange that rang in at just under four figures. But no serious threats here. None of the other Dill's Atlantic Giants, grown solely for their weight, were as big as the king's bulbous, oblong offering, whose stem was the size of a linebacker's fist.
In giant vegetables, as in other aspects of life, size matters. Kevin Companion, Vermont's giant-pumpkin royalty, knows this. It's not about being the nearly biggest or almost longest; it's about being the hugest.
Companion, who has boyish, bright eyes and a trim mop of salt-and-pepper hair, has been the giant-vegetable grower to beat in recent years. Last year, his pumpkin broke the fair record at 1131 pounds. This year, his entry crushed that. At 1246.5 pounds, Companion's Champlain Valley Fair pumpkin, weighed last week before the weeklong agricultural festival began, eclipsed its closest competitor by roughly 200 pounds.
Still, it's not a personal best for the Huntington grower. That would be a 1311-pounder grown in 2008. While still about 400 pounds shy of the world-record pumpkin — a 1725-pound colossus grown last year in Ohio — that one was a more-than-respectable showing. But, Companion hints, by the time the Vermont Giant Vegetable Growers Association's weigh-off rolls around in October, his personal best could very well be history.
"I still have two left in the garden," he says, clearly confident in the plant's capacity to pack on pounds between now and then.
Companion isn't the only Vermonter nurturing gargantuan produce. In the nine years of VGVGA's existence, giant-vegetable growing has been picking up momentum in the state. The club boasts more than 50 members, and each year their weigh-offs attract more and more hobby growers. This year's fair weigh-off featured eight giant-pumpkin entries — the most the club has ever had there.
Often giant-vegetable growers don't stop at pumpkins. Other spectacles at the fair included sunflowers the size of serving platters, Hubbard squash resembling wrecking balls and tomatoes on the scale of boxing gloves. As John Young, a veteran giant-vegetable grower from Jericho, will tell you, the hobby is so addictive that some enthusiasts risk needing rehab.
"Why grow a regular pumpkin when you can grow a big pumpkin?" he quips.
Growing giant produce, and in particular giant pumpkins, takes significantly more effort than cultivating conventional vegetables. Dick Squires, an experienced gardener also from Jericho, discovered that this year when he tried his hand at the biggies.
In April, using seeds donated by Young, Squires cultivated six plants inside a hothouse. Once the fruit had the circumference of a football, he transferred the plants into the ground and protected them with heated tents. In June, once the frost worries had passed, he removed the tents and picked the three best plants to continue growing.
From then on, Squires spent hours weeding and feeding the plants and burying the vines so the leaves stood up straight and absorbed maximum nutrition from the sun. As the pumpkins grew larger — giants can pack on 16 pounds in a day — Squires shifted them onto porous fabric similar to a window screen and surrounded them with play sand. The fabric is meant to keep out worms and mice, which bore into the fruit, while the sand helps the pumpkin slide smoothly along the fabric as it expands. An individual tarp tent protects each pumpkin from the sun.
Recently, as evening temperatures have dropped with autumn's approach, Squires has needed to swaddle each of his giant pumpkins with quilts. He guesses that this summer he has already spent hundreds of hours babying his giants.
His wife, Ann, also an avid gardener, can't quite understand the obsession. But she thinks she knows the reason for it.
"It's the Y chromosome. That's what it is," she says during a visit with Squires' mentor, Young.
"That could be true," Young says. "It's like, do you want a tractor, or do you want a bigger tractor?"
Squires stays silent. He's busy analyzing the growth charts he's sketched in pencil on a yellow legal pad. If he's anything like Young, giant pumpkins are just his gateway to growing ever-bigger produce. There are dozens of possibilities for giant cultivation.
Young's compact suburban backyard is like the Willy Wonka chocolate factory of garden plots. Everything is oversized. His sunflowers are 15 feet tall. His beans are two feet long. All the other fruits and vegetables — tomatoes, onions, zucchini — look like ones you'd buy in the grocery store, if the grocery store stocked produce on steroids. These vegetables aren't for eating; they're for showing off.
Young and many other giant-vegetable growers use products such as Miracle-Gro to achieve elephantine results. But, with the right nutrient-rich soil and a stroke of good-weather luck, he says, you can grow 900-pound pumpkins without chemicals.
Since he began growing giant vegetables 14 years ago, Young has achieved just one thousand-pounder, a feat equaled by only a handful of people in VGVGA. He says he doesn't expect to achieve another heavyweight this year; it hasn't been a good season for him. Still, Young will let his giants grow until just before the Vermont Giant Pumpkin Regatta on October 10, when he'll assess whether any are large enough to serve as vessels in the race.
Regardless of whether any of the men's pumpkins pass muster for the regatta, they're ultimately destined for the compost heap. First, though, the seeds will be scooped out and collected for future plantings. Seeds from champion growers such as Companion are sought after, and many of the entries in the fair weigh-off are his pumpkins' progeny.
Companion says he can get as much as $500 to $600 for proven seed (from pumpkins weighing more than 1000 pounds). But, like other giant-vegetable growers, the king isn't in it for the money. It's about the thrill of going bigger.
"Is it worth it?" Young says. "No. But it's what we do."