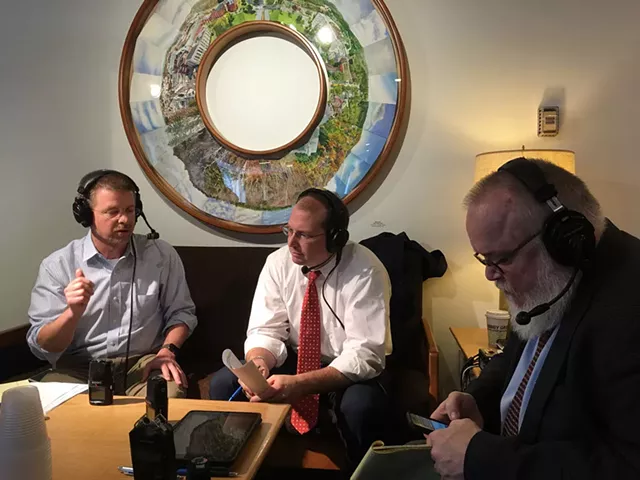 For the second year in a row, the closing days of the Vermont legislative session have been roiled by the last-minute reveal of a school funding plan by Gov. Phil Scott. In response to lawmakers' complaints about his timing, Scott offered a very unwelcome suggestion: Postpone adjournment for a few weeks.
Legislative leaders are still aiming to adjourn at the end of this week. After all, they've been through this before. In 2017, Scott's late-April call for statewide negotiation of teacher health care benefits drove the legislature into overtime. Lawmakers adjourned on May 18 and returned for a two-day veto session in June. In the end, an unsatisfying compromise involved the use of onetime money to hold down property tax rates — which meant starting in a fiscal hole this time around.
Looks very much like it's happening again, only more so. On May 1, Scott delivered a plan to borrow money against future years to prevent a property tax rate hike this year; he also proposed a multifaceted five-year program to bring down school costs. It's an even more complicated plan than last April's, delivered even later. Lawmakers have grown weary of his tactics.
"It's become a pattern," said Sen. Phil Baruth (D/P-Chittenden), chair of the Senate Education Committee. "It's not surprising, but it's the worst possible way to accomplish anything."
Baruth's words were underscored Tuesday afternoon when the legislature's fiscal analysts issued a review of the Scott plan. It found that the administration had vastly overstated the likely savings in school costs and that some of its assumptions were questionable. Scott spokesperson Rebecca Kelley insisted that Scott's figures were solid. But the dispute showcases the difficulty of vetting a complex plan so quickly.
The pattern Baruth cited goes back to January 2017, when Scott released a plan for reducing school costs that the legislature quickly rejected. Ever since, Team Scott has cited that rebuff as its reason for not offering specific plans. Why bother, after all, when lawmakers simply say no?
But that 2017 proposal was a stinker from the get-go. It would have required almost immediate legislative approval and would have forced school districts across the state to tear up their budget plans and start from scratch. And at a time when ballots were already being printed for Town Meeting Day, it would have moved school budget voting to late May.
In short, it was a nonstarter. And although it was released early in the session, it was just as much a take-it-or-leave-it-right-now deal as Scott's two subsequent late-session proposals.
Team Scott lays the blame elsewhere. It's those darn lawmakers who've failed to address school costs in a timely fashion, forcing the governor to step in at the last minute.
The argument was on display last Friday, when former House speaker Shap Smith and Jason Gibbs, Scott's chief of staff, debated the school funding plan in a live broadcast on WDEV Radio's "The Dave Gram Show."
Smith pointed out that previous school reforms "took a long time to build a consensus," while Scott fashioned "a political plan [that] dropped at the last minute."
Gibbs had a different version of events, starting in January when the administration unveiled a menu of 18 ideas to trim school spending. "The legislature effectively ignored those until about a week ago," he asserted. "At that point, the governor said to his team, 'Look, let's sit down and look at everything the House and Senate have agreed they want to do. Let's back out all the things in their proposals that we simply cannot support, and let's supplement them with ideas we offered at the beginning of the session.'"
Gibbs then added, "Three of the five key components of this plan are things the legislature has already said it wants to do."
OK, two points. First, Team Scott started this process "about a week ago"? Taken literally, that's on or about April 27. Seems incredibly late to begin work on a major school funding reform package.
Second, there's an apparent contradiction. On one hand, the legislature "effectively ignored" the governor's menu. On the other, lawmakers managed to pass enough measures to form the foundation of Scott's plan — "three of the five key components." Sounds like they accomplished quite a lot.
"We have worked with their menu," Baruth noted. "They said 'pick and choose,' and that's what we did."
So there are some serious holes in Gibbs' story. But does it matter?
Probably not, because there's a vast difference between effective policymaking and good politics.
Most Vermonters don't pay attention to the details of Statehouse sausage-making. Nor do they have much sympathy for the complaints of overextended lawmakers. Scott has a simple message, delivered consistently.
"I've been clear I can't support [a tax rate increase] because I don't believe that Vermonters can afford it," said Scott.
"He wins by posturing," said Baruth.
Yeah. But he wins.
#MeToo Hits Home
A truly disturbing report came out last Friday on online news site HuffPost. It told the story of progressive political operative Clay Johnson, who enjoyed a steady rise in progressive political circles despite numerous allegations of verbal abuse and sexual assault against female employees.
Johnson's first job in politics was on former Vermont governor Howard Dean's 2004 run for president. During the campaign, a staffer named Sarah Schacht and another unnamed female staff member accused Johnson of sexual assault, according to the report.
And nothing was done. Johnson kept his job.
The HuffPost quotes campaign officials as remembering nothing of the charges, including campaign manager Joe Trippi and his deputy Bob Rogan, who is now chief of staff for Congressman Peter Welch (D-Vt.).
"I have racked my brain and still have no recollection of being informed of this incident," Rogan wrote in response to an email inquiry from Seven Days. "To be clear, I have absolutely no doubt that this incident occurred."
"In campaigns, the focus is so intense," Dean said in a Monday interview. "It's not surprising people would have trouble recalling."
Both men now agree that the women's accusations should have been handled much differently. "The guy should have been fired," Dean said. Rogan added, "Our campaign management team, including me, failed Sarah when she needed us most. I deeply regret that and have apologized to her for my role in that failure."
Johnson's offenses may have finally caught up with him; according to the HuffPost, he hasn't held a job in political circles for three years.
Dean noted that times were different in 2004 but made it clear that that's no excuse. "It shouldn't happen in any campaign," he said. And now, he added, the #MeToo movement has created a "tectonic shift."
And letting a guy like Johnson off the hook is like building a house on an active fault line.
Corporate Money Ban Dies
The House Government Operations Committee has thrown up its collective hands on S.120, a bill to ban direct corporate contributions to Vermont candidates or political parties. The Senate approved the bill more than two months ago, and it's been in House Gov Ops ever since. Now, like Han Solo frozen in carbonite, S.120 will have to wait for a sequel.
"It's unrealistic for it to move in a way that allows us to do our due diligence," said committee chair Rep. Maida Townsend (D-South Burlington). "We want to be sure we get this right."
Nonsense, says S.120's lead sponsor, Sen. Chris Pearson (P/D-Chittenden). "It's not like a lot of bills with significant mechanical issues or ripple effects," he said. "It's a simple principle: Should we have corporate contributions to candidates and parties or not?"
Townsend is promising a "deep dive into campaign finance next year," with a thorough examination of the whole system. Pearson, who worked hard to get the bill through the Senate, is frustrated. "The House Democrats have passed up an opportunity to counter the cynicism that's very real among voters," he said.
The Vermont Democratic and Republican parties collect a fair amount of corporate money — and both have had trouble balancing the books in recent years. Seven Days asked Pearson if that could have had something to do with S.120's death.
"I think you put your finger on the actual reason," said Pearson.
Media Notes
Vermont PBS has released a web series that explores Vermont's tradition of independent thought. "Beyond Bernie: Searching for Vermont's Political Identity" is a five-part series that's available online. Its broadcast premiere, as a one-hour special, is set for Thursday, May 17, at 8 p.m.
With Sen. Bernie Sanders (I-Vt.) emerging as a national political leader, Vermont PBS looked for a way to cover him without engaging in the daily blow-by-blow. "What we could offer was an examination of the unique Vermont political landscape," said station president and CEO Holly Groschner. "We have a very rich history of independent views and ideals."
The project has gotten a boost from a separate Vermont PBS initiative: For the first time, it's cataloging and digitizing its 50-plus years of archives. That work uncovered vast amounts of film and video that fed into "Beyond Bernie."
"This has been an enormous job," said Groschner, giving particular credit to executive producer Scott Campitelli and producer Dorothy Dickie. And the work will continue. "We're hoping to bring forward more episodes," she said. "There's plenty more material where that came from."
Meanwhile, in the world of print media, there's been a change at the Vermont Standard, a Woodstock-based weekly newspaper that's been in business for 165 years — claiming the mantle of Vermont's oldest weekly. For the past 38 years, Phil Camp has served as owner and publisher. He has stepped aside as publisher and hired newspaper veteran Dan Cotter to take the reins.
"I couldn't be happier," said Camp. "I'm going to be 83. Time to slow down a little bit."
Camp had explored selling the paper, but he didn't want it to turn into a cog in a corporate machine. "Chains are not nearly as interested in service," he said.
Instead, he turned to Cotter. The two had become friends through a shared devotion to journalism. Cotter has had a long and varied career in newspaper management, including five years as executive director of the New England Newspaper & Press Association and 10 years at Urban & Associates, a nationally recognized newspaper consulting firm.
So why the move to a small-town weekly? "I've had the opportunity to have a couple of good friends and mentors in the industry," Cotter explained. "Knowing Phil, I was guaranteed I'd have one more of those guys in my life."
Cotter had lived in Boston for two decades. He bought a home in West Windsor to take the job at the Standard.
Has there been culture shock moving from the big city to a small town? "In a good way," Cotter said. "I have to pinch myself during my commute. It's so beautiful."
And a bit less stressful than rush hour in Boston.