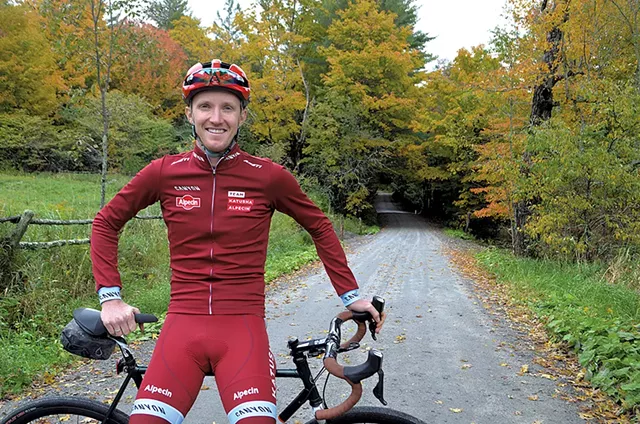 Ian Boswell is a tough person to keep up with on a bicycle. That should come as no surprise — he's a professional cyclist, paid to pedal faster than the next guy. The 27-year-old Oregon native looks the part, too: He's tall (six foot three) and stick-figure lean (about 150 pounds) and moves smoothly aboard his custom-made gravel bike.
Last week, fresh off a summer during which he competed in the Tour de France, Boswell took a friend and this reporter on a backroads tour of Peacham, the tiny Vermont town where he's settled with his fiancée, Gretchen Kaija. Winding through the hills and along the town's main drag, Boswell waved to everybody: passing motorists, a construction worker, two little old ladies sitting in camping chairs outside a house.
He knew some of the people but otherwise was just embracing the small-town feel. That's what drew Boswell, one of the world's top cyclists, and Kaija, a Vermont native, to the Peacham area. They searched the state before buying a historic farmhouse there in May 2017. A few days later, Boswell proposed amid the apple trees on the 10-acre property.
"It's always been part of my dream to be part of a small community and have land and whatnot," Boswell said. "The fact that we live here and found such a great community is completely random."
He's eager to contribute to the town. In March, he and Kaija started planning the Peacham Fall Fondo, a 45-mile bike ride along the area's dirt and gravel roads, and scheduled it for Saturday, October 13. They hoped it would be peak fall foliage. Last week, while pedaling past trees already bursting with yellow, orange and red, Boswell asked his riding buddy, Tom Seymour, about the colors.
"I think the leaves will be a little more brown, but it should be good," said Seymour, a local bike mechanic, reassuringly.
If the foliage is the only thing that isn't perfect, Boswell will be happy. He and Kaija are expecting at least 125 riders from around the U.S. and Canada. Just the other day, Boswell said, a couple in their eighties signed up.
Riders pay $65 to participate. Event proceeds will benefit a Peacham pavilion construction project and a handful of local nonprofits.
"Doing the Fondo is my unique way of being part of the community, giving back to the community and sharing with the community a bit about what I do," Boswell said.
Boswell rides for Katusha Alpecin, a Swiss cycling team he joined recently on a two-year contract. The 26 riders, he said, represent about a dozen nationalities. Boswell is the only American, the first to ride for the team.
Unlike most professional sports teams, which are funded mainly by billionaire owners or investor groups, cycling teams find funding from sponsors. In this case, Katusha (a reference to a type of Russian rocket) is a bicycle-clothing brand; German-based Alpecin makes caffeinated shampoos.
For as much as eight months of the year, Boswell is abroad. He makes his home base in Nice, France, and travels to Spain when the team has a training camp. Each team is composed of riders with various specialties; the general manager decides who goes to which race.
Boswell is a climber, meaning he excels at uphill sections. His job is to protect the team leader during those mountainous stages: blocking the wind, handing the leader a water bottle or even giving the leader his bike in case of a mechanical failure. It's grunt work, but it's important work.
"You're a wingman to the star of the show," Boswell explained. "You're doing the dirty work. It's not as glamorous a job as the guy who's winning the race."
Boswell, nicknamed "Boz," is wrapping up his sixth and most successful year as a professional. He was one of eight Katusha Alpecin riders chosen for July's Tour de France, the first time he'd competed in the sport's crown jewel. Only four team members, including Boswell, actually completed the grueling 2,082-mile course; two riders crashed, and two others were "time cut" for taking too long to finish a leg.
Boswell himself faced adversity. He recalled the day when officials temporarily stopped the race after the police pepper-sprayed protesters along the route. The wind whipped the spray into some riders' eyes, including his.
"That was a new one," Boswell quipped.
His first visit to Paris was aboard his bike, finishing the three-week Tour de France along the famed cobblestones of the Champs-Élysées. His team's leader, Russian Ilnur Zakarin, finished ninth overall; Boswell took 79th (out of 176 riders).
He likened his state of mind during the tour's final approach to a football player making it to the Super Bowl. Kaija, who spent most of the race in Vermont, waited at the finish line.
"Even though I didn't win, it's such a celebration to finish and such an iconic place to finish," Boswell said. "It's kind of what you dream of growing up."
After a few weeks off, Boswell headed to Málaga, Spain, for his next big race, La Vuelta. During the fourth stage, Boswell was riding along at 40 or 50 miles per hour when the team support car accidentally clipped his handlebars, sending him skidding across the asphalt. With one side of his body covered in road rash, he had to be bandaged by a race doctor before he was allowed to get back on his bike. Hurting badly, Boswell rode another 60 miles to the finish. Only then did he go to the hospital to make sure he hadn't broken anything or suffered a concussion.
Rather than drop out, Boswell got back in the saddle the next day — and for the next 16 stages. He finished the race, though not as well as he'd hoped.
Such is the life of a professional racer, in which fighting through injuries is key to staying relevant in a competitive industry. "If you're not willing to do it, they can find someone else who will," Boswell said. "You're very easily replaced if you're not willing to make those sacrifices."
Those sacrifices extend to life outside the racing season. In Peacham, Boswell and Kaija have installed a white doorbell in front of their house intended specifically for representatives of the U.S. Anti-Doping Agency. Those reps can stop by, unannounced, and force Boswell to submit a blood or urine sample to determine whether he's using performance-enhancing drugs.
Boswell recalled returning home from dinner one night last year to find an anti-doping agent waiting. It was 10 p.m.
"They always know where I am," he said. "I have to guarantee I'm at one place for one hour a day so they can come test me. For the cleanliness of the sport, it's a system I'm more than happy to be a part of."
Boswell grew up in Bend, a former mill town in Oregon's high desert. As a child, he excelled in various sports, including basketball. But he was drawn to cycling at a young age, said his father, Grant Boswell.
"He always loved to ride bikes," said Grant, who still lives in Oregon. "The first time he could ride without training wheels, he wouldn't get off his bike for, like, four hours."
Boswell and his younger brother, Austin, would push each other. The boys gathered other neighborhood kids for various competitions, including their own twist on the Tour de France.
Boswell first got involved in organized bicycle racing around age 12. Despite his skill, he was embarrassed to tell his friends about the sport. "At school, I'd definitely identify as a basketball player," he recalled. "I didn't want too many people to know I was a cyclist wearing spandex."
He kept winning races, though, and dreamed of going pro. After trying two years of community college in northern California, he left school to focus full time on cycling.
In 2015, back in Bend on a family visit, Boswell met Kaija at a bar. She was living in the city and working as an educator.
"Ian started telling me that he was racing bikes, and I said, 'OK, I ride bikes, too!'" Kaija said with a laugh. "I tried to describe my bike to him, and he goes, 'No, no, no, I'm a professional cyclist; I live in France.'"
Boswell is back in Vermont for the next several weeks before a December team training camp in Spain. While he's here, he'll putter around his property, cutting wood, shoveling snow, practicing yoga or working on the house.
First, the Fondo. It's got the town buzzing, according to Hanna Galinat, a member of the library's board.
"It's definitely something Peacham hasn't seen before," she said. "It's exciting to think of having people come from all over to bike."
For Boswell, it's a welcome diversion. Peacham is his place to unwind and unplug, (mostly) removed from the intensity of training and racing.
In town, "people aren't that interested in my career achievements," Boswell said, "but more in me as a member of the community, as a fiancée and as a homeowner."