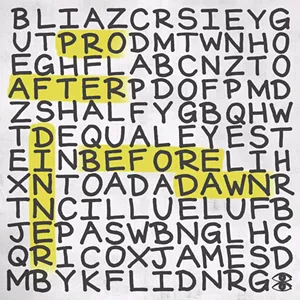 Pro, After Dinner Before Dawn
(Equal Eyes Records, digital, vinyl)
Pro is a Burlington MC who made his name with the Aztext, one of the most successful hip-hop groups in Vermont history. Pro, alongside DJ Big Kat and fellow rapper Learic, sets a high standard and took savvy advantage of the internet explosion in the mid-2000s and early 2010s, gaining fans around the world. Then, of course, adulthood happened.
Released last month, After Dinner Before Dawn is, somehow, Pro's debut album as a solo artist — Pro is short for "prolific," BTW. He made his return to the microphone last year with the impeccable, melodic GOOD WTHR album Somewhere Shining, collaborating with his longtime friend Kin. That project was a tribute to Ryan Morin, aka DJ BP, an anchor for the local scene who died in 2016 at age 35.
While that loss still shapes Pro's life and music, his new LP is a vastly different animal. This is perfectly timed summer barbecue music, a bright, triumphant parade of diamond-cut bangers. It's also packed with outstanding guest features: Framework of the Loyalists comes through to rap and lay down some expert scratches; Konflik utterly destroys his mic on "Live Wire Cats"; and Fattie B drops gems on "Naturally," a laid-back anthem about honesty.
Pro remains the undeniable star of the show, however. From the beginning, he's had a perfect rap voice, easy on the ears, with clear enunciation and a tone that cuts through any mix. The album's title refers to the time available for rap dads to put in work on their craft — in other words, when the kids are asleep. As he puts it on the opening track: "I love music, that's true, but please appreciate: I got three mouths to feed and a lease to pay."
That tightrope walk informs the whole album, which is very much a guided tour of Pro's adult life. There are some heavy moments in the mix, especially the one-two punch of "Cut Paste Text" and "Dear Anonymous," both urgent, deeply personal songs that hit like a ton of bricks. Underneath the technical mastery and catchy beats, Pro is a keen observer of the human condition and a writer at the top of his game.
The album is also a triumph for Equal Eyes Records, the Queen City hip-hop label run by producers Rico James and ILLu, who cooked up every beat here. Also behind the recent release of Learic and SkySplitterInk's remarkable "rap movie" The Theorist, this young label has really stepped up its operation in its second year in business.
From here, the big question is when the Aztext are going to return to the studio for their first new project since 2013. But why rush things? After Dinner Before Dawn has so much to unpack, you could keep it on rotation until the leaves start changing.
Pro's debut album is destined to stand as one of the finest Vermont hip-hop releases of 2019 — the busiest, most competitive year the scene has ever witnessed. It's a distinctly grown-up rap record with universal appeal.
After Dinner Before Dawn is available at equaleyesrecords.bandcamp.com.