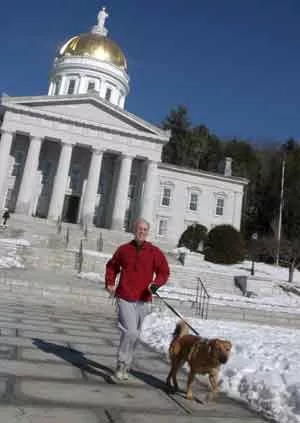 Vermont Senate President Pro Tem Peter Welch won't comment on the pink dog bowl parked discreetly beside the water cooler in his cloakroom-sized Capitol office.
"We have an official policy of denying any questions about Pepper," says Welch, straight-faced, about the chow/shepherd mix seen running with him during lunch hours. Welch's aide, 23-year-old Andrew Savage, smiles silently but continues typing. Welch's pet is a sensitive topic for the Windsor County Democrat, since dogs aren't allowed inside the Statehouse.
But the 57-year-old Welch opens right up on any other subject: prisons, the budget, higher education and, especially, health care, which was a favorite topic for his late wife, UVM Dean Joan Smith. Folks on both sides of the aisle say Welch is always game for open dialogue, even with those whose opinions differ sharply from his own.
"Peter's a person who is pretty passionate about his views, but he does what Vermonters expect. He gives all sides a fair process for being heard," says Lieutenant Governor Brian Dubie, a Republican. "We can't agree on all issues, but I believe he has the best interest of our state in mind."
Senate Majority Leader and fellow Democrat John Campbell sees this as one of Welch's great strengths. "The one thing I admire most about him is his ability to work across party lines," says the Quechee Democrat. "Though Peter may be parochial on certain core Democratic values, he's not going to shut the door on a solution just because it came from the administration or the Republican Party."
So who does Welch go up against in the Statehouse?
"If he butts heads with anyone, he butts heads with himself," Campbell says. "He's taken aback if he doesn't have a solution to every problem."
Perhaps it's no surprise to hear people in the Capitol lobby saying flattering things about the Senate leader, especially when the Democrats have a tight grip on both houses of the legislature. But this sort of cynicism can feel out of place in the congenial environs of Vermont's citizen legislature; despite obvious ideological differences, there's still a culture of bipartisan cooperation and mutual respect that's sorely lacking these days in national politics.
"Right now, I am really trying to have a senate where there's maximum opportunity for participation on both the Repub-lican and Democratic sides," Welch explains. "We have a divided government, so the reality is, we have to find a way to work together."
Getting things done is Welch's top priority these days. By that, he doesn't mean ramming through his own liberal agenda, but finding working solutions that last. He knows that's no easy task. "If you're looking to accomplish a lot of concrete things," he says, "the legislature is not a great place to be."
Welch is still an unapologetic lefty, a product of the '60s. But the man who presides over the Senate today sounds more pragmatic, patient and low-key than the one who filled that seat between 1985 and 1989. These days, he's far less interested in taking credit for accomplishments than in ensuring that they're done right. Arguably one of the sharpest intellects in the legislature, Welch has matured into an astute, forward-thinking leader who's earning respect for his big-picture thinking.
"He is someone of tremendous vision," says Campbell. "People sometimes think he's not listening when they're talking on an issue. But he's five steps ahead. He's already identified the problem and is already working on the solution."
Welch's name is once again being tossed around as a likely Democratic contender for governor or the U.S. Senate. But for the time being, he insists that his political aspirations take a back seat to the more immediate tasks at hand; namely, working with the governor to close a $70 million Medi-caid deficit, providing health coverage for tens of thousands of uninsured Vermonters, and fixing a budget that spends more on prisons than on higher education.
Obviously, political wrangling is inevitable in any discussion about, or in, the legislature. But Welch sounds far more troubled about the growing rift between the federal and state governments than about the ideological differences among Vermont's political parties.
"I'm convinced that there's much more in common between Vermont Democrats and Republicans than either of us have with Washington," Welch says. "I think the federal government has fundamentally turned its back on the citizens of this country, which means that if we don't stand up and fight for Vermont, no one will."
Peter Welch was born on May 2, 1947 in Springfield, Massachusetts.
The third of six children, he was never involved in student government or local politics as a boy, nor did he grow up in a politically minded household. His first real taste of social activism came in 1967 while he was attending Holy Cross College in Worcester, Mass. That summer, he took a job in Chicago helping low-income families secure home mortgages. Back then, banks and other financial institutions in Chicago were notorious for "redlining" mortgages and homeowners' insurance in predominantly African-American neighborhoods. Welch became so involved in the project that he dropped out of college that fall to stay in Chicago.
Fearing their son would abandon his studies altogether and get drafted to Vietnam, Welch's parents asked the president of Holy Cross to convince Peter to stay in school. But rather than condemning the decision, the president phoned his counterpart at Loyola University in Chicago, who allowed Welch to enroll in classes there, and even arranged for professors to visit his apartment for informal tutorials.
After Robert Kennedy was assassinated in 1968, his family set up a memorial fund to offer modest stipends to young activists around the country. Welch was among the first 25 students chosen as "Kennedy Fellows," and spent the next year working for the Contract Buyers' League in Chicago fighting institutional racism. What began as a small research project on Chicago's West Side grew into one of the nation's most hard-fought legal victories over unfair real-estate practices.
Welch graduated from Holy Cross in 1969 and enrolled in law school at UC - Berkeley the following year. During summers, he worked at large, prestigious law firms such as Davis Polk in New York. After earning his law degree in '73, Welch bought a backpack and spent six months traveling overland from San Francisco to Santiago. He was in Chile for less than a month when his money ran out, then he took a job on a freighter heading for Portugal. Two days after Welch left Chile a U.S.-backed military coup overthrew the democratically elected government of Salvador Allende.
Welch's travels through Latin America had a profound effect on his worldview, particularly his attitudes about U.S. foreign policy. Years later, during his first stint in the Vermont Senate, Welch became an outspoken critic of Ronald Reagan's interventionist policies in Central America. He was much criticized for making these statements by his political rival Howard Dean. According to press reports of the time, Welch also angered Governor Madeleine Kunin by suggesting in a press release that she was sending him to Honduras on a fact-finding mission, when, in fact, Welch traveled there with a private tour. "What was a state senator getting involved in that [foreign-policy] stuff for?" Welch says. "It was such a concern for me that I had to weigh in on it."
Welch returned to Vermont in 1973 to begin his law practice, in White River Junction. Then, with barely two years of legal experience under his belt, he became a Windsor County public defender and was working on homicide cases with other young attorneys. "We were all eager to learn how to try cases," Welch recalls. "A lot of our clients are still serving time, but we learned."
In this period he met Joan Smith, a twice-divorced, single mother of five who was 12 years his senior. Welch had tried to join her book club, but Smith, a Marxist-socialist and radical feminist, suspected he was a CIA operative and tried to keep him out. The two eventually began dating and fell in love; they married in 1976. Until her death last September, Smith was not only Welch's wife, but also his campaign manager, political confidante and best friend.
"Part of the excitement for Peter of being political was that it was such a part of his life with my mother," says Welch's stepdaughter Beth Danon, a Burlington attorney. "She campaigned with him when she was feeling well. She had strong political opinions and a sharp analytical mind, as does Peter, so they would bounce ideas back and forth."
Welch first ran for public office in 1980. Ironically, it was in this year of the Reagan landslide that Welch became the first Democrat ever elected to the Vermont Senate from heavily Republican Windsor County. He was reelected in '83 and, in just his second term in office, was elected Senate minority leader. Two years later, when the Democrats gained control of the Senate for the first time in Vermont history, the ambitious up-and-comer was propelled into the leadership position of Senate president pro tempore.
Under Welch's direction in the 1980s, the Senate pursued a liberal agenda. In fact, Welch's politics were so associated with '60s idealism -- affordable housing, universal health care and strict environmental protections -- that one Statehouse reporter of the time dubbed him "Mr. Big Chill."
The press wasn't always kind to Welch. In 1988, after Welch announced he was running for Congress, The Burlington Free Press called him "combative and ambitious," accusing him of trying to strip power from then-Lieutenant Governor Dean, who was viewed as a possible congressional opponent. The same year, the Rutland Herald described Welch as someone who "loves the limelight," whose leadership style was "murky at best" and who didn't provide "consistent or firm direction" to his party.
These days, Welch dismisses those charges with a "what-else-is-new?" shrug. "At times I've been combative, at times I've been ambitious, other times not so," he admits. "But I have a pretty casual attitude about what is or isn't in the press about me, whether it's good or bad."
One political observer with a generally favorable opinion of Welch is John McClaughry, president of the Ethan Allen Institute, an archconservative "think tank" in Concord. A former Republican state senator from Kirby, McClaughry never worked directly with Welch -- their Senate terms leapfrogged one another -- but he gives Welch credit for trying to keep a lid on spending during the 1987-88 legislative session, when a tax increase from the year before left Vermont with a $65 million budget surplus.
"That was a disastrous two years for the state because we were flush with money and run by liberals, a terrible combination," McClaughry recalls. "The 1987-88 legislature was a shopping spree. It was like a three-minute blue-light special at Price Chopper."
But McClaughry, a fiscal hawk, was surprised that Welch, a "congenital liberal," had the wisdom and foresight to recognize that this revenue bulge was a one-time windfall and didn't justify unsustainable spending increases.
When Welch reflects on his own accomplishments from those years, he talks about his fiscal prudence, such as the property-tax reduction on working farms. Moreover, he says that his "fractious relationship" with Governor Kunin and House Speaker Ralph Wright in the '80s was due in large part to his opposition to the statewide property tax they supported.
Welch's first stab at statewide office came in September 1988 when he ran for Congress. Though Paul Poirier squeaked past him in the four-way Democratic primary, Welch grabbed 33 percent of the vote. Poirier later lost in a three-way race behind the winner, former Republican Lieutenant Governor Peter Smith, and Bernie Sanders.
During the 1980s, Welch was variously considered a plausible candidate for governor, lieutenant governor or attorney general. But despite his Senate re-elections, he never gained the political momentum necessary to capture a statewide office. In 1990, again with Joan Smith as his political strategist, he ran for governor against Richard Snelling. Welch stuck to his pledge to not spend more than $300,000 on his campaign. Snelling outspent him two-to-one and won by six percentage points.
In the 1990s, Welch largely disappeared from the public eye, if not from politics entirely, after his wife was diagnosed with a rare and aggressive form of cancer. Smith continued her own work as an activist, sociologist and, later, dean of UVM's College of Arts and Sciences, but her illness was unpredictable. In the last decade of her life, she underwent at least 15 major surgeries. According to her family, Welch was always by her side. But he never considered it a sacrifice to stay on the political sidelines. As he puts it, "I just didn't have the emotional space to run for office."
"He took really good care of her. That was the side that nobody saw," remembers Danon, Welch's stepdaughter. "He had to walk a tightrope because he wanted to make sure he was there for her, but at the same time not give her the impression that he was giving anything up, because that would make her feel uncomfortable."
In 2000, Governor Dean approached Welch to ask for support in his campaign against Republican challenger Ruth Dwyer and Progressive Anthony Pollina. This was right after Dean had signed the civil-union bill into law, and his re-election was anything but assured. The real threat to Dean was Pollina, whose politics had more in common with Welch's than Dean's. Smith had never been a big fan of the governor's; in the early '90s, she had been a vocal critic of Dean's welfare-reform plan. Nevertheless, Welch and Smith both agreed that it would be "absolutely catastrophic for Vermont politics if Howard lost in a three-way race."
That year Welch traveled the state stumping for his former political rival. Following Dean's victory, the governor offered Welch the chance to fill the Senate seat vacated by Cheryl Rivers, who had resigned. Somewhat reluctantly, Welch accepted the appointment.
"When I got back here in 2001, nobody wanted me," Welch remembers. "There was a fear among some that I'd try to throw my weight around or end up being Senate president."
For both Welch and Dean, the spring of 2001 was a relatively quiet legislative period. Welch was finishing out the second year of Rivers' senate term and Dean was in the last year of his governorship -- and already had his sights set on the White House.
"We spent a couple of hours each week sitting in [Dean's] office talking about the presidential campaign," Welch recalls. "And it was really fun because I was arguing with Howard to be against the war and against the tax cuts and be the most outspoken opponent of Bush."
The former presidential candidate and current frontrunner for the chairmanship of the Demo-cratic National Committee has a different recollection of his conversations with Welch. "No, we didn't get into any of that stuff," Dean insists. "What we talked about mostly were the tactics and politics of how you run for president." When asked what role Welch played in his leftward shift when he ran for president, Dean counters, "I don't think I've moved to the left."
Dean does acknowledge Welch's role in getting his presidential bandwagon rolling, however. His first official meeting with his campaign manager, Joe Trippi, took place in Smith and Welch's Burlington apartment and lasted all day. Later, the couple helped organize Dean's first major fundraiser, which took in about $60,000.
"I'm a big, big fan of Peter's. I think he's terrific," Dean says. "I think this is a guy who has enormous potential in Vermont and I very much hope at some point he'll end up as governor or senator or congressperson."
Even some who don't share Welch's liberal ideology admit that he's well suited for higher office. "Frankly, I do think he'd be a good governor," McClaughry says. "Which is not to say that he'd be my choice because of his policies. But he's competent, he's experienced, and he's honest."
If Welch is already thinking about his next statewide run, he doesn't let it show. "That's definitely on hold right now, both for personal and political reasons," he says. "My legs are still wobbly from losing my wife."
Getting involved in a state-wide campaign now would not only be an unwanted distraction, he adds, but it would also raise questions about his motivations, and undermine his ability to work effectively with Governor Jim Douglas.
When pushed on the question, Welch returns instead to the substantive issues that concern him right now: the health-care crisis, Vermont's burgeoning corrections budget, the need for a comprehensive substance-abuse policy, economic development, and creating a more balanced energy policy. But when asked which of these is most important, Welch offers, "What I see as the major issue for this session is not any one of those. It's creating a sense of confidence and responsibility in a citizen legislature that we have the ability to affect our own future, rather than waiting for Washington to fix things for us."
Does he still consider himself an idealist? "Yeah, I'm afflicted," Welch says with a smirk. "It's not worth it to be in politics unless you aspire to an ideal and you struggle -- emotionally, intellectually and morally -- with the possibilities we can achieve if we open our minds to it.
"But then," he adds, "if you stop there and don't make some real-world judgments about how to do it and what are the limits, then nothing gets done."