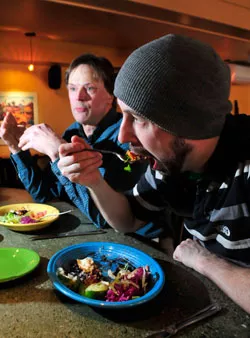 Jeb Wallace-Brodeur
Frida's chef-owners, Jack Pickett, left, and Joshua Bard
.subheading {
margin-bottom:1em;
font-family:"Lucida Grande",Arial,sans-serif;
h3.heading {
font-size:1.5em;
line-height:1.5em;
margin-bottom:0.2em;
}
One of my early jobs was as a live-in barmaid at an English country pub — tending bar, waitressing, washing dishes and tackling whatever else needed doing. The food was far from sexy, but one of the perks was the staff's 24/7 kitchen access. The cook or I would raid the walk-in fridge at odd hours and throw together our own pub food. The fryer got heavy use as we turned out chicken Kievs and handmade onion rings. We cooked "Sunday roasts" on Thursdays, or grilled rump steak with mushrooms and onions, washed down with elderberry squash or a pint of bitter ale.
That freedom in a pub kitchen has had a lasting impact. When dining out early or late, I steal glances at just-finished staff meals or the dishes that servers huddle over before or after their shifts. I have learned about the "hidden" menu at Chinese restaurants — the one with dishes too hot or obscure to serve American diners. Think innards, exotic fish, unusual preparations or ungodly amounts of spice.
As a newcomer to the Burlington culinary landscape, I thought it would be illuminating to ask a few local chefs: Do you have a favorite dish or ingredient too spicy, too complicated, too off-cuisine or simply too pedestrian to put on your menu? What do you personally love to eat that we'll never see in your restaurant? Their answers follow.
Andrea Cousineau
chef, The Bearded Frog, Shelburne
Cousineau says she frequently braises meats such as short ribs and pork butt, but shies away from placing them on her menu. Why? Because producing a "fall-off-the-bone" consistency without overcooking it, every single time, is a challenge. "You can do it the first five times perfectly, but then it could be not quite [right]," she explains. "I also make beef stroganoff, and that's something you don't see often on a menu. I kind of change it every time I make it, depending on what I have."
Emnan "Barney" Crnalic
chef, Café Mediterano, Essex Junction
Bosnian-born Crnalic doesn't hesitate to offer his go-to off-the-menu dish: an omelette laced with smoked sausage and a smoked beef called suho-meso, sprinkled with rich, salty Bulgarian feta and spiked with the mysterious Slavic spice mixture called Vegeta. Clad in a T-shirt that says "Got Cevapi?" Crnalic demonstrates by whipping one up in five minutes. First he dribbles cream into the eggs, then pours this mixture onto the grill. As he grills small slices of sausage and beef, the latter begin to curl and come to life. Crnalic sprinkles on the cheese and spice, scrapes it all together with a flourish, then dishes it all onto a warm pita with a dollop of sour cream on the side. Hearty to the point of overload, the dish could keep a body going all day. What else would Crnalic cook for customers, if he knew he could sell it? "Sweetbreads."
John Delpha
chef, The Belted Cow Bistro, Essex Junction
Delpha is known for his award-winning barbecue, so it's not surprising that Korean food tops his personal favorite food list. He says he'll drive to Boston or Montréal for pork and crab soup dumplings, which he also makes for himself at home. Korean fried chicken is another favorite. But if he gets a craving for something, Delpha says he may just put it on the menu and run it as a special. For instance, during the restaurant's first week of business, he created a smoked-pork tartine on Red Hen bread, with Cabot cheddar fondue poured over the top. "It was a total last-minute call that first week," Delpha says, "and ended up as one of the most popular things on the menu."
Paul Ciosek
co-owner, Tiny Thai Restaurant, Winooski
Ciosek says the staff meal at the end of each shift is usually something that's not on the menu. "Staff meals at most restaurants consist of meat scraps and vegetable trimmings that most people at home would throw away," he says. "But here at Tiny Thai, we frequently use these ingredients, along with fresh Thai herbs like basil and cilantro, and Thai chili peppers, to make something special for our staff."
Those meals are flavored with nam prik kapi and pla-raa, along with the chili peppers — and fish sauce, which Ciosek calls "the salt of Thailand."
Some of those Thai seasonings are alien to the local palate. "I think fermented shrimp and fish paste, which can smell very strong or even rotten, would be a hard sell to the average Vermonter," Ciosek surmises. He notes, however, that the eatery is poised to introduce a supplementary menu offering "100 percent authentic Thai dishes, prepared and served as they would be in Thailand. No substitutions, additions or deletions."
Eric Warnstedt
chef-owner, Hen of the Wood, Waterbury
Award-winning chef Warnstedt's answer is brief and explicit: "I love chicken thighs, and they don't seem special enough to be on the menu here. To cook them, I'll brine them and grill them using an Asian marinade or barbecue sauce." Happily, he gave us a recipe:
Kevin Cleary
chef, L'Amante, Burlington
The first thing that springs to Cleary's mind is cassoulet. Then he remembers, "We lived in Hawaii for two years, and I really miss the cuisine out there. It's almost Italian in a way, because it's so simple and everything is incredibly fresh."
Though he thinks New England has the best shellfish in the world, Cleary asserts that the seafood in Hawaii is fresh enough to be prepared simply — as sashimi, for instance, which is ubiquitous in Hawaii. He adds, "We used to go and buy fish at the pier. You'd go down and see this really nice piece of opaca paca [deep-water snapper]. Served with some sticky rice and sautéed zucchini and squash from down the street — you really didn't need anything more than that. Maybe some purple basil."
Joshua Bard
chef and co-owner, Frida's Taqueria & Grill, Stowe
At Frida's, Bard gets to play with rabbit, octopus and cod in his authentic Mexican dishes. The menu's creativity is reminiscent of Oaxacan cuisine. Would a chef with such freedom to create inventive small plates have a closeted favorite? Yes — two, at least.
"One is a taco we wanted to have on the menu until we realized the difficulty of it — a potato, egg and chorizo taco," Bard says. "On a busy night we wouldn't be able to do it. It's one of those things where the egg has to be fried just perfectly, so that the broken yolk marinates everything else. Now and again we'll put it on a sample menu."
Bard also sometimes composes, for himself or staff, a taco of barbecued pork and iceberg lettuce with the restaurant's ranch dressing. It sounds unusual, but served with a fan of radish and sprinkling of cilantro, it's wet, messy and faintly sweet — a poster child for the simplicity of great Mexican food.
Bard, who will travel to Los Angeles this spring for a taco-truck tour, offered his recipe for that egg-slathered taco. Given the chance, he'd prefer to use bantam eggs — "something a little bit smaller," he explains, to top the small tortillas he makes himself in the kitchen.