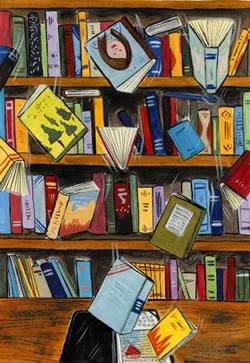 I love books. I still have the paperback of Wuthering Heights I bought in 1978 for 95 cents, though I can access its complete text on my iPhone. I remember the sights and smells of all my favorite bookstores and libraries, from Burlington to Boston to Berkeley to Paris.
So, why am I considering buying an e-reader?
Every day I'm confronted with the huge waste that paper books can represent. True, I'm in an unusual position: Publishers send books to newspapers gratis, unsolicited. As printing gets cheaper, each year seems to bring more review copies, many of which end up in leaning towers and bulging boxes. Where will they all go?
I wondered the same thing years ago when I worked at a large bookstore chain. A customer would leave with a stack of 15 fat paperback romances and return a month later to sell them used. Books that didn't sell at all went back to the publisher. Where would they go?
Wouldn't it be cleaner and greener just to download all those books in digital format? Yes, claims a 2009 study from Cleantech Group, covered by the New York Times in a blog post titled "Are E-Readers Greener Than Books?" Cleantech says its study "forecasts that e-readers purchased from 2009 to 2012 could prevent 5.3 billion kg of carbon dioxide in 2012, or 9.9 billion kg during the four-year time period."
But are e-readers the solution to a rising tide of books? Or do they spell the end of the book? To find out, I talked with local authors, bookstore owners, librarians, a publisher and an expert on e-waste. I heard from people who love e-readers and people who revile them. I learned that the new tech doesn't have to put you in thrall to Amazon. I also learned that, if you want to assuage your eco-conscience with a shiny new iPad or Kindle, forget it.
E-books cannot be ignored: Their overall sales increased by nearly 165 percent in 2010. Best-selling Vermont novelist Chris Bohjalian has seen the meteoric change firsthand. "Only about 3 percent of unit sales for my 2008 novel, Skeletons at the Feast, were digital, while easily 40 percent of unit sales for my most recent novel, 2010's Secrets of Eden, have been digital," he writes.
But, if e-books are popular, they aren't exactly beloved. Bohjalian notes, "As a culture we have a totemic connection with paper books that is a half millennium long." Michael DeSanto, owner of Phoenix Books in Essex, compares paper books to daylilies. "When I buy a book," he says, "I'm buying more than the brief life of an electronic image on my screen. I'm buying a lovely flower for my garden."
Penny McConnel sells e-books through her Norwich Bookstore, thanks to a new agreement between the American Booksellers Association and Google Books. But she says her customers mainly use e-readers for convenience when they travel, not because they like them. "About 99 and four-one-hundredths of the people who come into this store say, 'Oh, yeah, I have an e-reader. But when I'm just reading, I want a book,'" she says.
A dissenter from the Books Are Better chorus is Jim DeFilippi of Colchester. When he started using an e-reader, the retired high school teacher had doubts, he says, but "now that's all I read. I've gotten completely used to it. A lot of traditional people will say, 'No, I need the feel of a traditional book in my hands,' but give them a week with a Kindle, and that'll be all behind them."
DeFilippi does have his own motive for talking up e-readers, just as booksellers have their motives for waxing poetic about print. A novelist who was published by HarperCollins in the '90s, DeFilippi now heads a self-publishing collective called Brown Fedora Books and sells 10 volumes electronically through amazon.com and barnesandnoble.com. His latest, BUF, a novel "loosely based on a Vermont news story of the 1980s," was finished on a Monday and online the following Wednesday, he says.
DeFilippi isn't getting rich off his e-books, which he sells for $2.99 each, but he is, he notes, pocketing the same amount per book ($2) that he did when HarperCollins was publishing him in $25 hardbacks. DeFilippi sees e-publishing as a revolution comparable to the advent of the printing press: "I think it's the best thing that's happened to writers in a long time," he says.
What do traditional publishers think of this shift? Margo Baldwin is president of Chelsea Green, based in White River Junction. She says about 5 percent of the eco-oriented publishing company's net sales revenues currently come from e-books.
But, says Baldwin, "there's just a huge amount of change going on, and nobody in the business knows how it's going to play out." She believes "e-books will continue to grow and level off at some percentage of the business. They're not going to displace printed books" — except "throwaway books," she speculates. (Think of those romances.)
Given her company's focus on sustainability, Baldwin says, she can see the green side of e-readers. While Chelsea Green prints on recycled paper, that's hardly standard industry practice. "There's huge waste in the book-publishing industry," Baldwin says. "To the degree to which e-books remove the need for every last book to be a printed book, I think that's a positive thing."
The darker side of digitizing books, Baldwin notes, is a devaluing similar to what's happened in the music business. "Because Amazon has so discounted e-books, in consumers' minds, they think they shouldn't have to pay more than that," she says. "And a lot of them expect they should be paying the same price you would buy a song for on iTunes."
DeFilippi, for one, doesn't pay a dime for e-books — because he gets them from the virtual shelves of the Green Mountain Library Consortium. The group of local libraries has purchased about 700 downloadable e-books, says Mary Danko of the Hartland Public Library, and started lending them in November. Like print books, the e-copies can only go to one reader at a time. There are no usage figures yet, but Danko says she noticed a "huge swelling of people getting e-readers for Christmas."
Lucinda Walker of the Norwich Public Library, another consortium member, says she isn't worried about locals deserting the stacks for their e-readers. "It's just another format we need to purchase in our collections," she says. Patrons without high-speed Internet often use the library's connection to download their books. Walker lends e-books purchased from McConnel's store, which "makes us feel good, because they're able to make some money off the deal," she says.
Can you go digital and still buy local? Not with a Kindle, which limits customers to Amazon's wares (and its tempting discounts). But consumers with other readers can now buy from indie retailers such as McConnel, who says, "We're moving ahead with the idea that we're going to have to sell e-books, so we might as well get on board and get happy about it."
DeSanto of Phoenix Books isn't happy about that prospect. "Here in Vermont, we don't feel compelled to do so yet, with the emphasis on yet," he says. "If selling e-books is necessary as part of a product mix for us to stay in business, I would do so. That being said, I don't like 'em."
Neither do sellers of used books. Keith Terwillegar, owner of Burlington's Crow Bookshop, says e-books pose an "existential threat" to his business, not just a competitive one. Gerard Holmes of Northfield Bookstore believes used bookstores can survive e-readers, but they'll need to adapt. He's seen his sales of paperbacks dip in the past three years, he says, but has compensated by focusing on rare books and specialized services.
In a digitized world, Holmes suggests, used bookstores might look "more like an art gallery or an antique store" and less like the "ramshackle, polyglot general-interest bookstores" of the past. But, he points out, used books are the greenest option around.
Robin Ingenthron, owner of Good Point Recycling, agrees. His Middlebury company processes and recycles discarded electronics from all over the state, which means Ingenthron sees where gadgets like e-readers end up once they lose their under-the-Christmas-tree luster. He's skeptical about the upbeat claims of the Cleantech environmental-impact study — which, he says, hasn't "had any academic scrutiny."
When it comes to measuring the green value of e-readers, Ingenthron says, the key figure is the "volume that gets read through them. If you buy books, there's a secondary market for books. But if you have an e-reader and you don't read, the environmental cost is going to be enormous."
That's because "hard-rock metal mining is by far the most horrible polluting activity by man on the planet." Paper can't compare, says Ingenthron, who used to be in the paper business. In short, he declares, "I raise an eyebrow when I see people making an environmentally positive claim about going out and buying yet another device."
Suddenly, that sleek iPad isn't looking so attractive.
As a book reviewer, I still like the idea of cutting down on my work waste with digital galleys — although, says Baldwin, publishers are only gradually starting to offer that option. As a recreational reader, I've decided that when I get around to Infinite Jest, it will be someone else's dog-eared discard. David Foster Wallace's mega-opus is $10 from iBooks, but somehow I can't envisage reading those 1088 pages on a device I don't need to buy — my phone.
"If you buy a book that's already been read once," says Ingenthron, "then probably your footprint is zero." His best advice for preserving paper? "Buy somebody a library card."