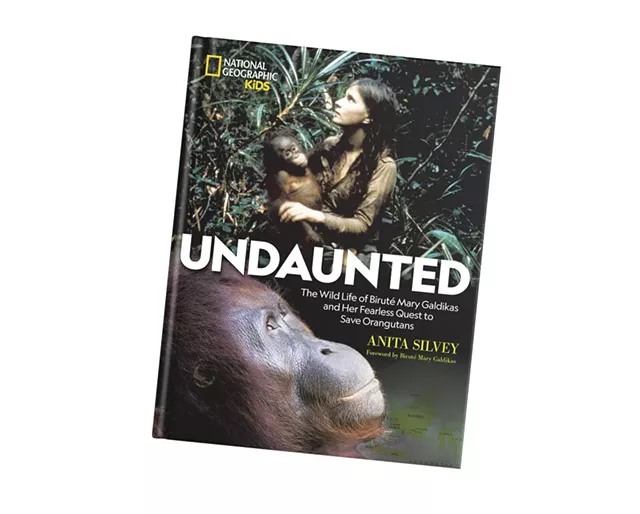 In December 1971, Biruté Mary Galdikas had been living in Borneo's remote rainforest for two months when she received what she described in her journal as "the best Christmas present." A female orangutan and her baby emerged from the wild and lingered by her research site. Galdikas followed the pair for five days, observing the mother foraging for food and her baby playing with twigs. The 25-year-old Ph.D. candidate in primatology had endured illness, leeches, continuous damp, and a diet of rice and tinned sardines for this unusual opportunity.
Kids will discover that Galdikas is no stranger to challenges in Undaunted: The Wild Life of Biruté Mary Galdikas and Her Fearless Quest to Save Orangutans, a new biography written by Anita Silvey, who teaches Modern Book Publishing and Librarianship at Simmons University in Boston and Children's Book Author Studies at St. Michael's College in Colchester during the summer.
Born in post-World War II West Berlin to Lithuanian parents, Galdikas' family settled in Canada when she was 2. As a child, Galdikas fell in love with the wild at High Park, a 400-acre oasis in urban Toronto.
In 1998, she established the Orangutan Care Center and Quarantine in Indonesia, a facility designed to care for orphaned and ex-captive animals before returning them to the wild. To this day, Galdikas, now 73, continues to research orangutans in Borneo and to advocate for primate conservation.
Undaunted is the second in Silvey's National Geographic Kids trilogy of biographies about "breakthrough women scientists in the '60s and '70s." Her biography of Jane Goodall, Untamed, was published in 2015. Currently, she is writing a book about gorilla researcher Dian Fossey. Galdikas, Goodall and Fossey were friends, and famous paleoanthropologist Louis Leakey mentored all of them in their field studies.
Silvey has written 13 books and was a founding faculty member of the Vermont College of Fine Arts Writing for Children & Young Adults program. The school awarded her an honorary Master of Fine Arts degree for children's book writing in 2000. For 11 years, she was editor-in-chief of The Horn Book Magazine, a journal that reviews children's literature.
Silvey spoke with Kids VT in June.
Kids VT: Why did you start writing for children?
Anita Silvey: One of the editors I had known for a long time said to me, "I think you could be a children's nonfiction writer." I laughed at her and said, "I don't think I have the talent." It's funny, because I had written several books by then for adults. Obviously, I could put together a book, but I value writing for children so much I didn't know if I could do it. Right around then, a lot of information was coming out in the academic world about women who fought in the Civil War dressed up as men. That was something I had never read about in children's literature. My editor said, "Go write it." I went to Civil War battlefields, and I have big Bernese mountain dogs who love running around battlefields who came with me ... The research was so wonderful that I got hooked. And I realized this is what I want to do.
KVT: What drew you to write about Galdikas?
AS: Most animal researchers go out for five, six, seven years and do their research and write it up for their doctorate. Then they go and live in a university happily away from the wilderness. What intrigued me about Dr. Galdikas was she didn't do that. She had become devoted to the orangutans, so she stayed with them, which was remarkable. Wilderness living is not my thing, but I really admire someone who can do that for so long. Not surprisingly, she's very spiritual, as I imagine someone would have to be if they lived in the wilderness for this amount of time. There's a great connection between her and the larger world.
KVT: Can you share a little about the process of writing this book?
AS: I wanted the orangutans to have real star roles, and to feature as many orangutans as possible. Dr. Galdikas was really concerned that the images be right, which is part of the excitement of watching a book come together ... I get to work with a lot of people who really know how to put a book together. That's part of the fun.
KVT: What is it like to be an author of nonfiction for children?
AS: This is a fabulous time for nonfiction — sort of a renaissance for all sorts of reasons. Part of that is technological changes. National Geographic can use all these wonderful photographs and reproduce them. There was a time when nonfiction for kids was all black and white, and that can be a bit dull for kids. I write true stories about real people. It's particularly important in this day and age to give young readers a sense of what's true.