Sam Simon
Lily Hicks dances in Ira Allen Chapel
Katy Perry is blasting on the speakers. About 20 young women and girls glide across the floor, practicing the sideways ballet step known as pas de bourrée. One girl clutches a doll with bright red hair and fairy wings, a grin spreading across her face as she moves with the pack.
Her name is Lily Hicks, and she is 11. "My personality is bright, brave, strong..." she says, listing several more empowering descriptors with such rapid fire that this reporter can't keep up. "... and I never give up on my friends."
Lily has been dancing with Project Prima, a dance workshop led by the University of Vermont's Ballet Viridis dance company for kids with special needs, for three years. The workshop is open to children of all ages and genders. It takes place several Sundays a month throughout the school year in a studio inside UVM's Patrick Gymnasium or, sometimes, in Ira Allen Chapel. Sessions are informal and upbeat, with each child paired with a college dancer, who can tailor movements to the child's specific needs. At the end of the school year, Ballet Viridis performs a spring showcase and invites Project Prima kids to participate.
"Lily absolutely loves it," says her grandmother, Phyllis Blank. "These guys are so wonderful, so patient and so good," she gushes, gesturing to the company dancers.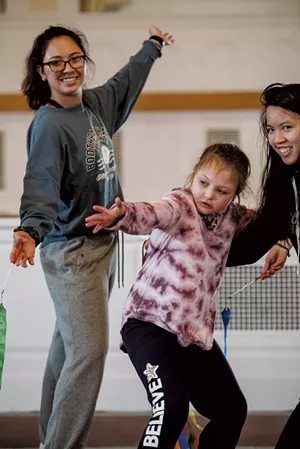 Sam Simon
Delaney Johnson with UVM dance students Claire Smith and Lia Ivanick
The project began four years ago. UVM clubs are required to have a community service component, explains senior Maia Padberg. One of the college dancers at the time was working with a local girl with special needs. She thought it would be cool to invite her, and other kids like her, to dance.
"It was a way to share our love of dance with young people, and to give back to the community," says Padberg. Project Prima was born.
The workshop is designed to teach kids basic ballet and movement — but the college dancers are learning, too. "We come into the studio with our filters," says senior Allie Piette. "The kids come in and have no inhibitions, no fear. They just want to have fun."
But there are challenges, too. Some of the Prima dancers are nonverbal, Piette explains. "We do our best to connect and engage with the dancers, but it can be challenging to get feedback from them, to know what they are thinking, what they wish we did more or less of and what types of movement they may be interested in exploring." She says using basic American Sign Language and being attuned to body language and facial expressions has been helpful.
"These dancers possess an innate ability to share their love of dance with people of all abilities," wrote Katrina Sliwka on Kayla's Directory, a website that lists services, events and activities for Vermont kids with special needs. Her daughter, Delaney Johnson — who has epilepsy, as well as alternating hemiplegia of childhood, a rare neurological disorder — has taken part in Project Prima.
"Del's physical abilities and movements have been described by professionals as 'a series of near misses,' which translates to daily bumps and bruises," continued Sliwka. "However, during Project Prima she feels nothing but grace."
Back in the studio, things get colorful when "How Far I'll Go" from the movie Moana comes on. Everyone grabs a ribbon wand, then gathers in a circle. One by one, they improvise a movement, which the other dancers copy. One girl twirls, another jumps, another gets down low and waves her ribbon wildly.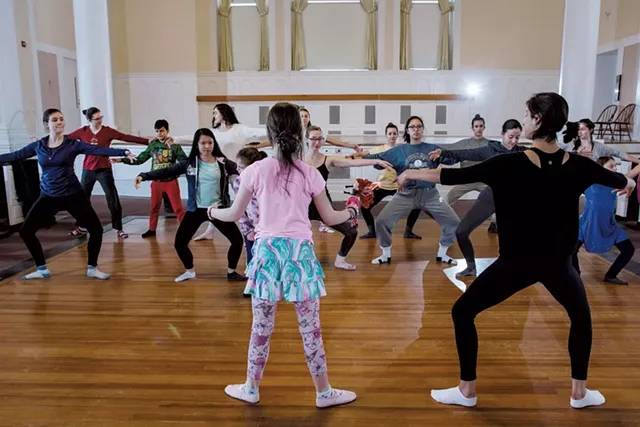 Sam Simon
UVM and Project Prima students practice ballet positions during practice in Ira Allen Chapel
Next, they break into small groups, each led by a Project Prima dancer who will choreograph a short dance to perform. A girl named Erin gets down to business right away, directing the college dancers where to stand, showing them how to lean back and shake their ribbons behind them.
Erin's mom, who is watching from the sidelines, points out another Project Prima kid who is stretching with a college dancer in another corner of the studio. "If one kid isn't feeling it," Erin's mom explains, "a teacher stays with them on the side to keep them included."
Lily rehearses a solo in the mirror. She is beaming. When it comes time to perform, Lily gives it her all, enthusiastically lip-synching a song from her favorite animated show, "Steven Universe," while she dances.
"Obviously, Lily is our soloist," college senior Sabrina Veo explains later with a smile.
Each class ends with a circle. While the dancers are stretching on the floor, they take turns saying something that made them happy that day.
"I tried a new Ben & Jerry's flavor," one declares.
"I talked to my mom," says another.
"I danced with all of you," says Lily. "And you really make me feel happy."